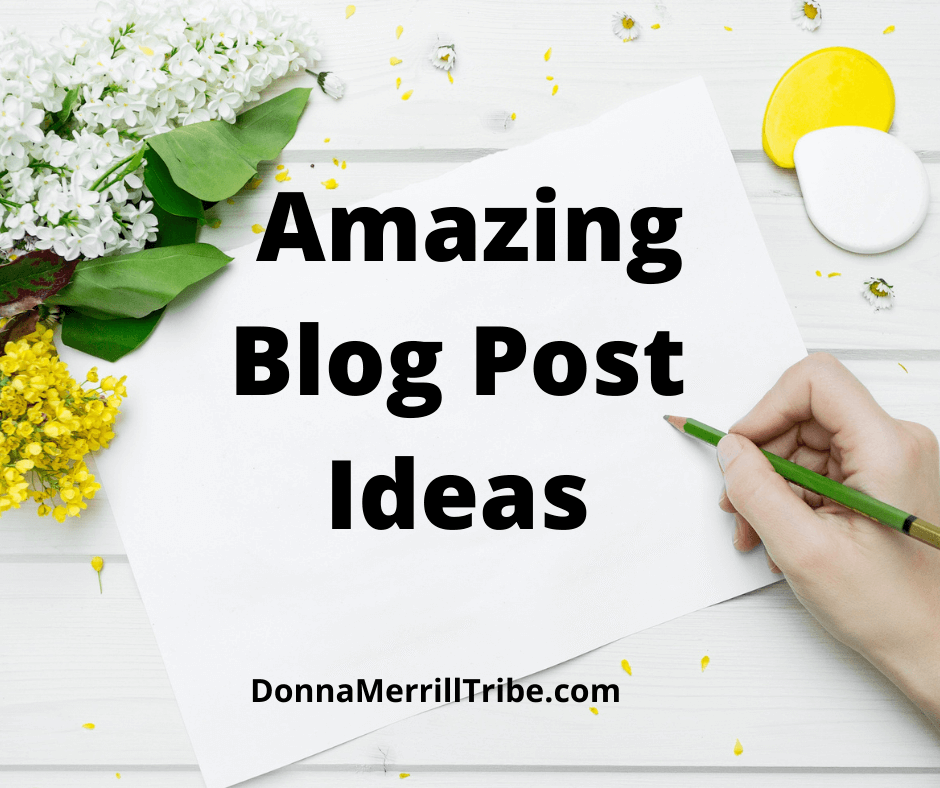 If you want to build an audience, you can't be run of the mill.
You need to know exactly how to get amazing blog post ideas.
But you may not know where to start looking.
You open a blank page and wonder what to write about.
Maybe you write about something that interests you.
But do you know if your readers will be as interested?
Or you might think of something you know your readers will love, but you don't have much to really say about it.
Where do you start?
How do you turn that blank white page into a sizzling article?
Just how do you get amazing blog post ideas that you can work with?
Research your amazing blog post ideas
I know, you're ready to sit and write that amazing blog post and get it published.
But hold on.
Is that vague blog post idea floating around in your head any good?
And what are other people saying about your topic?
You can't start writing a good blog post until you know what to write about.
But you can't figure that out until you start doing some solid research.
The research part of blogging is indispensable.
Without it, you'll be writing off the top of your head, about things that your readers might not even care about.
Quick Tip.

Don't try to write a blog post on a topic that nobody else is talking about.
It might mean your blog post has no competition.
But it will also mean that nobody will care about it.
It's far better to stick to topics that are so important to your audience, that everybody is writing about them all the time.
Sure, you'll have more competition.
But if you do a good job with it, even one really good blog post can result in a loyal readership.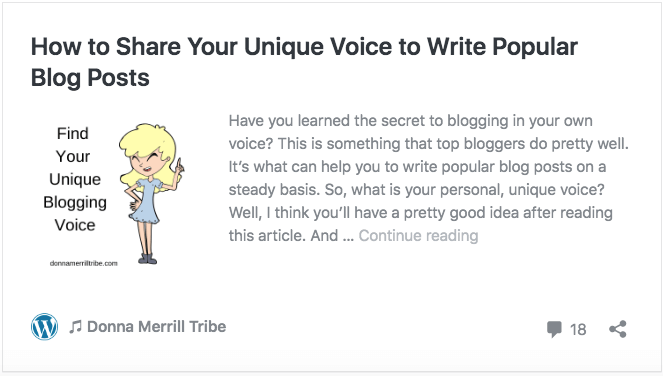 Research what?
Okay.
I already said to write about things that everyone else in your niche is writing and talking about.
That makes things easy, really.
Just look for trending and popular topics, and stick to them.
Trending topics
Read what others are writing about your topic.
Watch their YouTube videos.
Follow them on social media.
If it's somebody that's really good, get on their email list.
You learn from top bloggers' newsletters.
Quick Tip.

You can easily connect with other bloggers when you're a subscriber to their email list.
Just hit the "reply" button on any of their emails, and start a conversation.
This is a quick way to keep on top of the latest things going on in your niche.
Be in the loop.
Stay in the loop!
Topic resources
So where do you find good topics to write about?
Maybe they're trending topics, or maybe just solid, evergreen ones.
That depends on your niche, of course.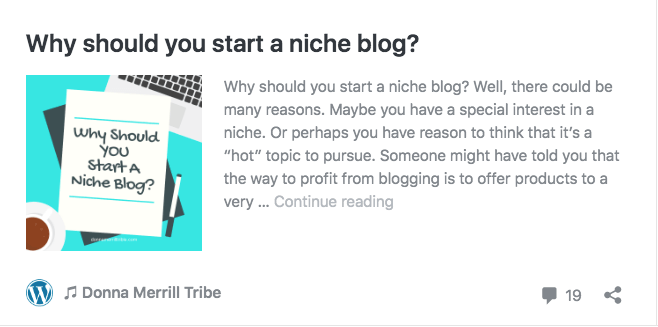 Some niches (like the rapidly changing social media niche) require you to keep a very close eye on new developments.
So you have to stay on top of trending topics almost daily.
Most niches, though, (personal development, for instance) rely heavily on evergreen material, not so much trending topics.
Still, you want to mix them up.
Question:

How do you get good ideas for topics in your niche?

Answer:

Wherever your main topics are being discussed.
I like Quora, because it has a question and answer format.
People in your niche are asking questions on Quora all the time.
Look up a topic and add "Quora" to your search.
You'll start getting a real good idea about the things that are important to your audience.
Forums
Facebook groups
Pinterest boards…
these are just some of the many places where you'll get great ideas for topics to write about.
You'll even start seeing headlines that work well, the people kicking out lots of quality articles, and more.
Just visit a Pinterest board, for example, in your niche.
My niche is blogging, so let's see what I find on a quick board search…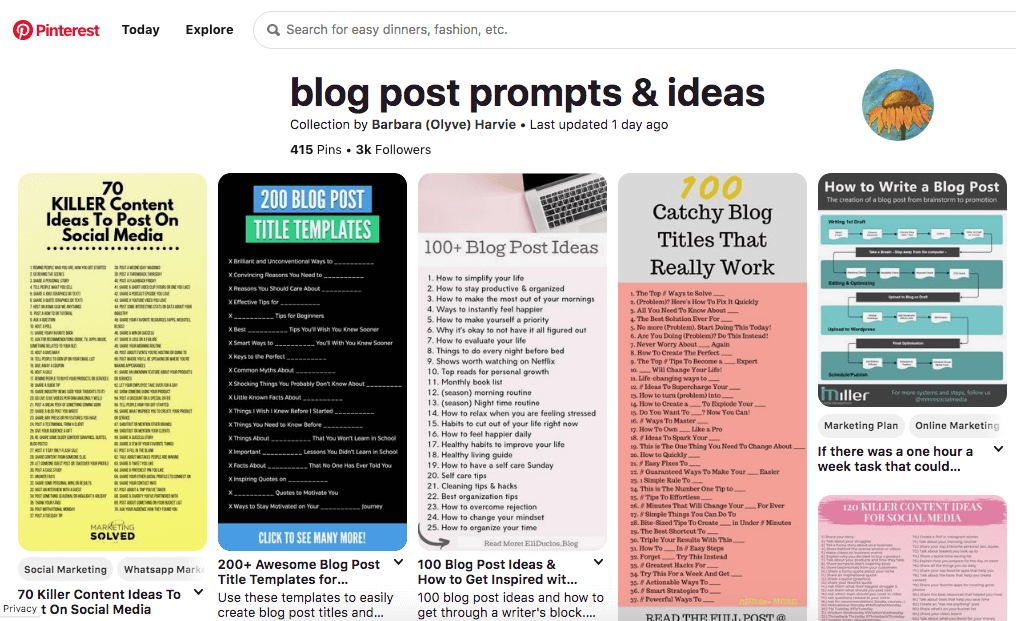 Say it's the travel niche.
Now you go to Pinterest board and search about traveling to Europe.
You'll see all kinds of articles about precisely that topic.
You can see
who is writing them
what graphics they use to get attention
calls to action that are working
headlines that pull readers
You can even click the links to see
how the articles are written
what outbound links are included
how is it being monetized
You will learn so much by watching and reading what others are saying and doing.
Get organized
Now, what are you going to do with all these great ideas that you're collecting?
It's really important to have some kind of notebook system.
Sure, you could use paper and pen.
But, really, that's not going to help much.
You need an online notebook.
One where you can keep organized lists of the topics you write about, and your research notes on each topic.
By "research notes" I mean links to articles and videos.
Or even your own summaries of them.
Every time you want to create content for you blog, refer to your lists.
Start reading some of the articles you've collected, or listening to some videos.
You'll start getting more ideas for blogging topics than you can handle.
Quick Tip.

Jot down questions you have while reading articles or watching videos.  YOU be the audience. The questions you have will undoubtedly be questions that other people have, too.  Those are all great topics for you to develop into your own content.
You can organize your notes on something as simple as a text document on your desktop.
But there are better solutions that are more visual, and you can search by keywords to get to what you want quickly.
I've used the free versions of both Trello and Evernote.
Trello is my favorite.
It's laid out so clearly into Boards, Lists and Cards.
Keyword search is a breeze.
I love it.
Evernote is good, but I don't like it as much because it's not nearly as visual.
But with either one, you probably never need to go beyond the free version.
There are others, too, but these are the ones Ive used.
The important thing, here, is to find something that is simple yet powerful, and start using it as you start building your own body of research, ideas and even content.
Learn about Donna's Top Tier private coaching program…
How to get amazing blog post ideas
These are some really great ideas to get you started.
But maybe you have others?
I'd love to hear from you.
Leave me a comment below.
Which of these ideas do you intend to put to use?
And, if you've been blogging for a while, how do you get your own amazing blog post ideas?
–Donna
PS: Please share this article on your social sites.  Thanks so much 🙂