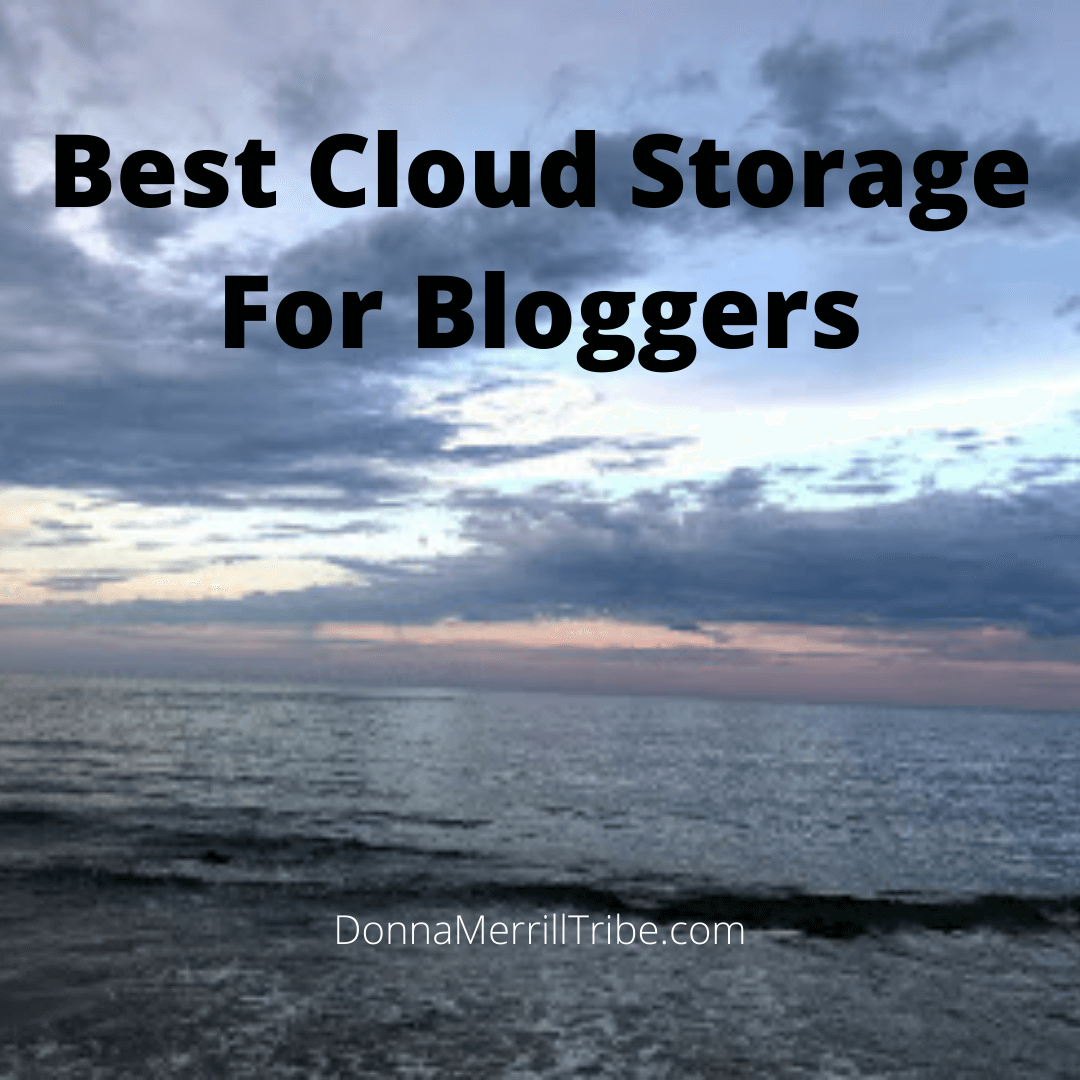 So why is cloud storage for bloggers different than for anyone else?
Well, it's not really different.
But bloggers typically approach the whole idea of storing data with a little bit different perspective than casual internet users
That's because they are usually running a business online, not just browsing and socializing.
What is cloud storage?
Basically, and to keep things really simple, cloud storage is just a way to store your data off of your website.
Data like photos, videos and downloaded files (like PDF's) take up a lot of space on your computer.
That slows it down.
It could even crash your computer.
That's not nice for anybody, but especially if you're running your business online.
You could have to run out in the middle of the night to make a big investment for a new computer – although I always have fun getting a new laptop :).
But even worse, you could lose all your documents if they're not backed up properly.
And there goes your business!
Gotta start all over.
And even if they are backed up properly, who wants to deal with the confusing and time draining task of restoring backed-up stuff?
The solution is to store your stuff on a cloud server instead of (or, in addition to) your computer's hard drive.
Once your data is "in the cloud," you can access it from anywhere.
Not just your personal computer.
And you can do it quickly and easily.
Download when you want, upload anything, anytime… it's such a blessing for bloggers.
Cloud storage for bloggers
So, if you're a blogger like me, you're probably looking for some specific things in cloud storage.
Things like this…
Simplicity
We bloggers are usually solopreneurs.
And when you're a solopreneur, you want (need) things to be really clear and simple.
You probably don't have technical advisors or departments to help you run your blog.
Instead, you struggle through the process yourself.
So you want a cloud storage plan that is simple and easy to implement.
Affordable plan
You want the best, but of course, you also want it to be affordable.
Nobody wants to spend a ton of money on this data storage thing.
I know I don't.
Reliability
You also want to be able to depend on your cloud storage.
If you're at a hotel and want to access a blog post you wrote last year, you want it to be on your cloud storage service or device.
Need to send an ebook you wrote to one of your clients?
You want to just be able to grab it from the cloud and send it along.
Automatic backup
Now, you should understand something that a lot of bloggers get tripped up on.
Cloud storage is not cloud backup.
Cloud backup is a service that will automatically back up your files as they are created and updated.
Cloud storage is a way to store file that you manually put there.
So, let's say you create a 3 part video series on your computer.
If you don't manually transfer it to your cloud storage, then it won't be there when you want it.
But if you have a cloud backup service, it will automatically be "in the cloud" anytime you need to have it restored.
Bloggers usually want, and need, both storage and backup.
I always suggest you have both.
Don't put all your eggs in one basket.
Have a good cloud backup service, so that if you drop your computer out of a helicopter and into a lake, you can easily back up all your files to your new computer – which you will need :).
But the restore is cumbersome, to say the least.
You will want your 3 part video series and other critical elements of your business on cloud storage, too.
That way you can
get those big files off your computer and into the cloud
have quick and easy access to them at a moment's notice
share them with anyone you want, anytime.
Free cloud storage
Most of the top cloud storage services offer free storage for a very limited amount of space.
Once you get past a certain number of gigabytes, you have to start paying a monthly fee.
If you are looking for free cloud storage, then check out the different services available.
See how much you can store for free before you need to start paying.
Cloud storage providers and pricing
I'm not going to give you a list of cloud storage providers and their pricing plans.
They are readily found with a quick Google search.
I will just mention some of the bigger and more popular ones…
Google Drive
iDrive
DropBox
Box
Sync
OneDrive
Amazon Drive
There are many others, too.
They all have different price points.
I won't give you those because they change so often.
Generally speaking, you can get a very small free plan with most of them.
You can then upgrade to a higher (but still pretty small) level of storage for a few dollars a month.
But bloggers running a business on the internet will usually need one of the more professional storage plans.
This usually runs in the neighborhood of $10 a month and up.
Best Cloud Storage for Bloggers in 2021
So what is the best cloud storage strategy?
Find a good solid cloud storage that makes it easy for you to share files.
If you're running your blogging business the right way, you should have a pretty regular need to share files… ebooks, videos etc.
You share them with your email list, your clients, on social media and so forth.
If you're not sharing content, you're probably not running your business the right way.
My Favorite cloud storage solution (no monthly fees)
Now here's a great little cloud storage app I recently purchased and immediately started using.
The first thing I loved about it was that it had NO monthly fee during it's rollout launch (which ends soon).
Now that's an especially big deal because, if you buy it during this launch period, it requires no monthly payments for lifetime, not just for some short intro trial period.

Click the above image for my affiliate link.  If you buy from my affiliate link I may earn a commission, which in no way effects your price. (Thanks for supporting this blog when you buy from my affiliate link.)
And with a very affordable upgrade, you can get unlimited… yes, unlimited… storage.
No more worry about whether or not I should save this video or that ebook.
I don't have to be concerned about going "past my limit" because there is none.
Secure and cheap cloud storage solution
So here's the deal.
Gone are the days where cloud storage was some geeky thing for tech junkies.
Everyone should have their important and bulky data in the cloud.
Especially bloggers trying to run an online business with just a computer and an internet connection.
InstaDrive gives you a professional edge.
It allows you to operate with your very own cloud storage.
And it's got pretty much everything you could think of.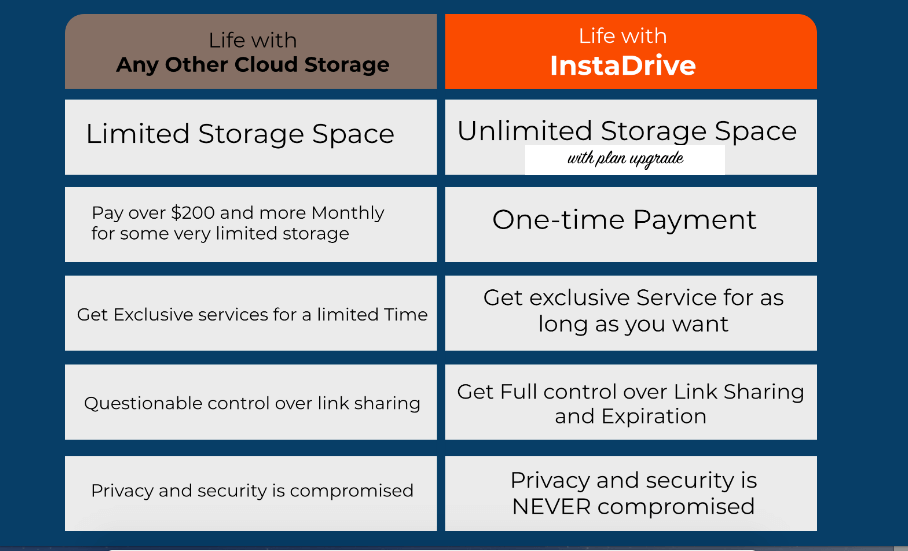 Click the above image for my affiliate link.  If you buy from my affiliate link I may earn a commission, which in no way effects your price. (Thanks for supporting this blog when you buy from my affiliate link.)
This includes your ability to
store, share and even back up unlimited files (with the low-cost upgrade plan)
do automatic backups of any files you want
simply drag and drop files to the cloud
preview files
share files
even share private links to your data
Share private links to your data
Now, let me tell you quickly about this feature.
Bloggers are in the business of creating content, right?
So you write an ebook.
Or a blog post.
Even a video, image or training course.
With InstaDrive, you can share private links to any of these things.
Think how easy it is to send a link to an ebook in your next email.
Or to a video you did.
But not only that.
You can even password protect those links, or set an expiration date/time for them.
So, yes.. I think you can see where this is going… you can create ebooks, training courses, videos… and sell them right on your blog.
Just send people a private link after they purchase.
How easy is that?
No need to upload your course or videos to a paid platform, figure out how to do a sales page or any other other techie stuff.
Just send a link to it and people can get it for a limited time, or with a private password code.
This is incredibly powerful for bloggers who really want to build their business, and monetize their blog.

Click the above image for my affiliate link.  If you buy from my affiliate link I may earn a commission, which in no way effects your price. (Thanks for supporting this blog when you buy from my affiliate link.)
So that's it.
Get in on this great opportunity to get unlimited data storage in the cloud, for a low one-time fee.
Join the 21st century – before it's half over :).
Let me know what you think.
Leave me a comment below.
-Donna
PS: Please share this article to your social sites.