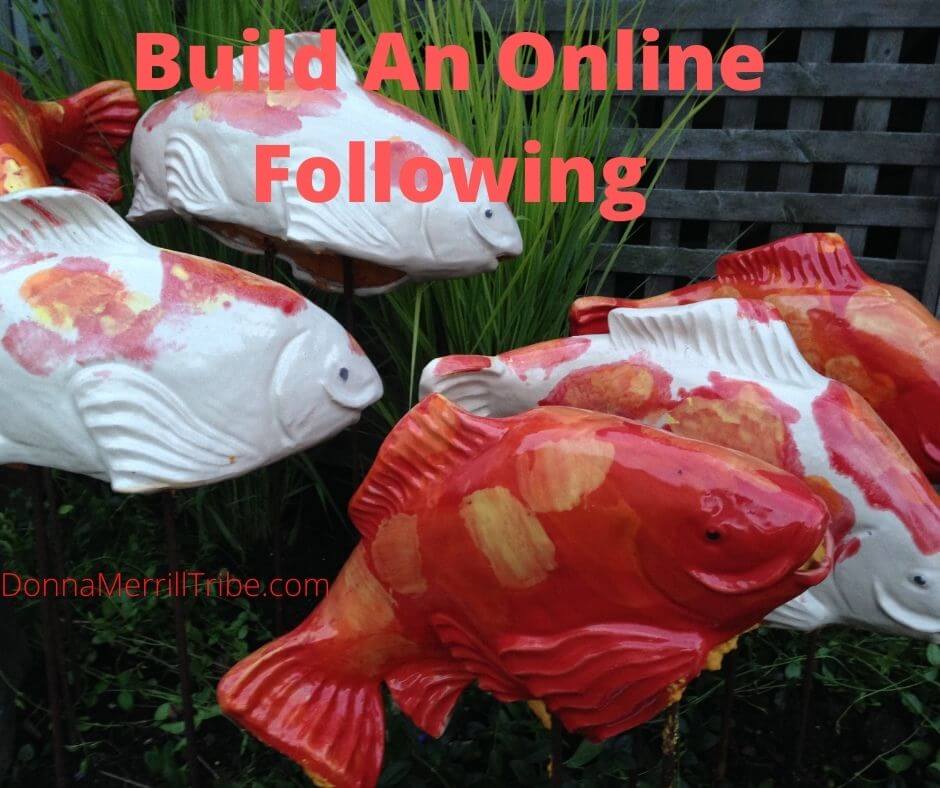 Since the internet became "a thing," it has been used by people to build an online following.
Internet marketers and affiliate marketers want to build an online following of buyers and clients.
Bloggers want to build an online following of readers and fans.
Network marketers want to build an online following of people to join their teams.
Social activists want to build an online following of people who can further their cause.
If you run any kind of online business or website at all, you know that it's absolutely critical to develop a following.
Otherwise, you'll be posting blog articles, social media updates, videos and anything else for nobody.
Or at least, not for a real audience.
So let's talk a bit about what it takes to build an online following.
The roadblocks to building an online following
Nowadays, connecting with people is not as simple a matter as it was a few years back.
Many online entrepreneurs and thought influencers still use social media platforms.
But increasingly, what you can say and do is being restricted and regulated by the mega platforms.
Frustrated by this, many people have been switching from some of the big social media sites to newer or smaller ones.
This all makes it tougher to build a following using these traditional social media outlets.
And to make things worse, there is a growing lack of trust for just about everybody out there.
So to build an audience and a following is not an easy task anywhere online, but especially social media.
And let's face it, that's where most bloggers and online marketers have invested most of their time, effort and even money.
So what are the best places to build your online following at this time?
Let's look at a few that are really good alternatives to simply connecting with social media friends.
Blogging
Your own privately hosted blog is a great place to build your online following.
If you can get to a point where people look forward to your next blog post, then you have a truly loyal following.
The trick, of course, is to get people to that point.
A good way to move in that direction is to get people on your email list.
Then, each time your publish a new article, you can notify them.
First, though, you need to get your blog visitors on your email list.
You can do this from your blog or website directly.
Put links and banners that people will click to get your email opt-in form.
Or even post the opt-in form right on your blog.
You can use your sidebar for this, or embed it right into your blog posts.
People may be hesitant to join your email list, though.
So offer them something free that has value to them to entice them.
Even more important, though, is to make your blog a place they like.
If they see people commenting and interacting, they will be more likely to want to follow you onto your email list.
And when they see videos in your blog post, where maybe for a minute or two you interject a thought, or a quick demo… they will start building a connection with you.
There are lots of gadgets you can use, too, like popups, exit pops and the like, to try to get people from your blog, over to your private email list.
I'll talk more about your private email list in a moment.
But first, let's talk about connecting with people outside of your blog itself.
After all, you don't want to get caught in a blogging bubble, where all you think about is your own blog.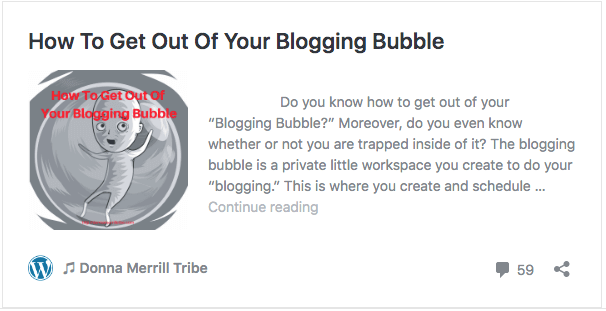 There are other ways to build an online following, too.
Content sites
So let's talk about some alternative ways to "blog" – even when you're not on your private, self-hosted blog.
Keep in mind, though, that because these sites are not your own blog, you have no control over them.
In fact, they have total control over you.
They all have their own terms of service (TOS).
That means, they set the rules.
If you break them, they can edit you, pause your activity or even ban you from using their platform.
This doesn't make them "bad" places to do business.
In fact, they can be excellent places to build your online following.
Just know that when you use these platforms, you are in "their house", not yours.
And I always suggest you have a good backup storage for any of your original work in case you have to go hunting for a new platform.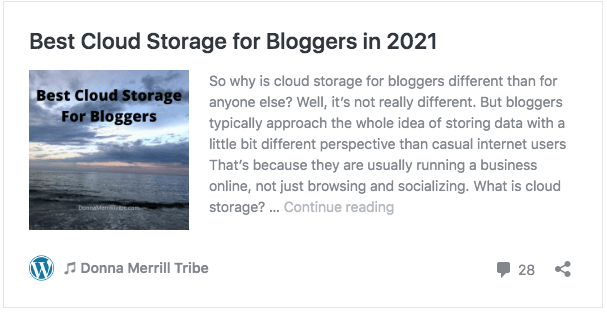 That way, you won't lose all your hard work if you lose access to your account.
So here are 3 of the better content sites you might want to check out.
Medium
You can post articles on your Medium blog.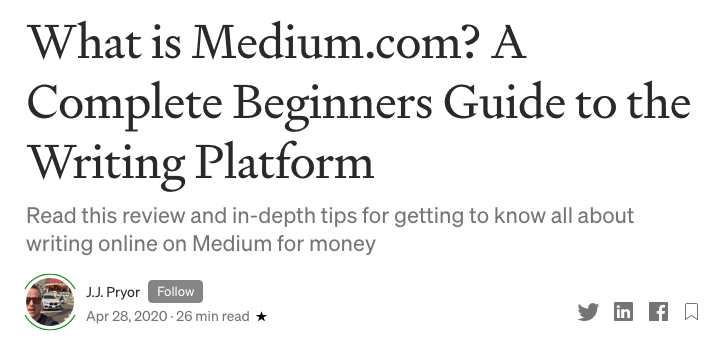 When you write an article on Medium you will be reaching a different audience than the one that comes to your blog.
So you can build your online following from Medium, and even redirect this new following to your own blog.
LinkedIn
This is one of my favorite platforms for bloggers.
You can publish blog posts on LinkedIn and build a following there.
It's really nice platform from which you can also embed videos and outbound links.
LinkedIn members tend to be more interested in business and professional content.
But don't let that limit you.
I've seen articles from a wide variety of topics get plenty of traction.
Quora
Quora is quite a bit different than Medium and LinkedIn.
Instead of writing articles, you need to respond to questions people have.
Or, you can pose your own questions.
It's a great place to expand your online following by showing off your problem-solving abilities.
Of course, you need to do this within your niche in order to build the right kind of following for your business or blog.
Now, keep this in mind…
When you write an article on Medium or LinkedIn, or answer questions on Quora, you will be reaching a new audience.
As you build your online following on these platforms, you can redirect it to your own blog.
And, of course, you can use these sites to get people onto your email list.
From there, you can start to build a deeper relationship with them.
That's how you develop, nurture and expand your online following.
Email
Have you forgotten about email for building your business?
Big mistake!
More than anything else, you need an email list to build an online following.
I know there are people who say email is not that important anymore.
That's because people have so much email that they just can't keep up with it.
But if you have a loyal following, nothing will reach them more directly than email.
Yes, you can "private message" people on social media.
But remember, you don't own a social media platform.
You are just a guest.
I've seen more than one person build a great business on a social media platform, only to wake up one day and find it's gone.
And there's nothing they can do to recover it.
It's not in their control.
I've said this before, and I'll repeat it.
You want to build your business on a platform you control.
Well, you control your email list more than just about anything else.
And that's the database for your following.
As you build your online following, you need to keep in touch.
Choose a reliable autoresponder service
Now, you do not totally control your email account.
Especially if it's a free account such as hotmail, gmail and the others.
But that's okay.
Because you don't want to be using those accounts to database your followers anyway.
You can't do mass emailing with them, you can't set up custom designed email formats, and most importantly… you can't set up an autoresponder series.
You need all those features to keep in touch with your online following.
This article is not about email marketing, so I won't get into all those features.
Just know that you need a good and reliable autoresponder service.
My favorite one is GetResponse.
I've been using it ever since I started working online and I just love it.
If you'd like to use it for a free trial period, just click my affiliate link on the image below and get started…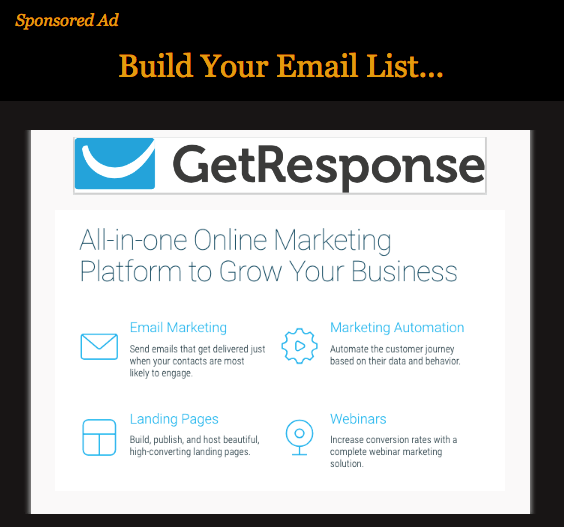 The important thing to do, is to get a good, reputable service and set up emails to go out automatically to all your followers.
This way, you can deliver them valuable information as soon as they subscribe to your list.
In addition, send them regular emails to update them on things like your latest blog post or video.
Do this regularly so that people get used to hearing from you.
That's what a following is.
You can't just get people on your list and only email them now and then.
Instead, have a steady drip of emails so they don't forget you.
Give them a high value newsletter that they will look forward to opening.
Emails don't need to be long.
They just need to give a quick thought or idea.
And they should be friendly.
This is your following.
Treat them like they matter.
Invite replies and questions to your emails.
Then schedule time for responding to them.
Not too many people treat their email subscribers like they matter.
If you do, you will stand out against all the others who only send them links to buy stuff.
And when you stand out, you will build a strong, loyal online following.
Your own course/member site
Finally, if you really want to take things a step further, consider creating your own course.
You could teach something important to your niche followers.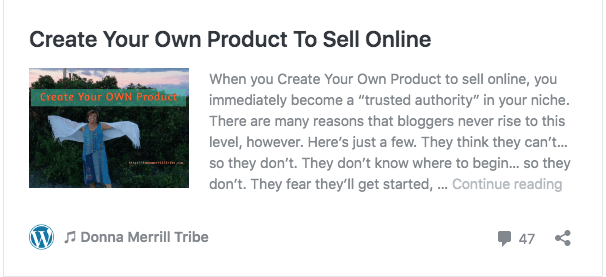 By putting it in a course format, like on Udemy of even your own member site, you will command trust and respect.
It doesn't much matter what the cost of the course is, or even if it's free.
When people see you as a master of your craft, a leader in your niche, they tend to flock to you.
This is an advanced way to build an online following.
But in these times, it's another way to secure your business on a platform you can control to a large extent.
It will insulate you to a large extent from the large platforms that often have pretty stringent and self-serving Terms of Service… which you must abide by.
If you don't, your risk penalties and even loss of your account.
But when you create your own course, you have much more control of what you do, even if it's hosted by a large enterprise like Udemy.
If you put it on your own platform, you gain even more control.
Your own platform can be something as simple as a WordPress site, for instance.
Your students, members and customers will follow you because you have become their teacher and mentor.
This is a really powerful way to build an online following.
How to build an online following
I have given you a lot to think about, here.
Now I'd like to hear from you.
Leave me a comment below.
Tell me about your online following.
How do you build it?
And how do you nurture and expand it?

I have given you various strategies you can use to build an online following.
Are you using any of these right now?
Which ones do you think you might want to put to use?
How difficult is it, in your experience, to build an online following?
-Donna
PS: Please be sure to share this article on your social media sites. Thanks!