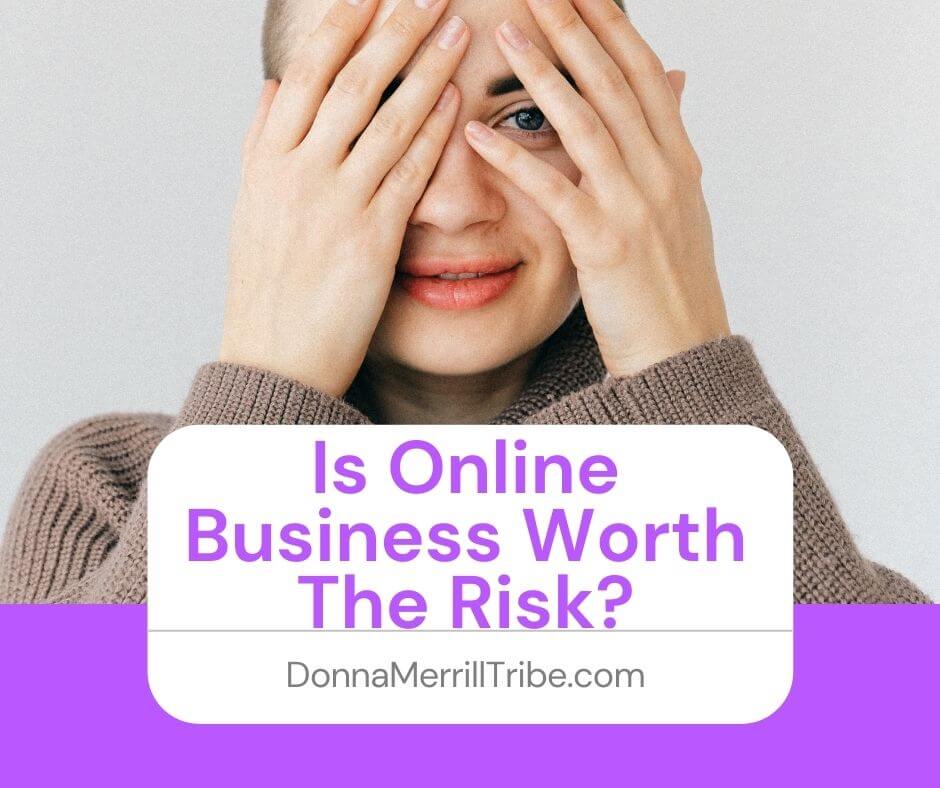 When you start an online business, there are certain risks you will have to take.
That's always the way it is when you are an entrepreneur.
If you've been running your online business for years, now, you're pretty familiar with all the risks.
But that doesn't make you immune to them.
Every day, there are risks you need to take to run your online business.
The question you have to ask yourself is not "will I have to take risks?"
But rather, is running an online business worth the risk?
What's your online business?
Now the specific risks you'll have to take depends on just what kind of online business you are running.
Blogging
Blogging is probably the least risky business model.
That's because it has such a low start up cost, and virtually no necessary operational costs.
Starting a blog could cost zero, actually.
If you decided to blog on a third-party site like Medium, Blogger, or the free version of WordPress, for instance, you wouldn't have to spend a dime.
They are totally free.
The problem is that you don't own your blog.
It resides on a third-party site, so that's the platform that actually owns and controls your blog.
There are also many limitations as to what you can and can't do on those free platforms.
For just a very small investment, though, you can own your blog.
What investment?
Well, a domain will typically cost something in the neighborhood of $5 to $15 a year.
You would need hosting, and you could get that at a cost of $$$ a month.
And that's all you really need to start your own privately owned blog.
Affiliate marketing
Affiliate marketing doesn't cost anything at all to do.
You just go to an affiliate site and get approved to sell something.
It could be digital information products from a place like ClickBank.
But it could also be physical products from Amazon, Walmart or others.
Now, what do you do with your affiliate link in order to earn commissions?
Well, that's where you investment kicks in.
Sure, you could just send your links to people on social media sites, or in email messages.
But those are not very effective ways to get people to buy things unless you have an audience looking for exactly the things you are promoting, and unless you have built a long, solid relationship with them.
More than likely, in order to get your offers in front of a large number of the right people, you'll have to spend money advertising.
And that can be very expensive.
Yes, you can buy Facebook ads or solo ads or banner ads for a few bucks.
But that won't put your offer in front of many people.
Generally speaking, the more you spend in advertising, the more people will see your ads.
So it's really up to you as to how much you'll be spending.
And whatever you spend on advertising is completely at risk.
You have no way of knowing how many people will end up buying from your affiliate link.
So whatever you spend is at risk, for sure.
What are the risks involved?
I just mentioned some of the financial risks involved in running an online business.
But there are many other risks.
In fact, pretty much everything you do will have some aspect of risk.
You see, everything in life is a risk.
When you're running an online business, there are risks specific to that.
Software
If you buy a new piece of software, it might not work.
Or even worse, it may work for a while, and just when you've come to depend on it, it malfunctions.
It might even become obsolete, so you have to start back on square one.
Quite frequently, you find that the software you love using gets phased out, or is no longer supported by the vendor.
That happens so often in online business, that it's almost expected.
Remember Google+?
I know a lot of people that ran major portions of their business on that platform, until Google decided to discontinue it.
So something as simple and apparently productive, as adapting your business to a piece of software, an app or a social media platform… is a risk.
Your niche
Students often torture themselves over picking "the right" niche.
I assume you are already in the game, and have chosen your niche.
Is it the right one?
More than that, is it the best one?
You see, there are niches that perform better than others.
But that's not what should concern you.
If you pick a niche, and down the road decide you picked the wrong niche… just change it.
Start a new blog.
Build a different email list.
Open a new YouTube channel.
It's risky to decide on a niche and start building your business around it.
The best way to reduce the risk is to choose a niche that you really like.
If you are passionate about your niche, you are far more likely to make it work, regardless of the risks and the setbacks that will occur.
Overwhelm
You certainly risk being overwhelmed when you start an online business.
There are so many different paths you can take to achieve the same result.
If you want to drive traffic to your blog, you could get involved in Facebook groups.
You could make an image for each blog post and "pin it" on Pinterest.
Why not do a YouTube video summarizing your latest article?
You could run paid ads to it.
Or modify it for a Medium or LinkedIn post.
What to do.
It's enough to drive you crazy.
But the biggest risk is just spinning out altogether.
I see it all the time.
Someone gets so caught up in ALL the things they could do, that they just operate in a constant state of confusion.
They do this, then that, and never develop a really clear strategy for anything.
That will put your entire business at risk.
What to do next
One of the most common questions I get when coaching my clients is this:
"What should I do next?"
In other words, they are telling me that they don't dare risk taking the wrong step forward.
They are willing to do the work, but they need someone to tell them what, exactly, that means.
Should they shoot a video, write a blog post, do an interview?
And the reason they're so scared to take the "wrong" step is the risk of failing.
That could mean they could lose money, or waste weeks or months of their time, doing the "wrong" thing.
These are the people who have usually bought a ton of training courses, trying to figure out a step by step plan forward.
The problem is, step by step plans just don't work.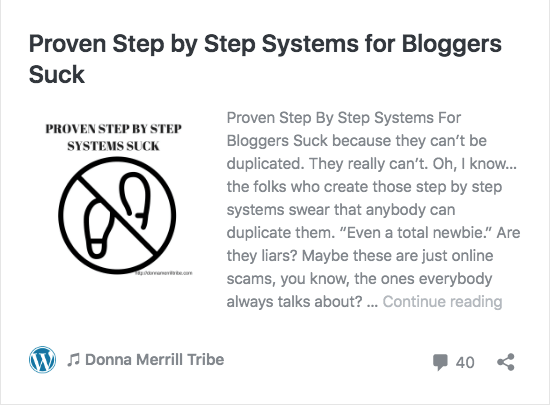 I'm not saying you don't need to buy courses to learn to do things.
It's a good idea if you know what you're trying to learn, and why.
But to just buy course after course looking for "the answer"… is rarely the answer.
I always tell people to invest in good coaching instead of a ton of courses and software.
You'll risk a lot of money, and more important… your precious time… by chasing after rainbows.
Get one good coach that you can work with, and let them guide you along the right path.
It's always the least risky way to move forward.
The biggest risk of all
I've talked about some of the common risks with trying to run an online business like blogging or affiliate marketing.
There are many risks in being an entrepreneur.
These are a few, but there are others.
No matter what risks you want to list, though, the biggest one of all is deciding not to take risks at all.
Play it safe.
Only do what you know will work.
Do what you see other people succeed at.
Always mimmic the gurus, and people who have had proven Success.
This is the way to play it safe.
But this is also the way to go nowhere.
You can't just copy other people.
And you can't clam up and take no action, because every action you've analyzed has risks.
Doing nothing for fear of taking a risk, or because you're uncertain what the best thing is to do next… is actually the biggest risk you can take.
How you can minimize risk
First of all, risk is really more about losing time than money when we're talking about low-cost, online businesses like blogging and affiliate marketing.
Most budding entrepreneurs have a lot more time than money.
So they put their time on the line.
Days, weeks, months and even years go into building a successful online business.
So, is there a formula for minimizing your risk?
Well, let me give it a shot.
It should probably look something like this…
just do it
make mistakes
learn and adapt
make more mistakes
improve all the time
just jump in and focus on the rewards, not the risks
see a problem… solve it
Of course, you're still going to be taking risks.
But do you always want to be accountable to a boss, or a company?
Do you really want them to be your safety net for financial security and personal freedom?
I'd say that's a much bigger risk.
But don't get me wrong.
It would be crazy to give up your job to start running an online business.
Use your income to take care of necessities.
Meanwhile, dedicate whatever spare time you can into getting your online business off the ground.
Once you have it rolling nicely, and the profits can replace your income, then maybe it's time to go full-time with it.
But don't give up what you have in hopes of getting something better.
And certainly, don't strain your budget beyond your comfort zone.
Know that any money you spend on getting your business going may never be recovered.
If that's okay, then move forward.
But if not, then rethink your game plan.
Is there a risk-free online business model?
No.
But there here's the model that is most likely to result in a solid, profitable online business.
Help people.
That's all.
Make their lives just a little bit better for having discovered you online.
In other words, improve people's lives.
It doesn't matter where you do it… your blog, Facebook, YouTube… those are only platforms for delivering value.
You can use any one, or any combination of multiple ones.
Just keep helping people, and your business should grow.
If you're giving good value and really helping to solve people's problems, they will find you.
No matter where you  are.
They'll come to your blog, subscribe to your YouTube channel… whatever it is, and where ever it is.
How do you give that value?
Content.
Create content.
Build a library of content.
Make it high-quality content that your followers are going to be blown away by.
Give them content so good that it actually changes their lives… even in small ways.
Maybe it puts a smile on their face.
Or shows them how to do something.
Perhaps it helps them make a purchase.
Maybe you just give voice to something they were feeling, but didn't know how to express.
When you make it your business to give people life-changing content… it will change your life, too.
Your business will flourish.
Confidence will replace fear.
And you will joyfully face risk head-on.
You'll come to regard risk-taking as opportunity… an opportunity to improve your business, and reap rewards of all sorts.
So focus on creating content that will change peoples lives.
Then watch those people gladly help you grow your online business.
What is your online business risk?
Guess what.
Everything in life has risks.
Maybe I could avoid risk if I just stayed in my house all day.
But I would also be avoiding the joys of being with family, walking in the park, or meeting a friend at the cafe.
It's called freedom.
Nothing is more satisfying than having the freedom to do what you want, when and how you want.
Or having the money to spend when you really need to, instead of going without something important to you.
The life of an entrepreneur is risky.
But it also offers far greater rewards than most jobs, careers and even professions could ever come close to matching.
And it promises potential rewards that could move your life into a brighter place than you ever thought possible.
So are the risks and sacrifices worth the potential rewards?
That's something that can only be answered by you.

I'd love to hear what you think about this.
Leave me a comment below to let me know your opinion, and your experience.
Do you think that online business is worth the risk?
–Donna