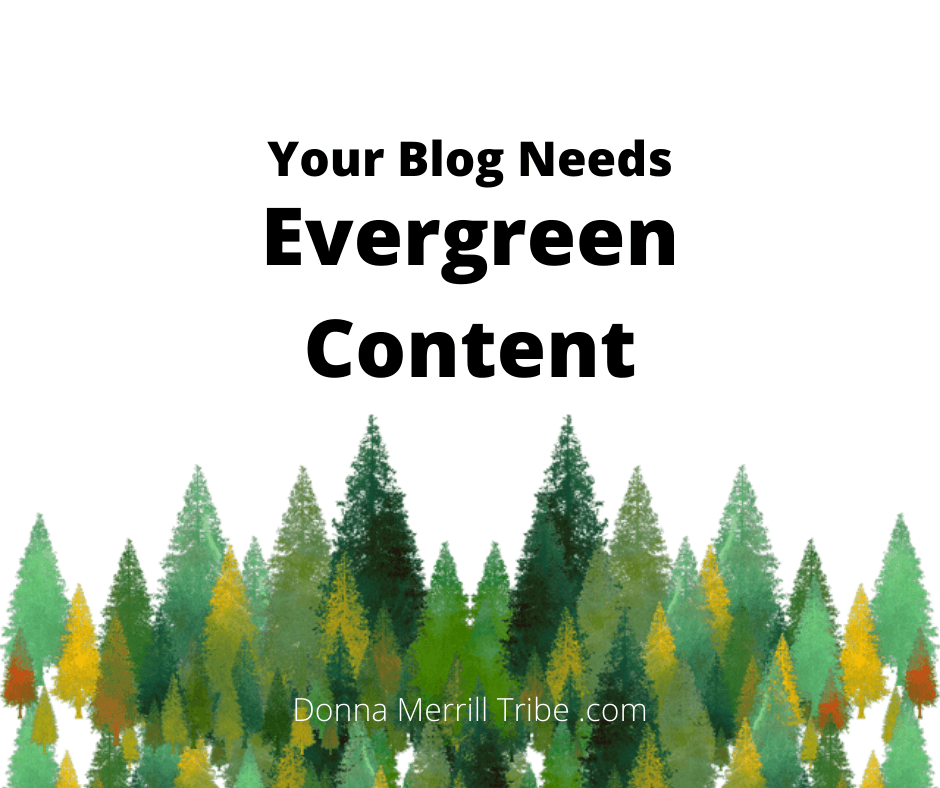 Your blog needs evergreen content to have steady growth.
Evergreen content is
You need it because you can continually re-publish, re-purpose and even re-market it.
This means that from one single blog post, you can get years of traffic flow to your blog.
And it's nearly effortless.
Compare that to publishing a piece of content that has only a very short shelf life.
If it's about the "latest" trend, the "newest" software… people won't even want to look at it 6 months down the road.
Let me show you how to construct content that remain relevant to your readers for years, not just weeks or months.
What is evergreen blog content?
It's content that is relevant to your audience the first day you publish it.
But it continues to be relevant for a long time to come, maybe forever.
There will always be people looking for this content, no matter how old it is.
Ben Franklin once wrote that "a penny saved is a penny earned."
People still quote that line and study the concept hundreds of years later.
Good evergreen content is timeless.
What good is evergreen blog content?
Evergreen content can benefit your blog in many ways.
These are some of the most important things it can do for you.
Higher search rankings
Search engines look for many things when ranking your blog post.
One of those things is a steady, long-term traffic flow to your blog.
That shows relevance of your article to its readers.
That's why they keep reading it long after its been published.
Evergreen content can give your blog post sustained growth because it's timeless.
People will keep searching for your evergreen topic for a long time.
This can help you to boost and maintain your search engine ranking.
Just make sure to use the standard and best SEO practices to optimize your article.
That way, the search engines can recognize it easily.
Free traffic
You can get lots of free traffic from evergreen blog content.
It can come from a variety of sources.
I just mentioned how it might help you get higher search rankings.
And, of course, that means free traffic from Google and other search engines.
But that's not the whole purpose of putting evergreen content on your blog.
You can get just as much, or I would argue, far more free traffic from the way you market it.
I talk more about that below, but basically, you can bend and shape your evergreen content into many forms of content.
And you can continually promote that "re-purposed" content since it is evergreen, and always capable of pulling an audience.
Promoting your evergreen content is, of course, a solid way to pull an endless flow of free traffic for as long as it remains relevant to your target audience.
Achieve authority
You can achieve high levels of authority by periodically publishing evergreen blog content.
First of all, when people search for, or stumble upon your evergreen content, it will be current and timely.
That's because evergreen content is always current and timely.
After all, timeliness is the very definition of evergreen content.
So you will always appear to be current and spot-on with the topics that you write about.
And second, because people are always searching for current content, your blog will always be seen as an authoritative resource in your niche.
Build an audience
Because people are always looking for evergreen content related to your topic, you have plenty of opportunity to build an audience.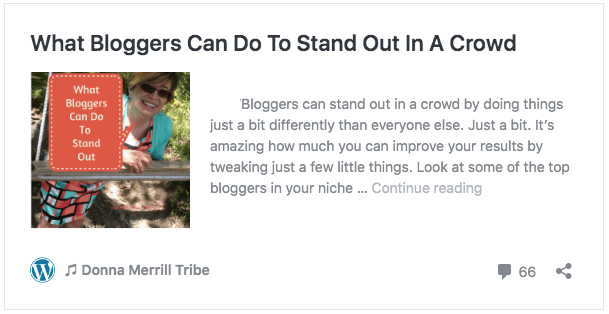 Be sure to offer them a great experience on your blog, of course.
First and foremost, publish content that lives up to its billing.
If your title reads "7 ways to sell your house," make sure you actually give readers 7 ways to sell their house.
But beyond that, make them 7 incredible things.
Sure, they might have heard of some of these methods, but give it to them in greater detail, maybe with a different slant, and make the reading experience enjoyable.
That means, using images, videos and anything else that helps you tell an interesting, even fascinating story.
When people see that kind of blog content, it will be much easier to get them to sign up for your email list, webinar or whatever else you are offering to build your audience.
How to choose evergreen blog content
Choosing great and compelling evergreen blog content is not difficult.
But it's also not to be taken lightly.
If you're developing evergreen content that doesn't really resonate with your blog visitors, then you're missing the boat.
Make sure you're choosing the right content for your intended audience.
Here's a few simple, but important ways to do that.
Analyze your blog
Which blog posts you've written are your most popular ones?
What are the key topics you've written about that people get excited about?
This is the first clue to knowing what kind of topics to use for your evergreen blog content.
Analyze other people's blogs
Maybe you're fairly new to blogging, and haven't written too many blog posts to analyze.
That's okay.
Or maybe you just want to deepen your sense of what kind of material your prospects are looking for.
In either case, you can simply compile a list of top blogs in your niche.
Look at what topics they are most successful with.
This will give you great insight into what kind of evergreen content to use for your own blog.
Follow your niche on social media
Don't limit yourself to monitoring only blogs.
Watch carefully, too, for trends on social media that are related to your blog's niche.
Stay involved in Facebook, Twitter, YouTube and other key social media platforms.
See what things people are posting and having conversations about.
These are topics that your target audience finds important and compelling.
So take that as a guidepost to developing evergreen content for your blog.
How to write evergreen blog content
As far as the actual writing of evergreen content on your blog, there is a helpful beginner's guide
just write in the same style that you typically use.
And make sure to avoid any time references.
Remember, this is supposed to be "timeless" content.
So avoid using dates, events, or even people who are in the "news."
Avoid product reviews because products come and go so quickly.
Of course, you can put product reviews on your blog, but not within your evergreen content itself.
Write for beginners
The kinds of articles you write for evergreen content should be geared toward beginners in your niche.
Those are the people that would be researching basic information about things.
Also, beginners in your niche are the easiest people to convert into subscribers for your email list.
They are also the most likely to become buyers and clients.
What to write for beginners
With that in mind, some of the best evergreen posts for the novice are things like FAQ and how-to articles.
That gives you a chance to go over very basic, but important information.
Beginners always love to read "complete guides."
They see them as standard trainings that they'll need.
For instance, here's a great beginner's guide to evergreen content from the Digital Marketing Institute.
If you do a great job with these kinds of articles, you will will likely build a long list of longtime loyal readers.
The 3 R's: Re-publish, Re-purpose, Re-market
The whole point of developing evergreen blog content is that it will last a long time.
It doesn't get outdated very easily, and so people will continue to search for it long after you've published it.
But to really make the best use of evergreen content, you need to understand that it is a digital asset.
That means, it's something you can use over and over again in many ways, and in many places on the internet.
Here are the keys to taking advantage of your evergreen blog content.
Re-publish
Keep a list of your evergreen posts.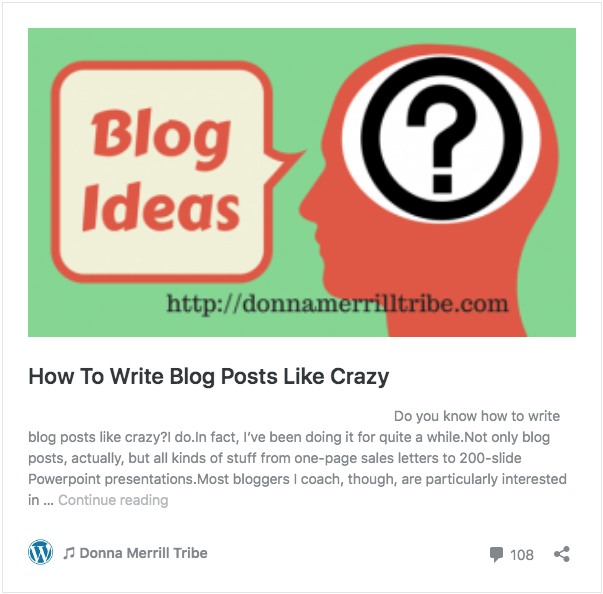 Schedule them for updating.
Update them maybe once a year, every 6 months or whatever works for you.
You don't need to make extensive updates.
Just be sure everything on that blog post is current.
If you mentioned something about outsourcing jobs to O'Desk, for instance, you should know that O'Desk more recently became Upwork.
So make that change, or at least add a note about that change.
You could update things like links to outside articles, or even links to your own articles.
Change up some images, add a video or whatever it takes to improve your article as you update it.
You might even change the title, although you will probably never have reason to change the URL, so I'd suggest you don't.
Then re-publish it.
Re-purpose
You could even go a step further.
It's a good idea for you to continually re-purpose your evergreen blog content.
Turn it into a video.
Then post it to YouTube or elsewhere.
Link your video back to your blog.
Turn it into an infographic, an ebook, a flip book or any other digital asset you'd like to add to your stockpile.
This is how you build a treasury of those digital assets.
You can use them in any way, any time you want to promote your blog and build your audience.
Re-market
When you re-publish or re-purpose your evergreen blog post, you should treat it as new content.
Like any new content, you can market it all over again.
Treat it like you would all of your new evergreen blog content.
Share it on social media, include it in your latest email, and everything else you would ordinarily do to market your content.
This is the beauty of evergreen content.
You can bend it and shape it into any marketing or re-marketing campaign you want.
And at any time you choose.
So writing just ONE evergreen blog post will give you endless opportunities to put it to work for you.
Your blog needs evergreen content
I think you can see how beneficial evergreen blog content can be to your overall business model.
But don't think that every blog post needs to be evergreen.
Maybe you only want 2 posts out of 10 to be evergreen.
That's fine.
There's no rule, here.
You certainly don't want to limit your entire blog to only evergreen content.
You can write articles about the latest trends in your niche.
Or do product reviews sometimes.
Maybe an interview here and there, or a sponsored post.
But don't forget the great benefits of adding evergreen content to your blog, too.
So, what do you think?
I'd love to have your comment below.
Are you including this kind of content on your blog?
To what extent?
What do you think is the most important reason that your blog needs evergreen content?
-Donna
PS: Don't forget to share this article on your favorite social sites. Much thanks 🙂