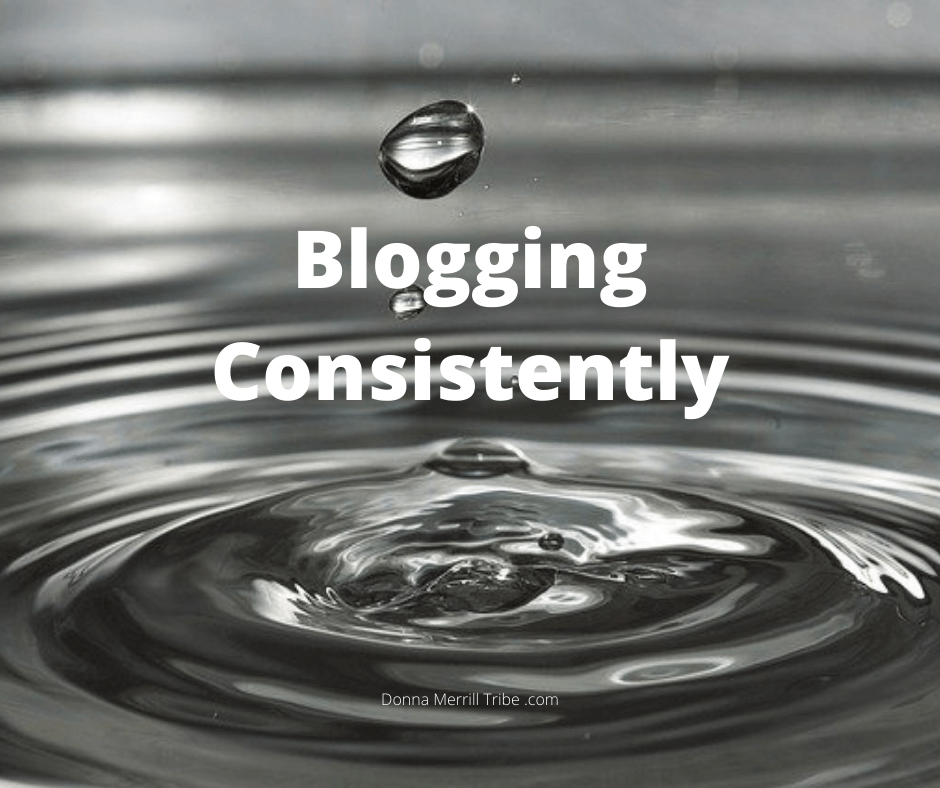 Blogging consistently is one of the keys to having a successful blog.
You might want to start making money with your blog.
Or attract more traffic to it.
Maybe you want to climb in the Google rankings so people actually find you in the search engines.
But none of these things are going to happen until you commit to blogging consistently.
So how do you do it?
Well here's a quick guide to blogging consistently so you can reach whatever your goals are.
What is consistency in blogging?
How often are you blogging now?
And how many words do your blog posts average?
Are you solving problems for your readers?
And are you improving their lives in any way?
You need to answer all of these questions.
They are key elements of blogging.
But beyond answering them, you must do them with consistency.
So, let's say you're blogging once a week, for example.
Are you doing that pretty much all the time?
Or do you blog twice a week for a while, then twice a month, then once a week for a spell?
That would be inconsistent.
The same for your word count, although, you could be more flexible with that.
If you're used to blogging 500 words per post, then jump to 2,000, back to 300 and up to 1,200… you're not establishing any consistency in your blogging.
You see, people like to see familiar patterns.
When you jump all over the place, they never know where you're coming from.
So they get uncomfortable.
Google gets uncomfortable, too, so they don't rank you as high if you fail to put some consistency into your blogging.
So try to establish a pattern that works for you, and stick with it for the most part.
That's consistency.
Make your blog a habit
Blogging consistently means to make your blog a habit.
It's something that has to get done just like you pay your bills at the end of the month or brush your teeth at night.
You don't have to think about it, you just do it.
One good way to make your blog a habit is to dedicate a space to work in.
Another is to have specific times of the day earmarked for working on your blog.
Too many bloggers think that blogging is a spontaneous, inspired activity.
It's not.
Blogging is work.
And you need keep at it consistently, and make it a daily habit.
Blogging without distraction
Develop good work habits.
It's hard to develop blogging consistency when you're working in front of television one minute, on the train another, or here and there while you're at your day job.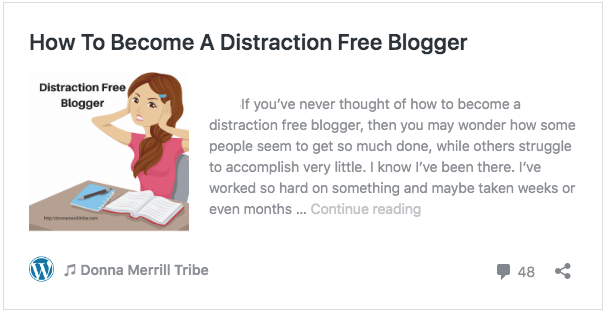 To be blogging consistently, it's best to find a quiet place and time.
Let people know you're "at work" and don't want to be disturbed for a stated amount of time.
Set very clear boundaries that will give you the distraction-free space you need to work.
That's not always easy to do, but if you want to stay consistent with your blog, you need to find ways to work without distractions.
Blog every day
Do you blog every day?
Or do you go back and forth with other things in your life.
To be blogging consistently, you really need to do it every day.
And I'm not talking about just "writing" every day.
You need to work other aspects of you blogging business just as consistently.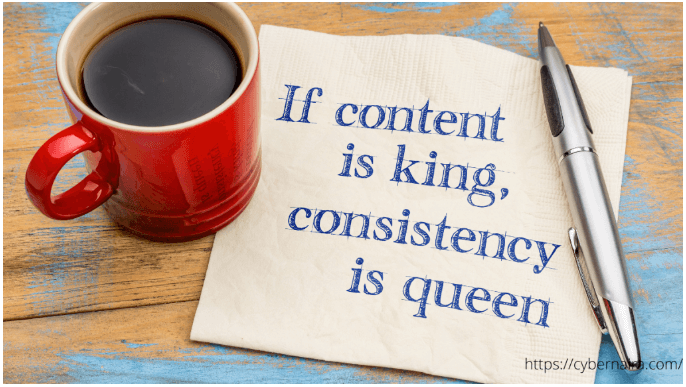 You can learn the 6 best techniques for blogging consistently from Shamsudeen at Cybernaira.
Social media posting
You need to post to social media channels every day.
Just like you develop a blog following, you also develop a social media following.
Take advantage of that.
Each day, you need to interact with people in your network.
It doesn't always have to be linking or referring to your blog or to specific blog posts you've written.
But that's certainly a big part of it.
Otherwise, spend time being social and helpful.
Send out your emails
Blogging consistently is not just about writing articles and sharing them on social media, though.
It's also about attracting a following.
More specifically, it's about building an email list and writing to them regularly.
Sending out emails to your list is key activity that brings you loyal subscribers.
And subscribers who actually open your emails.
What does that have to do with blogging?
Well, one of the main reasons bloggers build an email list is to share their blog posts with their readers.
Every time you publish a blog post, you should send an email to your list and let them know.
That will increase the traffic to your blog, and improve the engagement level with your readers.
Emailing each time you publish motivates you to keep blogging consistently.
Read other blogs
One of the big problems you could experience when trying to maintain your blogging consistency, is with creating content.
Sure, you could get through a lot of blog posts when you're just starting out and have tons of ideas.
But that starts to get harder the longer you blog.
You could find yourself running up against the problem of what to blog about.
There are many things you can do to come up with blog post ideas.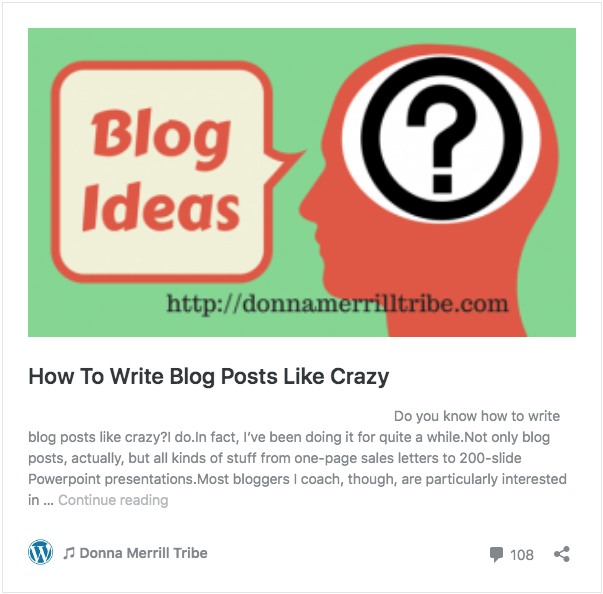 But one of the very best ways to keep those ideas rolling, and keep yourself blogging consistently, is to read other blogs in your niche.
You see, each time you read somebody's blog post, you learn more about running your own blogging business.
But even more, you get fresh ideas.
I don't care if the topic is something you've read about 100 times.
You'll always learn something new.
And you'll always come away with ideas you can spin into your own blog post.
It doesn't need to be on the same topic, but on some aspect of it.
Maybe you read a blog that just barely mentions something that you could run with, and develop into your next blog post.
Keep reading.
Even blog comments.
Sometimes you get more ideas from them than you might from the blog post itself.
Always approach everything you read with an open mind.
And keep your eye focused toward developing your own content,
Keep a notebook
Now, as you get ideas for blog posts, you need to store them somewhere until you're ready to use them.
The best place to store them is in a notebook.
Sure, you could write them in a physical notebook.
Remember what it's like to use pen and paper?
But that's not really the most efficient way to keep notes.
It takes a longer time to write than to type.
Especially when all you have to do is a quick copy and paste.
If one paragraph in something you're reading gets your creative juices flowing… just copy it from the source, and paste it into your notebook.
Then jot down an idea you have for using it in your own blog poat.
Now, you won't use the actual text you copied and pasted.
But you can keep it to remind yourself of the ideas you had, and also as a resource you might like to quote or reference.
Some good digital notebooks
Okay, so what can you use for a notebook?
There are really so many good choices, you just need to do some research to see what suits your taste and budget best.
For myself, I use two different notebooks… Evernote and Trello.
I use the free version of both because paid upgrades to notebooks seem to be mainly for teams.
If you have a team of people who all want to share things you add to your notebook, that's fine.
But otherwise, a free plan should be just fine.
Evernote
This is a good program for organizing your ideas, so you can keep blogging consistently.
Evernote allows you to copy and paste whole articles, images and even videos into your notes.
You can classify them according to topics, so you can easily access them.
Also, you can use a general search to find exactly what you're looking for.
Trello
I actually rely far more on Trello.
To me, the layout is much more visual than Evernote.
That makes it easier to use.
It's so simple to add notes (called "cards," ie., files) anywhere you want.
Rearrange them by simply dragging and dropping them wherever you want.
You can even copy and paste them to other "boards," which are like folders containing the various cards, or files..
But what I like most about Trello is it's search function.
If you want to find an article you've saved written by Ryan Biddulph or Lisa , for instance, all you have to do is search for "Ryan" or "Lisa."
With one click it will take you directly to the card containing that information.
This is a real time saver over any other notebook I've ever used.
And believe me, blogging consistently becomes way easier with a good notebook like Trello.
Maintain a production schedule
Finally, to develop the kind of blogging consistency you're looking for, you need a production schedule.
This is something you can organize in your notebook.
Make a list of all the blog posts you intend to write for, say, the next 3 months.
List them in categories to be sure you're developing a full range of content for your niche.
Then just write them as they come due to continue blogging consistently for your followers.
It's not a bad idea, also, to keep a library of backup posts.
These are articles you'll need to grab quickly when things come up like holidays, family events, travel and the like.
Just because your life gets busy, it's no reason to let your blogging slack off.
A library of backup blog posts will make it easy to keep blogging consistently at times when it might otherwise be difficult to keep up.
Blogging consistently
This is just a short guide to help you run your blogging business smoothly.
I think the most important thing to is to keep reading, keep networking and always jot down your ideas.
Even when you're reading social media threads or blog comments, ideas will pop in your mind.
You should always stop for a moment, and think of how that brief idea, or a question from somebody, might be spun into a blog post that will help others.

What do you think?
Leave me a comment below and tell me how you keep up with the demands of blogging consistently.
-Donna
PS: Please share this article on your favorite social sites!