You need to tell the amazing story of your blogging journey.
Oh, wait.
Could it be that you haven't even told the story of your blogging journey, yet?
Well, the truth is… you have.
Maybe you didn't even know you had started writing it.
But every day you spend blogging, you are actually giving people glimpses into your personal blogging journey.
And people want to hear even more of it.
So maybe you need to be spending even more time working on your personal story.
Yes, your readers learn from you showing them how to do things.
But there's nothing they can relate to more than your real life story about your own journey.
Why you must tell the story of your blogging journey
People could start reading your blog posts for many reasons.
They might like your writing style.
Or they are captivated by a particular blog post's title.
You might have a lot of social interaction, attracting them to your site.
But one thing is pretty certain.
Just about anybody reading your articles will want to know your backstory.
Your About Me page
They'll probably give a look at your About Me page.
That's one of the most important pages on your blog.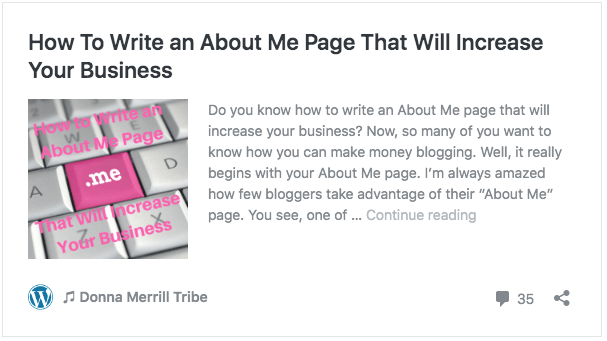 It's because people are looking for the story of your blogging journey.
And it's up to you to tell them that story.
You've got to let people know you
Letting your readers know just who you are, and why you blog is important.
Telling them the story of how you got to where you're at right now… that's essential.
People really want to know your story.
If you don't tell it to them, then your blog will lack empathy and interest.
It will fail to intrigue them because you will not be visible.
They'll probably just think that some big blogging company is behind your site.
But really, it's you, isn't it?
If you want to be real, engaging and build relationships with your readers… you simply must tell the story of your blogging journey.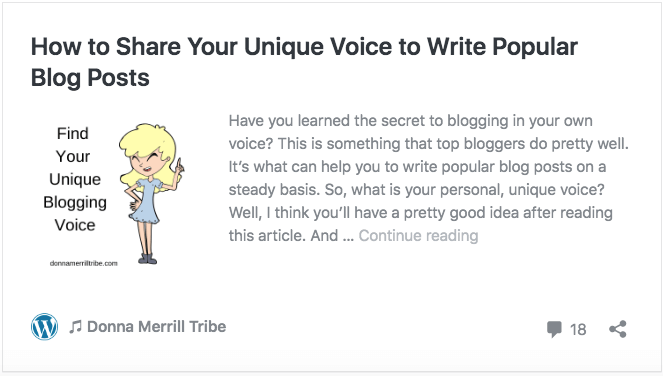 What is the story of your blogging journey?
So now that you know how important it is to tell your story about your blogging journey, you might be wondering this.
What is the story you have to share?
You might not think it's very interesting.
After all, you started a blog, worked hard, maybe had some success so far, but maybe not.
What makes you so interesting?
YOUR story is THEIR story
Well, the truth is, people really don't care so much about you.
Sorry.
It's just the way it is.
I don't care if you're the best blogger in the world, or have won awards and praise.
It doesn't matter if you have a million views on every post you write.
People care about themselves, first and foremost.
The reason they are so interested in the story of your blogging journey is that it gives them a glimpse into their own.
They're really looking in the mirror, even while you might think they're looking at you.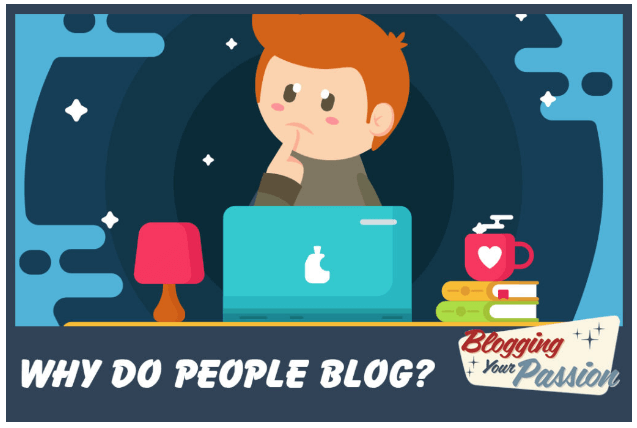 Find out Why Do People Blog? 8 Powerful Reasons Why (by Jonathan Milligan) on BloggingYourPassion.
So here's the way it works.
People love your story… to the extent that it reminds them of their own blogging journey.
How do you tell the story of your blogging journey?
If people are really looking for their own story, somehow hidden inside of yours, then you actually need to tell them THEIR story.
So, that may sound strange.
I get it.
But it's really a pretty simple thing to do.
What are your challenges?
Write the story of your blogging journey in terms of the problems you have had to overcome.
Those are your main challenges.
And that's what people want to see.
What did you come up against, where did you turn, how did you overcome it and move on?
It's pretty much the same storyline of just about every television drama you've ever seen, isn't it?
It goes like this.
The hero has a nice enough life going.
Then bad guys jump in.
Villains, enemies, opposition… whatever they're called, they're the bad guys.
So that's it.
Good guy vs bad guy.
Things look bad.
Then they get worse.
It looks impossible until, wow, at the last minute the hero good guy finds a way to beat the bad guy.
Have you ever seen that?
Sounds like cowboy, horror and cop movies, doesn't it?
But it's what makes for a great story.
If you can frame yours like that, then you've got an amazing story to tell about your blogging journey.
Which of your challenges are the same as theirs?
Now this is really the key.
Your story has to look like theirs… your readers.
That's because, like I said, they're really not that interested in your story, but in their own.
Your readers will have a very typical challenge, like "how can I raise start-up capital for my new business," or whatever a key issue is in your niche.
You determine what those key challenges are.
If you have a dental blog, it might be how and when to get implants.
Or if your blog is about affiliate marketing, it might be how to create a good bonus to get buyers on board.
List some of those key challenges.
Then think of how you overcame those challenges.
Or maybe, think of how you could not overcome some of them, so you moved in a different direction.
Write your story in terms of your struggles because people reading it are always thinking about their own struggles.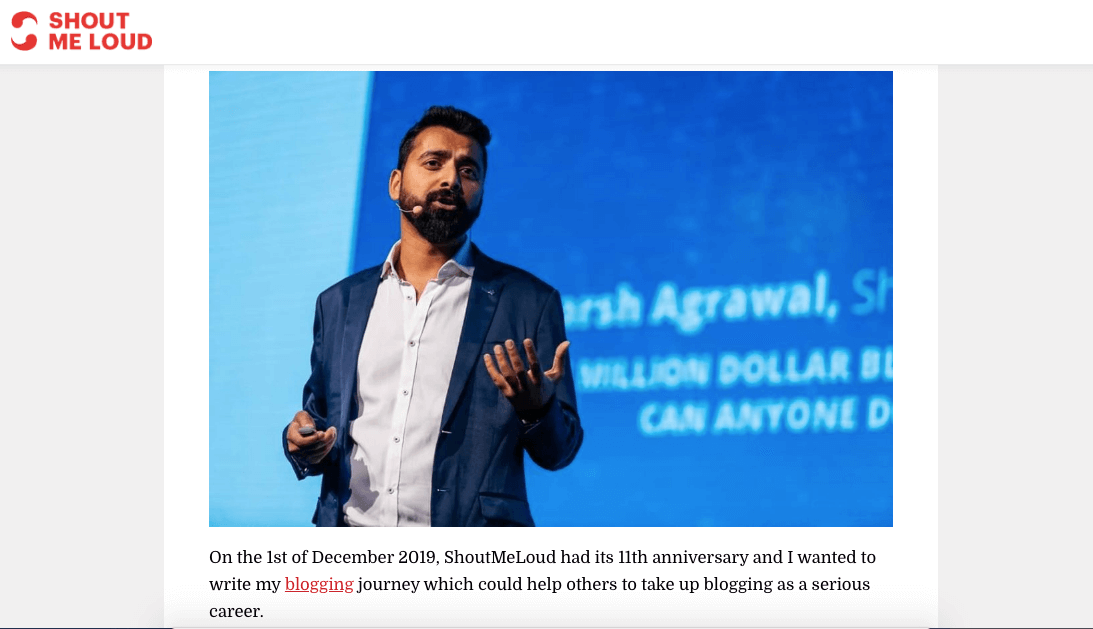 An excellent example of a highly effective blogging journey story, is Harsh Agrawal: My Blogging Journey So Far, on ShoutMeLoud.
And if you show them how YOU dealt with them, it will give them ideas, encouragement, and direction to help them develop the story of their own blogging journey.
What makes your story amazing?
When I have bloggers create the story of their blogging journey, I almost always get one main objection.
They don't think their story is amazing.
So they think it's not worth writing.
Does that sound like you?
Maybe you've had trouble getting traffic to your blog.
Or you can't seem to crank out enough content on a consistent basis.
A common issue with bloggers is being unable to market their content… not getting it "out there" efficiently or sufficiently.
And then there's always the struggle to create an email list.
Not to mention the problem with writing the emails, and getting people to open them!
You see, you might think your story is less than amazing because you haven't mastered all aspects of blogging.
Or maybe you feel like you've just not had much success at all.
Building relationships
But you shouldn't be worried about your "failures" or "underperformance."
Those are exactly the kinds of things that actually attract many readers to the story of your blogging journey.
They've had the same problems.
And the same feelings.
They often feel lost and confused.
And, of course, overwhelmed.
So when they hear that your blogging journey has taken you down a rocky road, they have empathy for you.
And they feel encouraged by your story because they can put themselves in your place, as you tread down that road, step by step.
The engagement your story creates, and the relationships it helps you build, are among the strongest assets you can have.
The amazing story of your blogging journey
So you see, the story of your blogging journey is pretty amazing, isn't it?
It's amazing if you are highly successful, just holding your own or even a dismal "failure" by your own standards.
As long as you can tell your story so that others can say "Oh, wow, that's exactly how I feel sometimes," or "Yeah, I've certainly had that problem" – then you're doing a great job with it.
Just keep relating to people like that, and you're on the right road.
Learn about Donna's Top Tier private coaching program…

So, please, let me hear from you in the comments below.
Are you ready to share the amazing story of your blogging journey?
-Donna
PS: Share this on your favorite social sites, too. I really appreciate it 🙂