Is part-time blogging enough?
I recently had a blogging client ask me that during our first consultation.
It took me back for a moment because most of the people I network with consider blogging to be their full-time occupation.
But it made me wonder.
Do part-time bloggers really give enough time to their blogging business?
So I answered the question with another question.
Is part-time blogging enough… for what?
I suppose I could ask this question of all bloggers.
Myself, my clients, peers and you, too.
What is it that you want to get from your blogging business?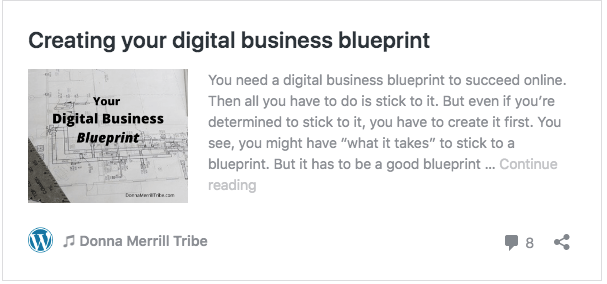 And that leads to yet another question.
Are you getting the results you want, or that you expect to be getting?
All this, of course, must be considered before answering the question of whether or not part-time blogging is "enough."
Blogging for income and profit
One of the big reasons for blogging is to earn some income, commissions and profit.
If you blog for profit, you might want to ask yourself this.
Are you earning enough?
Or at least, are you earning what you expected?
If not, you might want to put more time into doing some things that will help you get the profit you're looking for.
Building a business or profession by blogging
You might not be actually selling or affiliating anything.
That doesn't mean that your blog does not mean income or profit to you.
There are countless people with a business or profession who turn to blogging.
Not to make a direct profit by selling things on their websites.
But by attracting clients and customers who like what they're doing.
Those prospects will then become more engaged with you.
They may join your email list, or start looking for your videos or blog posts that help keep them informed about your topic.
Ultimately, these prospects may be converted into paying clients and customers, not just followers of your blog.
So, you can see, that's a sure path to building profit, maybe not on your blog, but certainly through the contacts you make on it.
Traffic and rankings
Another result you may be looking for is to get traffic to your blog.
In that way, you will attract the prospects and followers you are targeting.
And if you have a business page or e-com store connected to your blog, it's an important way to get more visibility for them, too.
You see, the amount of traffic you get will directly affect your search rankings.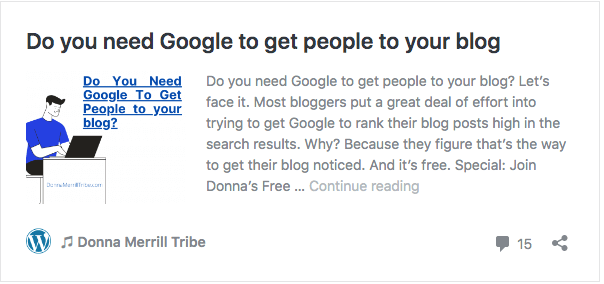 So if you have a very popular or highly esteemed blog, your articles will probably outrank many of your competitors.
But if you're not doing so well with these things, you might be wondering if you need to put more time into your blogging.
So the question again, is this… is part-time blogging enough?
Audience
Now, the same can be said about building an audience, or a following.
Can you do that without getting a lot of traffic to your blog?
Well, yes, if you do things the right way.
That means, if you are getting a lot of social media engagement.
Or, if you're building a good email list with a good percentage of your subscribers actually opening your emails and clicking on your links.
In that case, you can build a nice business without getting tons of traffic and rankings.
But then you get to the issue of how much time you're spending on your blog.
Are you blogging full-time or part-time?
You see, blogging is not just about publishing blog posts.
It's also about growing an audience on social media and with your email marketing.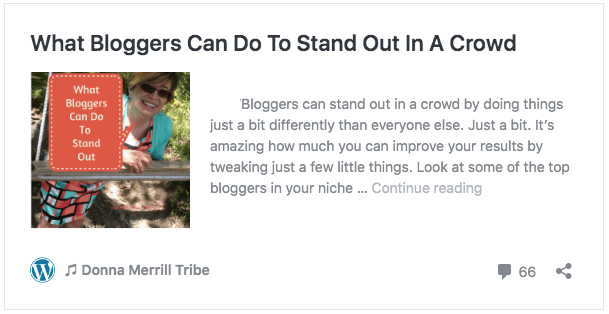 But, here's the thing.
If the best way to do that is to talk about your blog posts.
So it goes full circle.
You need social media engagement to build an audience.
But the best way to get that engagement is with good, consistent blogging.
Recognition & authority
One of the best blogging results that will help you to build your business or profession through blogging is to establish yourself as an authority.
Each time you publish a blog post, you are reminding readers that you are an expert in your field.
And, you get a chance to show them exactly how you can help them solve their problems.
If you have a furniture store, for instance, a blog article about sectional couches accomplishes two things.
You can tell people about the sectionals that you sell, and invite them to your store.
But even more importantly, you get to help them solve their decorating challenges by showing them how sectionals can redesign a living space.
When you do that, you are branding yourself as an authority, not just a store.
Should you be blogging
part-time or full-time?
All of the great purposes of a blog, and the benefits you stand to gain, can be achieved regardless of whether you are blogging part-time or full-time.
Many people think it's nice to be able to put all your time into blogging.
But blogging is not always your entire purpose for being online.
As I've pointed out above, you may be trying to build some online income,
Or you might be trying to attract people to your dental practice or restaurant.
Blogging does not have to mean you are a full-time blogger, and nothing else.
Depending on just what sort of results you're looking to achieve, part-time blogging can be just as fruitful.
I've seen many instances where part-time blogging is actually more challenging than if you did nothing else but blog.
That's because if you're blogging part-time, it usually means you're doing a lot of other things in addition.
So even if you're spending less time blogging, you're probably spending a lot more time trying to build your business.
Is part-time blogging enough?
I think part-time blogging is certainly enough to achieve most goals you may have for your business.
But don't get all caught up in the time trap.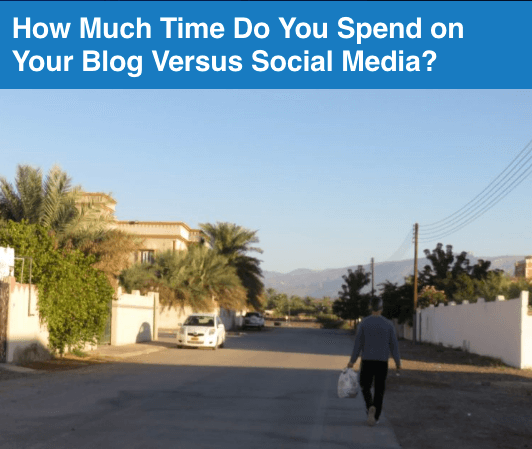 Ryan Biddulph talks about how you spend your time on Blogging from Paradise.
You can consider yourself a full-time blogger and go about your day spending a lot more time than you should on relatively insignificant tasks.
For that reason, full-time blogging can actually be a way to avoid doing some other things that would help you a lot more.
Maybe creating videos, or marketing your blog more aggressively.
Don't use the "I don't have time" excuse to put off developing key parts of your business.
And that's true regardless of how much time you actually put into blogging.
Whether you are blogging part-time or full-time, you will know whether or not you're putting enough time into it by the results you're getting.
If you're not reaching your goals, then put more time into your business.
But don't just spin your wheels doing a lot of busy work.
Use your time strategically and efficiently.
Do things every single day that bring you just a little closer to achieving your goals.

So, what are your thoughts?
Leave me a comment below to let me know.
Do you consider yourself a full-time or part-time blogger?
And if you're not putting every dying minute of your day into it, think a moment… is part-time blogging enough?
-Donna
PS: Please share this article on your favorite social sites!