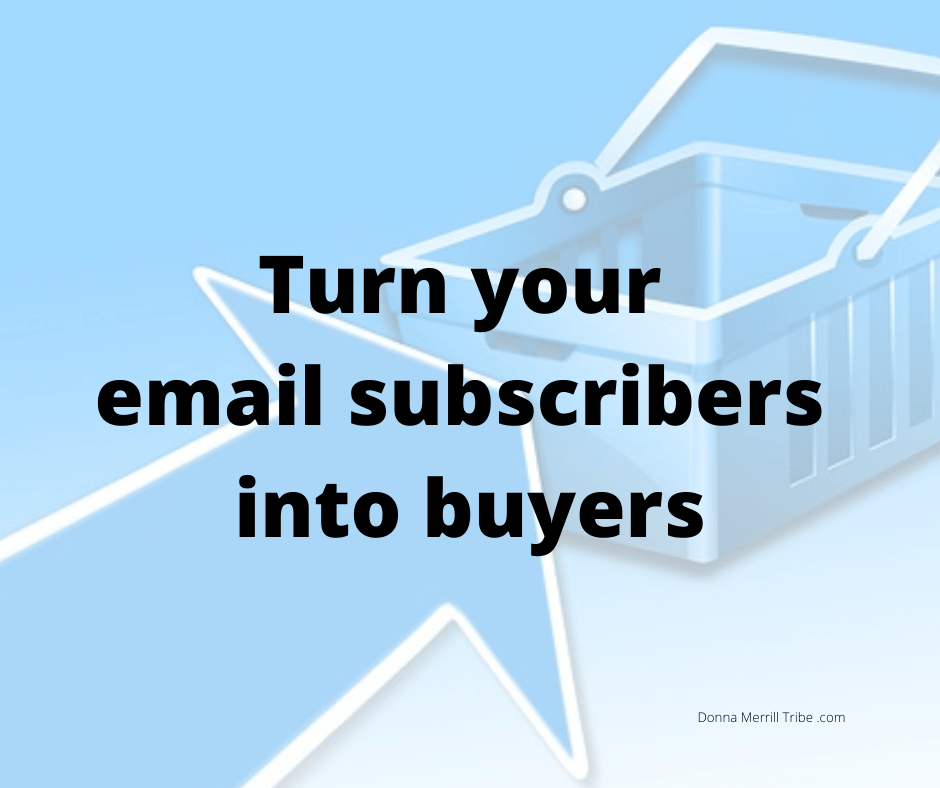 You have to know how to turn email subscribers into buyers to be a profitable blogger.
Most bloggers try to sell something to make money with their blogs.
I find that affiliate marketing is the most popular business model that bloggers use.
Is that you?
Sell affiliate products
So, here's how it works.
You introduce your readers to products and services.
Usually that means you write a blog post about a product or service you use.
Or sometimes you might just refer to it casually.
Either way, your intention is to give readers your affiliate link to that product, and hope they buy it from you.
It's a good way to monetize your blog, for sure.
But I'm sure you know that it's not so easy to just put affiliate links in your blog posts and get sales.
So, here's the way to use email to do the heavy lifting for you.
Get people to subscribe to your email list
The first thing you need to do is to get email subscribers.
For that, you need to have a good autoresponder in place.
This part of the strategy is called list-building.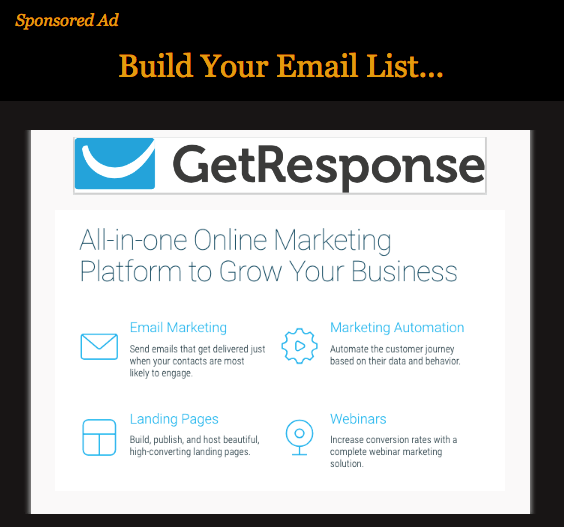 Notice: I am an affiliate of GetResponse because I believe it is the best autoresponder.
If you make a purchase by clicking on the above image, I may
receive a small commission which in no way affects your cost.
Your goal as a blogger, here, is to get people onto your email list.
That way, even if they don't buy from your blog links, all is not lost.
You see, people may read your blog post and see an affiliate link.
But, they don't buy.
Instead they click away and go to another site.
That's why you want them on your email list before they click away.
How your email subscribers become buyers
Remember, before subscribing to your email list, your readers have already seen your affiliate links right in your blog post.
But whether or not they actually purchased from those links, you now have a chance to show them the very same affiliate links many different times.
And, in many different ways.
So you simply start emailing them messages containing your affiliate links.
And eventually, they may start buying.
If they don't buy from one affiliate link, maybe they'll buy from another one in the future.
That's how you turn email subscribers into buyers.
But, it's not quite that easy, of course.
I'm sure you already know that.
And you especially know it if you've been trying to make sales with your email list, but without success.
So let me show you how to write emails that can effectively turn email subscribers into buyers.
Writing autoresponders
The first thing your new email subscribers should see is a "Welcome" type of email message.
And it should be sent to them the moment they sign up.
Why?
Because most people, after subscribing to someone's email list, go immediately to their inbox to see if they've received their welcome message.
So let me go through this step by step to show you how it's done.
I use this process through my autoresponder which is GetResponse.
If you have a different service, it should be a very similar process.
Your "welcome" email
The first thing your welcome email should do is make people feel like they are in the right place.
Remind them that they voluntarily joined your email list.
And let them know right away that if they don't want to be on your list, they can very easily unsubscribe now, or at any future time
Tell them how they can unsubscribe… usually by clicking the "unsubscribe" link at the bottom of any of your emails.
GetResponse will, by default, provide that link on all of the emails you send out.
And, of course, if you promised people something for joining your email list, like a free ebook for instance, give it to them in your welcome email.
Your follow-up emails
After your welcome email, you should set up a series of autoresponders to go out… automatically.
The best way to do this is to set up a series of autoresponder "sequences."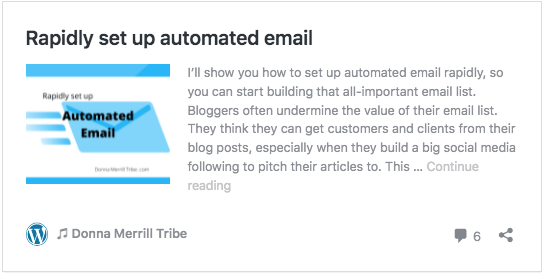 These are simply groups of emails that follow up with your subscribers on specific topics.
So let's see what that looks like.
Your first email sequence
Let's say that you have an email list for your cooking blog.
Maybe people joined your email list to get your free recipe ebook.
So, you sent them a download link for that ebook inside of your welcome email.
Now, what?
Well, it's time to create your first autoresponder sequence.
So, perhaps you're an Amazon affiliate and you promote cooking products.
Your first email sequence could be created to try to interest people in the "Amazing Pots & Pans" cookware set.
This is a fictional product, of course, but you'll be setting up a sequence with affiliate links to a real product.
Now, your "pots & pans" sequence might have 3 emails.
For 3 consecutive days, you'll be sending an email to try to sell that affiliate product
First, Day 1 might talk about what a good price the cookware set is.
Next, Day 2 might be about why it's so important to have high quality cookware.
Finally, Day 3 could be an email with testimonials from people who just love cooking with the "Amazing Pots & Pans" cookware set.
You see, a sequence is simply a group of emails that all talk about the same subject, or product, from different perspectives.
Why construct an email sequence?
Remember, your goal here is to turn your email subscribers into buyers, right?
Well, that's what an email sequence is geared to do.
The first day in a sequence is to warm your readers up to the idea that they can benefit from some product or service.
The second day can explore one of the main features of your offer.
The third day gives a clear call to action to buy. It often has a special discount or limited time offer.
Now that's just a sample of what an email sequence might look like.
But the possibilities are endless.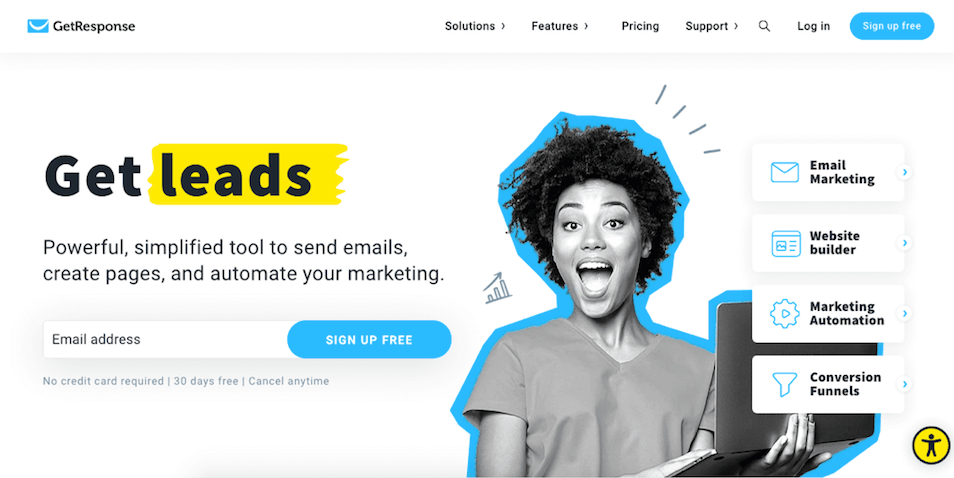 Notice: I am an affiliate of GetResponse because I believe it is the best autoresponder.
If you make a purchase by clicking on the above image, I may
receive a small commission which in no way affects your cost.
You could have a seven day sequence, a two week sequence… anything at all.
The key reason to construct your email sequences is to show your subscriber how they can benefit from buying your product.
And that includes emails about at least one benefit to buying, and calls to action throughout the sequence.
In other words, your email sequences can be designed specifically to turn your email subscribers into buyers.
Writing your newsletter
Writing your newsletter is pretty much the same process as writing your autoresponders.
But there are important differences.
First of all, your autoresponder will automatically deliver anything you might have offered new subscribers.
So, for instance, if you offer a free ebook, you will want to put the download link to it in your "welcome" email, as I mentioned above.
And people will get that email whether they subscribed on January 1, June 15, November 12… this year, next year or any time following, unless you change it.
Newsletters are real-time connections
But your newsletter messages are just for the day you are sending them.
So if you send a newsletter on January 1, the only people who will see it are the ones who are on your email list on January 1.
That means they subscribed to your list at some time prior to January 1.
But if someone subscribes to your list on January 2, or later, they will not get the January 1 newsletter message.
It's already done and over.
So your newsletter is a unique opportunity for you to touch base with your subscribers on a real-time basis.
You can write something like "How's your Monday going so far," and know that people will be reading your newsletter on Monday.
Even if they read it a day or two later, they can see it was dated for Monday.
This gives people a feeling that you are real, and that you're talking directly to them at this very moment.
It's not something you wrote 3 months or 3 years ago, which may well be the case with your autoresponders.
Selling to people via newsletter
Your newsletter also gives you a unique opportunity to turn your email subscribers into buyers.
You see, your autoresponders are programmed to pitch people on products and services that are always available.
After all, you don't know if someone will subscribe to your email list the day after you activate a specific sequence of email messages, or if they'll subscribe 2 months, or even 2 years later.
So whatever you offer in your sequences is pretty permanent, even though you can change them any time you want.
But you don't want to be changing them too often.
It's just too much work to keep updating them as offers change.
It defeats the whole purpose of autoresponders which is… set and forget!
Sell what's hot
When you write a newsletter, though, it is, as I've said, a real-time message.
That means, if there's a hot new product being launched on Friday, you can write an email message on Thursday telling people to watch for the big launch "tomorrow."
Then you can write a new message on Friday telling them "it's here… buy it now at this great introductory offer."
If, for example, the introductory offer ends 7 days later, you can send an email warning them… "last day to get the introductory offer."
The idea is this.
You can promote things that are hot right now, today.
Then, when that deal is over, you can go on to the next.
If it's something that will be a product you want to always sell, and it's not on launch or special offer… then you can make it one of your autoresponder sequences.
But the power of newsletters is that you can send messages about the latest and greatest offers, information or news.
It's immediate, spontaneous and real-time messaging.
How to turn email subscribers into buyers
I've shown you the two main ways you can use your autoresponder to turn email subscribers into buyers.
I use GetResponse because I believe it's the best autoresponder service.
That's why I've been using it for many years now.
But if you have a different service, that's fine, too.
Any autoresponder can be used to get your subscribers off the fence, and into your customer-client bucket.

Now, I'd love to hear what you think.
Leave me a comment below and tell me what your experience has been with generating sales and signing up paying clients with your email autoresponder.
How do you think this article can help you turn your email subscribers into buyers?
-Donna
PS: Share this on your favorite social sites, too. I really appreciate it 🙂