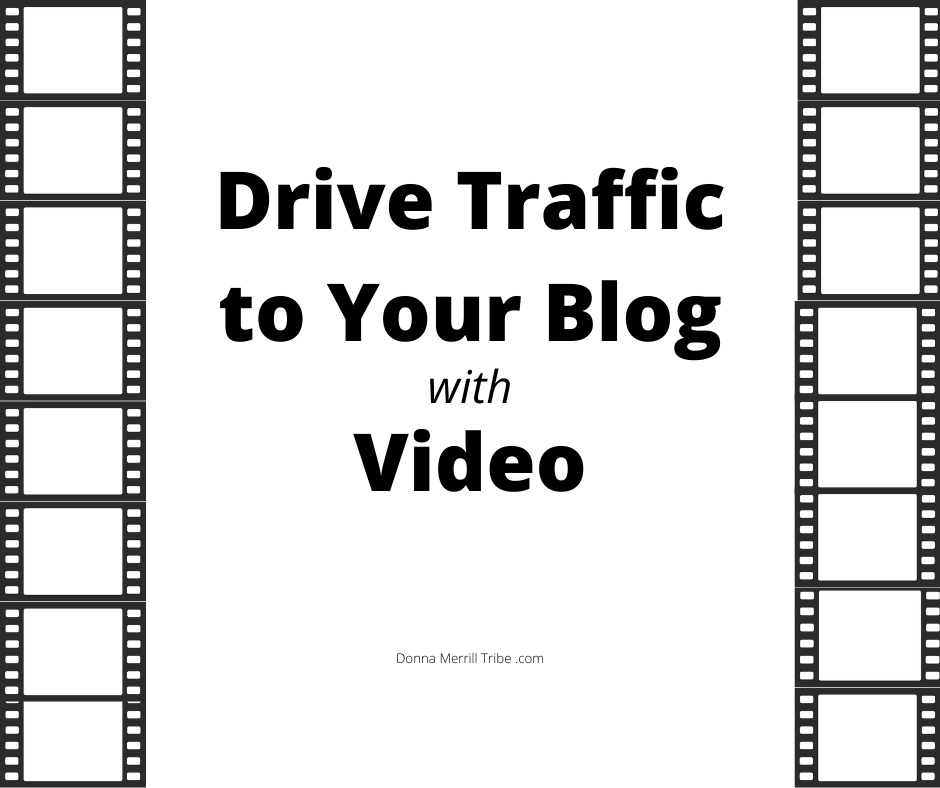 One video can drive endless traffic to your blog.
And you don't even have to be on the video.
In fact, you don't even have to do the video.
I'm going to show you a slick video strategy that can result in a steady flow of traffic to any blog post.
Why video?
Video is the most powerful way to connect with your audience.
People may read your blog post, but it won't have the same effect as a video.
That's because when you publish a video, people begin to trust you.
In fact, they'll trust you far more after seeing your video than purely from reading your blog post.
That's because video creates an instant bond between you and your viewer.
Yes, it's best if you appear on your video.
That makes the connection between you and your audience even stronger.
But even if you just narrate the video, and never actually appear on it, people will start thinking of you as a leader, an expert, an authority on your topic.
You just can't accomplish this the standard blocks of text that comprise many blog posts.
The one video you need to get blog traffic
So, what video should you create for your blog post?
Well, it has to be a special video.
It must be a video designed specifically to drive blog traffic to your blog post.
So, it stands to reason that it has to be a video about the blog post you're promoting.
Makes sense?
Video promotion for your blog post
Let's say you write a blog post called "7 tips for landing freelance writing gigs."
How can you promote this blog post with a video?
Like I said, do a video about your blog post.
So you can very simply get on camera and talk about your blog post.
Tell people what your 7 tips are for landing freelance writing gigs.
That's what your blog post is about, isn't it?
So just do a video about the same thing.
It can be a 3 minute video quickly summarizing your blog post.
Or you could do a longer, 5 to 15 minute video going into more detail than you did in your blog post.
In that case, your video would actually be what is called a "content upgrade"… something that gives your readers advanced information that goes beyond the scope of your blog post.
This kind of video is a pretty good bet to drive endless traffic to your blog when you promote it wisely.
More about the promotion part later.
Creating your video
Creating your video might be a concern for you, especially if you're not used to doing much video.
In the above example, I mentioned that you could "simply get on camera and talk about your blog post."
That's one way of doing it.
But you can also use other techniques.
Let's talk about some of them.
Producing your video
The key to producing a single video designed to drive traffic to your blog, is to make it clear, simple and interesting or entertaining.
To do that, you can use many different video techniques.
These are some of them.
Face to Camera
This is a very common technique.
Face the camera, webcam or mobile device and start talking.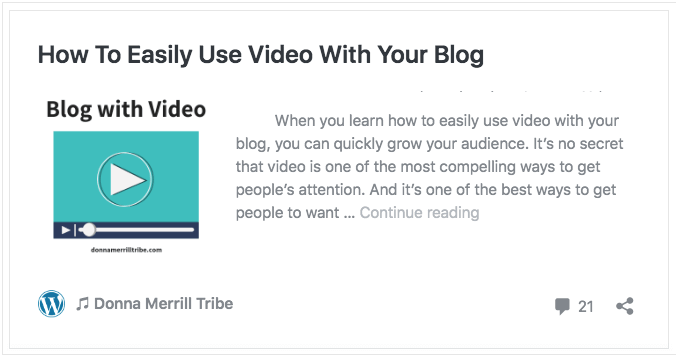 You face the camera, deliver your message, then end your video.
Advantage: People get to see you, and build a personal connection with you.
PowerPoint
Develop a slideshow to give your viewers an outline of what you will talk about.
You can use bullet points like you might do on a whiteboard.
But you can also add images, video and even animation if you want to juice it up.
For you presentation, just capture your voice, or that of an outsourced pro.
Advantage: You don't ever have to face the camera.
Screen Capture
For this method, you need to have a screen capture software or app.
I use ScreenFlow, for example, and totally love it.
It makes video production so simple.
Then, all you need to do is capture anything you want on your desktop screen.
For instance, if you are viewing your blog, you could scroll through it as you read your latest blog post.
It will be captured as a video.
Then just publish that video to YouTube, and you're set.
Advantage: Again, you don't need to be on camera.
And you don't even have to do a formal "presentation."
Notebook
Here's a specific type of screen capture video.
This is actually just like a PowerPoint presentation, but much simpler.
Simply open a document… plain text, word doc, notebook… anything you're comfortable with.
Then start your screen capture software.
Now, type or copy/paste text to your notebook or word document.
Narrate as you go along.
It's like writing on a whiteboard while you present your material.
Advantage: No face to camera, no PowerPoint, no formal presentation.
Really nice for instructional videos.
Static Background
You don't have to do a visual presentation at all.
Just start your screen capture software, and post an image.
It could be a photo of yourself, for instance, or anything that goes along with your narration.
Then, as the video captures your image, you can read any notes, read your blog post, or do whatever kind of narration you want.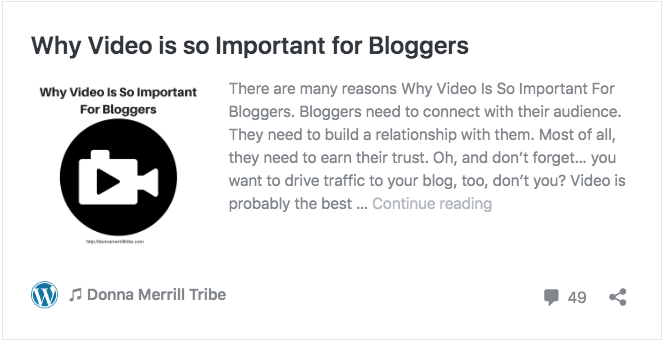 As an alternative, you can do a series of images, like a slideshow.
Advantage: No face to camera, no presentation slides or software required.
Video Background
A video background can be substituted for images, as in the static background method.
Just play any video while you do your narration.
It can be a video you created, or just some stock video of something neutral like ocean waves.
The video gives people something to watch while you do your narration.
Advantage: No face to camera, no formal presentation necessary.
Your special video script
Of course, whatever video style you use, you'll probably be using a script.
If you're really comfortable with video, you could just ad-lib, of course.
But even then, you'll want to be using a script outline at the very least.
Otherwise, you'll risk sounding redundant and rambling.
To avoid the potentially haphazard sound of an unscripted presentation, you'll most likely be putting together a video script.
You need to write out exactly what to say, and in the correct order.
Does that sound tough to do?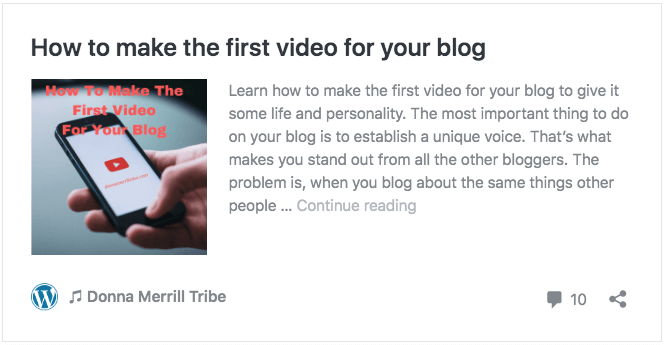 It could certainly be a challenge.
And what about all the time and effort it will take to put together a script?
You see, writing a video script is probably a lot more work than actually shooting the video.
But I've got some good news for you.
You don't have to write a script
So, yes… the good news is that you don't even have to write a script.
That's because you've already written it.
All you need for your video script is your blog post itself.
Remember… you want a video that will tell people what's in your blog post.
So why not just read your blog post?
And if you hire someone to produce your video, all you have to give them is your blog post.
Either you or an outsource professional can simply read your blog post, verbatim, and there's your video script!
Bullet proof your video
In order to keep your video on track, I strongly recommend that you use your blog post bullet point list.
So when you write your article, think of the video you'll be using to promote it.
With that in mind, you should develop a clear and concise bullet list that will make your main points stand out.
Then, instead of simply reading your blog post verbatim, you can discuss each, or at least some, of the bullet points from your article.
That gives your videos some "pop" and crispness.
Instead of long, rambling thoughts, you can present your article for easy viewing.
Publish your video on YouTube
Now once you've completed your video, you'll want to publish it on YouTube.
That's the simplest and most effective way to set your video up to drive endless traffic to your blog.
You see, YouTube is the second biggest search engine in the world, next to Google.
And because Google owns YouTube, your videos will have a great opportunity to get found from Google searches, as well as YouTube searches.
So, your potential audience is massive.
If you're looking for video blog traffic, publishing to YouTube is a no brainer.
And just because you publish your videos on YouTube… that doesn't mean you can't post them across the entire internet.
So, once you've posted a video on YouTube, grab the share or embed links and post them to Facebook, Twitter, LinkedIn and others.
And of course, you can embed your videos in your blog posts, on guest posts you've written and elsewhere.
Just get that video published, then get busy promoting it to get blog traffic flowing your way.
Power technique: Facebook Live video
A special technique for producing your videos is to do Facebook Live events.
Now, don't get thrown off track by the word "event."
It only means that you do your Facebook Live video for a live audience, in real time.
You see, when you go live on Facebook with a video event or presentation, you can capture any "real time" audience that might be on Facebook at any given time.
But that's not the most important reason to do it.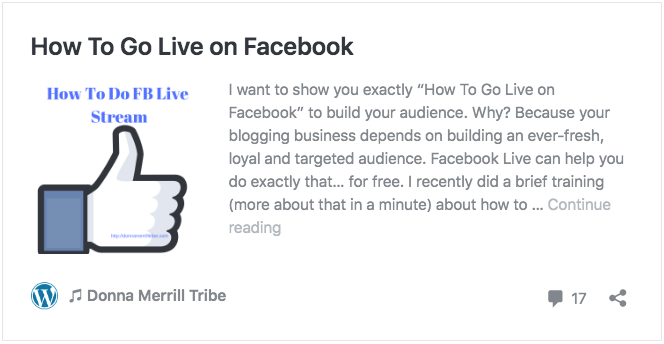 Your video will continue to be shown by Facebook as a recorded event.
And because Facebook loves to promote their Facebook Live feature, they'll rank your live videos much higher than a regular post.
So you'll reach a wider audience.
For that reason, Facebook Live videos are a great way to get blog traffic.
Post Facebook Live videos to YouTube
An even more advanced method of getting blog traffic is to post your Facebook Live videos on YouTube.
Simply make a screen recording of your Facebook Live event.
Then convert that recording to any video format that you can post on YouTube, just like you would with any other video.
There's no reason to do one video on Facebook Live, and then a separate one for publishing on YouTube.
Keep things simple.
In one step, you can do one video for both platforms.
That will increase your blog traffic even more.
This one video can drive endless traffic to your blog
So you see, one video can deliver all the blog traffic you can handle.
But it has to be a very special kind of video.
One that focuses purely on a single blog post.
Nothing else.
Your video must show people why it's in their best interests to click over to your blog.
It has to relate to them that you really care about offering them solutions that can improve their lives.
And it has to let them know that the blog post you're linking to in your video description will put them on the right path.
In the beginning of this article I said you don't even have to do the video.
That's because you've already done it.
Every time you write a blog post, the idea, the outline and even the script is already done… by you!
You've already done the hard work by writing the blog post.
Why not just easily convert it into a video and get a whole lot more traffic going to it.

Now, I'd like to hear from you.
Leave me a comment below.
What types of videos do you create now, if any?
Have you learned some different ways of doing it from some of the things I've outlined above?
Are you ready to create that one video that can drive endless traffic to your blog?
-Donna
PS: Please share this article on your favorite social sites!