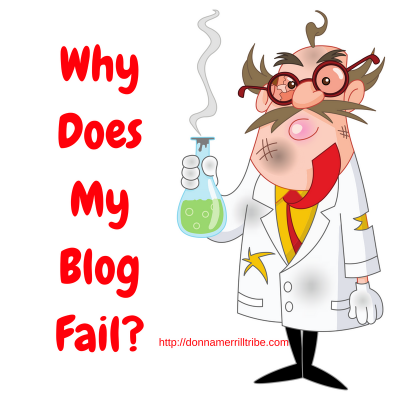 If your blog is failing to grow, failing to make money, or failing to attract crowds of followers and readers… there's a reason.
Do you ever ask yourself, "Why Does My Blog Fail To Grow And Make Money?"
I deal with these issues every day as a blogging coach.
And I also create many products designed to help my customers find success from blogging.
When failure first sets in, people generally try to do new things.
Then they buy some software and gadgets to help them "push button" their way to the top.
That is rarely the answer, though.
So these folks usually get more and more disenchanted.
They start believing that they just can't succeed.
When that feeling and belief gets internalized, there's a sharp downward spiral.
People get de-motivated, depressed and at that point they might just give up.
Ah, but then there's those persistent bloggers who are "committed to success."
They hang in there.
Yea, I know there's some of you out there.
You just keep doing the things that have failed you so many times.
Holding on to failure is hard… Letting go of failure is easy.
But then you add a bunch of new things to your arsenal, too.
When those things don't deliver your dreamed of success, you become a serial blogging failure.
I know clients who actually get comfortable with the fact that they keep failing.
They accept it and come to expect it.
Hey, this doesn't make you bad, or stupid, or a loser.
It makes you really determined to succeed at your "head level," even while you've resigned yourself to failing forever at your "heart level."
You want to succeed.

Of course you do.

But something inside you has given up.

So you do more and more to try to force some better results.
The more you do, the bigger your burden becomes.
I know "failed bloggers" who have been working 10 hours a day for a long time.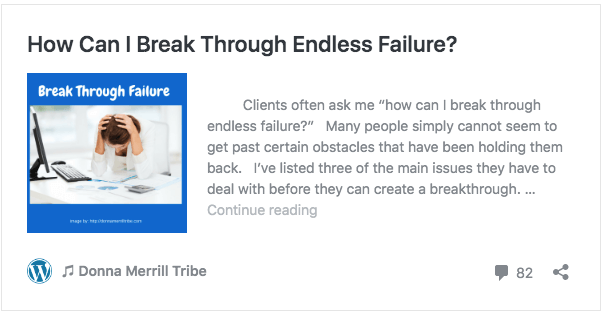 And I know highly successful bloggers who never work more than 2 hours a day.
So, what's the difference between failing and succeeding in the crazy, wonderful and wild world of blogging?
Why Does My Blog Fail To Grow And Make Money?
Okay, so here's the deal.
Probably the biggest problem with building a successful blog or online business is confusion and overwhelm.
You might set out to do one thing, but wind up getting involved in 10 other things.
Each of those 10 other things spider into 5 threads in your "must do" action list.
So you end up with 50 things you need to achieve.
This is all crazy thinking.

It's a total spinout.

You lose control.

You have to stop.
How much can a person take, right?
The Wrong Way
Why haven't you been able to monetize your blog up to now?
There are lots of possibilities.
You might be using the wrong systems.

Or, the wrong business model.

You're not building trust with your readers.

Or,

you're not attracting enough new followers.

You're not getting the traffic you need.

Maybe you're not creating really compelling content.

It could simply be that you're not doing anything that's unique or different, that makes you stand out from the crowd.
These are all things a blogger struggle with.
Maybe you first started blogging thinking all you had to to do is create a blog site, write a blog post, and readers would start flocking to it.
Then, you might have thought, it's simply a matter of embedding some links to some affiliate products, or some side-bar banners.
Maybe you could just add a link to a service you can provide like copy writing, graphic design or whatever.
But it's not that easy, is it?
All that stuff probably hasn't worked too well.
So you think the answer is to do more?
Well, I just showed you an example of becoming overwhelmed with trying to do too many things.
And it leads to the confusion of not really knowing why you are doing them to begin with.
Even more, you become confused as to whether are not they are even the right things to be doing at all.
In fact, doing all that stuff is probably doing too much.
You're probably just doing way too much of the wrong things.
Too much of things that keep you confused, keep you overwhelmed, and make you spin your wheels until you're just stuck in the mud.
None of that stuff that requires so much work, ever gets to the heart of what the are the right things that you need to be doing.
The Right Way
You see, doing more and more to overcome failure is itself a classic pattern for failure.
You have carefully plotted your path forward in your mind, on a mindmap, or on a whiteboard or blackboard.
Now, your blackboard is cluttered with all this stuff you have to do.
Stop!

Erase the board!

Start putting systems into place that will get you genuine traffic.

Stop doing the wrong things, and start doing the right things.
That's how you will get a loyal following, and build a real and sustainable blogging business.
Learn the things you need to do to actually make people come to your blog
Figure out what it takes to get them to complete targeted actions.
Targeted actions like joining your email list or buying things.
Learn how to connect with these people in the right way to
build the relationships and trust that you need to attract customers

attract customers and clients instead of browsers and bouncers
It's not difficult.
Holding on to failure is hard… Letting go of failure is easy.
In fact, it's probably way easier than what you're doing now that takes so much time and effort.
Here's the thing…
The way to make money blogging is to have a simple business structure with an actionable system for you to follow daily.
Once it gets too complicated, once it's spiders out too much into too many different directions, you lose control of it.
It dilutes your focus,

your effort,

your ability to channel your energy into one single, clear purpose.
Start doing the Right Things
So, just what are the Right Things that you need to be doing?
Of course, that all depends on you, and your specific blog.
And it depends on your specific skillset and abilities.
What results do you want to achieve with your blog?
And what are capable and willing to do to achieve them?
Also, think of what you are not capable of or willing to do.
What's your niche?
How can you best monetize it?
You see, there are so many variables to consider.
And those are just a few.
So truly, it all depends on you.
The Right Things
That said, I can tell you there are some basic things that work for just about every blogger.
You have to build an email list, for instance.
If you don't, then it's going to be very difficult to hold together a loyal band of followers.
And without a loyal band of followers, it's going to be pretty tough to build a profitable business.
Now, to build an email list, you'll want to be able to put together an ebook, or something else that will attract new prospects.
To pitch that, you have to create a series of landing pages that will pull your prospects into you sales funnel.
And oh yeah, you need to build a sales funnel.
That's a series of web pages and offers that will take your prospect from being a casual visitor to your blog, and make them a raving fan and yes… a paying client or customer.
All that is required to follow just one simple goal… to build your email list.
But there are other paths and goals you can follow, too.
The key is, you have to do the right thing for your specific situation, or you're just wasting your time.
So the very first thing you must determine is exactly… exactly what the Right Things are for You to do.
If Your Blog Fails To Grow And Make Money… Then Maybe It's Time To Restart Your Business… Ya Think?
At this point, I'd like you to take a look at your blog or online business a little more carefully.
See just how much it may or may not have spun out of control.
Fresh eyes.

Deep breath.

New life.

Now, think.
How do you know if your blogging business has spun out of control?
And how do you know if you've been doing the right things, or the wrong ones?
Isn't it crazy?
I get this all the time.
People tell me they're doing this, that and the other thing.
But they don't have time to follow through.
They can't keep up.
Sometimes they can't even sleep.
Now, they've gotta get a job, they've got to pay bills and need money now…
All this stuff…
They hyperventilate in frustration and desperation.
But they really can't see that they're just doing a whole lot of stuff that doesn't work.
They call it a business, but they don't run it like one.
And all their time is taken up in following dead-end objectives instead of reliable ones.
Then they wonder why they can't make money with it.
Stop
Well, if you're not getting the results that you want, there's a reason.
It could be that you're just not working hard enough.
Of course, it could be that you're working too hard at all the wrong things.
Most struggling bloggers are simply spread out way too thin.
They are racing in too many directions and they've lost the ability to focus clearly on what they're actually doing.
I mean, they're running… but can't see their feet.
Now, if that sounds like you, here's an idea.
Here's An Idea
Why not just reboot your blogging business?
It's like, if your computer is doing crazy things, you push the "restart" button.
It shuts down, then reopens and everything starts working the right way again.
Grab your blackboard.
Try writing down all the things you do to run your blog.
Then think about the results that you want.
Are you getting them?

Are you coming up short?
If not, then there's a disconnect between what you're doing, and the results you are trying to attain.
You can clearly see that you're operating at some stage of failure.
If you find that you're really struggling to get any good results…

or to monetize your blog or to build your list or to build trust with your followers…

then something's wrong.
But don't despair.
It can be much easier than you thought to turn things around.
Start by rebooting your blog.
In other words, simply erase your blackboard.
Stop moving in the wrong direct.
Stop doing the wrong things.
Get going in the right direction by doing the right things!
Erase Your Blackboard
Holding on to failure is hard… Letting go of failure is easy.
Holding On creates pain

Letting Go releases it
Sigh… relief…
It's time for some change.

It's time to start over.

Develop a beginner's mindset.

It's all wonder and amazement.

It's exciting.
You might be afraid to erase the board.
You clutch desperately to every little etching you've scratched into it.

You believe it has so much valuable information.

You've collected so much stuff over the months and years.

You think it would be a travesty to lose it.
Yet, all this stuff amounts to a whole lot of clutter that is holding you down.
It's like you're trying to run in mud.
You've got to set yourself free.
Holding on to failure is hard… Letting go of failure is easy.
So, go ahead.
Erase the Board.
You've Got Nothing To Lose
Anything that was worthwhile on that board will stay in your mind.
So, don't hold on to it.
If you erase the board and then forget something that was on it, chances are that it wasn't worth holding on to.
Just let it go.
Because, it's really way easier than you might think.
Anything that had value, will still be with you.
Most important, you will be rid of the things that are pushing you in the wrong direction.
For instance, if I had a note on my blackboard to "start a blog on Tumblr"…
because that's something that I've wanted to do for the last 6 months

but I just never got around to doing it
When I finally erase my blackboard…
I can finally just forget about it…
because if it was really that important to start a blog on Tumblr, I'd have done it by now.
So rebooting my blogging business helps me to get rid of excess clutter in my mind, and on my "to-do" list.
You've Got Everything To Gain
Getting rid of "dead weight" things like that is actually a gain.
Think how you can gain by letting go of stuff that you don't need anymore.
You gain the freedom that comes from a refreshed, uncluttered mind.
You gain a new, clear perspective of exactly what you're doing…
where you're going,

what's important, and

what is just marginal, or worse,

what is totally distracting

even disabling.
And you gain the freedom that comes from replacing all those "wrong things" with a new list of the "right things."
Those are the things that can put your blog on a new, more prosperous path.
Get Off The Failure Treadmill – Reboot Your Business
Here's my challenge to you.
Erase your own blackboard.
Turn things around.
Create a new sense of clarity and purpose.
Hit the reset button.

Reboot your business.
Now, I know you probably have no idea where to begin with this process.
So…
Get started by joining my 30 day challenge, called "Reboot Your Business."
If you're struggling to make your blog or online business successful and profitable, this is for you.
This Is What Will Happen Next
When you enroll, I take you through the process of erasing your own blackboard and replacing it .
I do this through
daily training for the 30 day challenge

one-on-one private coaching and consultation
I'll show you how to
ditch your old way of doing things

replace it with actionable things designed to help YOUR blog and business grow and prosper.
You'll get to erase your board…
clear your mind of the clutter that's holding you back and perpetuating your continual struggle.
What are you struggling with?
Is it building a list?
Is it getting people on your list to actually buy things from your links?
Is it a new product that you wanted to create but just haven't gotten to yet?
Are you spending too much money advertising and not profiting from it?
Are you blogging mindlessly on a continual basis, like you're on a treadmill… yet it's not making any difference in your bottom line?
Or is it something else?
It doesn't really matter what your specific problem is.
I've seen it all.
Whatever it is that's prevented you from achieving the things you want, then there's a reason.
We'll figure out what that is, and we'll come up with a solution for you.
It's time to clear the board and start doing only those things that will accelerate your success.
Join me in this 30 Day Challenge… Reboot Your Business
I've been running the Reboot Your Business Challenge for some years now, so I've seen what is really working.
Let's get you up to date with what can work for you right now.
I'd love to have you join my challenge group, and figure out out how to break through your own blogging struggles.
Meanwhile, I hope this article has helped you gain some insight into the state of your blogging business.
Do you have a better sense of that?
Why Does My Blog Fail To Grow And Make Money?
So, now I'd love to hear from you in the comments below.
Why is your blog failing to give you the results you're looking for?
What do you think you need to do to get on the right track?
-Donna
PS: Please share this article on your favorite social sites… thanks so much 🙂