This post was most recently updated on February 23rd, 2014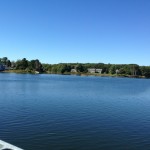 I'm visiting my step daughter and her new baby this week.  It is a quiet little New Jersey neighborhood where most of the homes are filled with young families.
As I was sitting outside this afternoon getting some vitamin D from the sun, I watched a young mom with her child teaching her how to ride a bike.  Wabble, warble goes the kid on the bike.  Up and down the block she rode with her mom holding her bicycle – trying to steady it.  
Every time mom let go for a second, her child was happy that she had peddled a few feet.  Mom was encouraging her with "hoorray's" and "great Job!"    I had to stay and watch this monumental moment.
Five minutes later, that child mastered her balance on her own.  Mom was hugging and kissing her like she was the greatest kid in the world.  
I was  so fortunate to step outside to witness this precious and joyous moment.  They were strangers, but what I thought about was encouragement.
During your childhood, there were surely many moments that your family and friends encouraged you to succeed.  But what about now?
You are an entrepreneur, you work round the clock.  Who encourages you?  I am fortunate to have my husband encouraging me when the chips are down, or when I am learning something new.
Today's little experience made me realize that there are many out there who are doing this business solo.  I know some internet marketers that have a spouse that discourages them by saying "you will never make money."  But they go on. They understand that it does take time to learn the ropes and put things into action.
Others, are not strong enough and they just give up.  So today, I'd like you to think about is who encourages YOU.  A spouse, a friend, or an internet buddy?
Think about it and let me know your thoughts.  
Have a blessed day,
Donna