This post was most recently updated on May 18th, 2012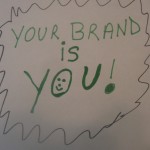 I have been visiting many blogs and have noticed that I don't know what the heck is going on at first sight. I felt I needed to share my experience on Personal Branding.
WHAT'S YOUR PERSONAL BRAND?
When I meet a person on my blog or any of the social platforms and want to get to know them, I look first for their picture. Then I want to know within a few seconds what they are about. This is called personal branding.
Our attention span, when connecting with new people, is only a few seconds. If your blog is not set up correctly, you are going to lose visitors as quick as a click if they cannot immediately decipher your personal brand. So here are some do's and don'ts that I've found that can help you.
Have a blog that is YOU.
Do Have a Picture of YOU on your blog. Your picture gives you an incredibly powerful means for making your very first impression. This is who you. This is the very first foundation of trust. A real person! So prominently display a real good, clear photo of yourself. People say that it should be a professional one, but if not, make it the best shot it can be. I did mine just on my web cam. Not perfect, but it gives people a chance to instantly "meet" me.
Don't leave a blank where your picture must be. This immediately gives the impression that you are hiding. It can also give the impression that you are a company, too big to care about your readers. These impressions may be far from the truth, but they are indelible impressions you will leave your visitors with if you refuse to "show up" at the "front door" when they come knocking on your blog.
Do have a few words about the purpose of your blog in your title and headline tags. This will tell the visitor what you have to offer, what you stand for. Make sure those words are congruent with the purpose, mission and intent of your blog. Your blog must reflect your personal brand.
Don't use your industry's blog and then put yourself under it. You will just be telling people that you are your company first, and the personal YOU only as an afterthought. I have noticed this a lot and even with some seasoned bloggers. They use a company blog and waste all their good efforts to throw back business to that company, totally missing out on a great opportunity to become THE go-to person in the organization.
Your blog is your central hub where all social sites lead.
So be the star – not some pencil pusher filling out sign-up forms for "the company". It also looks too spammy. Like the only reason you want folks on your blog is so you can get them to buy your stuff, or join your business opportunity.
Do reflect on what makes you Unique. What makes you stand out in the crowd that populates your niche? We all have gifts we can share. This may take time to define and to portray, but it is worth far more than all the pop-ups you can muster. II suggest you carefully and completely write down on paper just who you are. If you don't know, how can your visitors? List all the unique qualities you have. Eventually you have a concise picture of what qualities you have that make you unique. Portray these qualities so you can stand out in your crowd.
Don't use catch phrases like everyone else in your niche. Example: If you are into the Law of Attraction (very catchy phrase these days) change the words up a bit. Come up with your own words that describe the Law of Attraction. It will work the same, but you will have the edge over the minions of folks calling themselves LOA coaches.
Do write about what you know and what you believe in.
Don't pretend you know something when your really don't.
An example here is that I know social media, but I'm all thumbs when it comes to things that are technical. If I were to write about a Word Press "plug in" I use on my blog, I wouldn't be conveying a message that is in my heart and is my true passion. If I used a plug-in that I thought was absolutely the bees knees, and I truly wanted to share it with my readers, I might solicit a guest post on the topic from the person who taught me about it in the first place.
Don't assume that simply by having a blog and social media presence that you are engaged in Personal Branding. There is so much more to it. And don't assume people know what your Personal Brand is. Make sure you work hard to portray it to them at all times. That is the challenge of delivery your personal brand to your market, every single day.
So What's Your Brand?  I would like to hear your comments and input on this topic.
Blessings,
Donna