This post was most recently updated on May 18th, 2012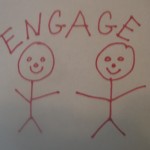 In a course I'm taking called "Social Midas" with Mari Smith and Guy Kawasaki , one of Mari's quotes keeps running through my mind: "Content Is King, But Engagement Is Queen".  And, she adds, "the Queen runs the house".
Engagement in the various Social Media platforms is so important if you want to develop good connections and, even more, relationships. When we engage with someone there are certain things to keep in mind.  When using Social Media, you cannot spend too much time on any one platform.  
There are so many, that you're best advised to focus on no more than two, although you have to keep up your presence on each one so you won't get lost in the shuffle.  When I say "keep up", I mean you must be "engaging" on a consistent basis.  Here are some tips how.
FACEBOOK
Go to Facebook twice a day and post something that is of interest to your readers.  One trick I use is that when writing a blog about something, I will find an article pertinent to it and post it on my Facebook Page.  This gives more value to my blog and at the same time takes it one step further.
Scan through Facebook and when you find something of interest, "like" it and comment on it.  When commenting on something, give the author a little praise for the effort they put into delivering value (assuming they did).  You can also ask a question in your comment.  This will help engage people to join that conversation and keep in going.
Example:  The other day I had a question about a Facebook problem.  I immediately jumped over to my friend and mentor Kimberly Castleberry's page "Just-Ask-Kim". She gave me the answer to my problem by a post she wrote about that EXACT issue.  In turn, I shared on my status update that "I had trouble with FB and Kim gave me this link to solve it."  That was shared so many times and people started to ENGAGE in the subject.  I received "Yes me too" on the comment section.  So the shares and comments went like wildfire.
So what did this do for me?  I received tons of attention and friend requests because I used Facebook to get the word out that there was an "answer to a problem" that other people might have encountered.
TWITTER
I know many of us have automated twitter programs we use to send scheduled tweets. I don't.   
I visit my Twitter via Bottlenose to read my tweets, so all my friends-streams are in one place that is most usable and convenient for me.  I go there three times a day, scan out tweets, and maybe retweet something good, and reply when it is appropriate.  Once a day I go the extra mile and click the link to a blog or article and leave a comment.  I'll then tweet back how I enjoyed it.  
I always try to engage with the author of a good tweet.  
GOOGLE+  
Google+ is a great platform to be on because we want to make nice-nice with Google, right?  
This one can suck me in so I need to be careful, time-wise.  
I'll search updates from people I am interested in, comment, plus them and maybe go to their link and comment if it is of true value to me and to my readers.  I can ENGAGE on that site quickly because it is all about the pictures.  Do a quick scan and plus some interesting people.
LINKEDIN
I call LinkedIn my "Secret Weapon".
I've been using it a long time and have a good amount of success with it. So many people believe it is just for job searching, but it is not.  
I've written my strategies down in a previous post called "LinkedIn – My Secret Weapon". Feel free to check that out, but in the meanwhile, if you are using this platform… Start with joining a group in your niche.  
Focus on just one group until you get the hang of it.  
There are so many people hungry for good information that you can contribute to.  Start ENGAGING  with some folks that have put up some useful information.  Do the same as you would do on Facebook.  
Comment that you enjoyed the article and give them some credibility.  Leaving a good comment always is a great way to start knowing people.  You will be notified via email when someone comments in your group and you can visit them if it perks your attention.  
Also, your blog feed is up and running on LinkedIn.  So people will take notice of your activity.
KLOUT
More and more people are on Klout, so I had to jump in, too.  
I visit it only a few times a week, and "K" people I know.  
But I am there, so people I know "K" me back, too. I only really ENGAGE on that platform in that way.   I personally am not too keen about Klout, but I like the perks (ha ha).
PINTEREST
I was going my merry way on Pinterest having fun.  
It is a creative platform that I visited to re-pin, comment or to "like" people's boards.  I enjoyed leaving comments on certain things I was interested in to validate the person pinning.  
But it was not until I took Kimberly Castleberry's course about how to use Pinterest properly that I had the "Aha!" experience.  
I've learned so many Do's and Don'ts about it that I am currently re-doing my boards.  Based on stats I have a new perspective.  Also, I've learned so much that I can't write it all here.
If YOU want to know more, it is on My Facebook Page – in the "Pinterest for Business" status.
ENGAGEMENT on Pinterest is easy once you know how to do it correctly.  But be sure to make it your business to learn it right.
YOUR SOCIAL MEDIA CIRCLES
These are just a few examples of the Social Media platforms.  Get involved and learn how to ENGAGE in these circles.  If you are on any Social Media site, of course you want to put out your own information and links.  That is all well and good, as long as you do it sparingly and avoid spamming.  But remember, your priority is to ENGAGE with others.  
ENGAGEMENT will take time.  So I would suggest to take two of your favorite sites and spend more time on them.  Give the others a quick scan, but fit them into your schedule at least once a week so you and your brand won't be forgotten on them.  
It is always important to give excellent content, but ENGAGING will build better relationships and bring more people to you because they notice you are interested in what they have to say.  People like to know you are paying attention, and people are… after all is said and done… the true substance of Social Media.  
CALL TO ACTION:  Are you Engaging in a systematic way?  Are you present on the most important Social Media platforms?  Are you balancing your content-sharing and engagement levels? 
I would like to know what your favorite platform is, and also if you are having trouble spending too much time on them.
Blessings,
Donna