This post was most recently updated on February 23rd, 2014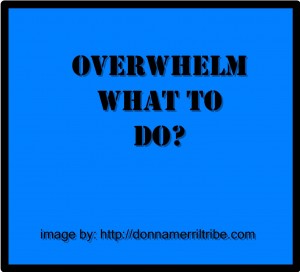 We all get the feeling sometimes that there is so much to do being a Solopreneur, that you just want to throw your hands up in the air and give up. Before you do, here are a list of coping mechanisms and techniques that can help you. The following is what I find effective when I am feeling Overwhelmed.
One technique I like to use is DISTRACTION.
You can calm your emotions by getting involved and engaged in a totally off-task activity:
Stop what you are doing and shut down the computer.
Take a walk
Chop some veggies and cook them
Do some cleaning in your office or home
Go out and have a meal you normally don't have
This will help distract you from thinking negatively. I find the more mundane the action, the better it is. Try chopping veggies, washing dishes or walking the dog.
Another technique that has helped me re-group in the past is CONTRIBUTION.
You can CONTRIBUTE to some thing to help people less fortunate than you.
Volunteer at a soup kitchen
Do a random act of kindness for someone
You get the idea.
TAKE A MENTAL BREAK
Take a little break and focus on your breathing.
Imagine yourself in a bubble that protects you from all anxiety and distress.
Look at the situation and imagine it is on the back burner of the stove. You know it's there, but it is on simmer and you can take care of it later
Work with OPPOSITE EMOTIONS
If you are bombarded and feel anxious, helpless, hopeless or any of the negative feelings you may have, turn things around by:
Playing inspiring, upbeat music that makes you feel good… instead of ruminating or playing sad music.
Watch a comedy or a movie on TV
Turn those negative emotions into positive ones.
THE SENSE OF TOUCH CAN ALSO DIVERT YOUR NEGATIVE THOUGHTS OR EMOTIONS.
You can derail negative thinking with TOUCH.
When your emotions are intense, do something else intense such as:
Holding an ice cube in your hand
Taking a hot shower
Getting in the hot tub (if available)
Sensations will forge new subconscious patterns, or neuro-links in your mind, .
Control overwhelm with your THOUGHTS
You are thinking distressful thoughts that overwhelm you.
So stop them with these methods:
Count to 10
Focus your mind on the colors around you for a few minutes
Think intently about something that has made you happy in the past
When you practice these skills until you master them, they will help you turn things around.
Don't give up your goals just because you are overwhelmed. Carry on your plans to get things accomplished.
Even if you took just one of the actions above and implemented it when you are feeling distressed or overwhelmed, It will work.
You will find that you can re-group and get back into action.
CHOOSE ONE SKILL, do it and master it. That's all it takes.
It can be a five minute re-roup or it might take longer than that.
I am writing this because I feel it is so important to keep balanced in order for you to be successful in your goals and/or daily tasks.
I always think about the fact that 97% of people fail in their business. Those are the people who give up because they are overwhelmed or their business did not meet their expectations within the time frame they anticipated. It does take time for your business to prosper. It never happens overnight.
You will frequently be challenged with emotions that make you want to throw in the towel. Don't! If you have a passion to succeed, this is the time to use it.