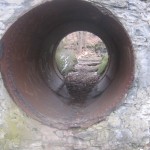 As I was laying down on my acupuncture table and meditating, a message came to me.  "What Do You Fear?"  Hmmm … that's funny I thought to myself.  Then I thought of things that might be hindering my business.  I realized, while I was in a total state of relaxation, that a fear that slows my process is the fear that "I don't know it all".   Now, that's not a rational fear, of course.  Nobody knows it all.  But, as a subconscious albeit irrational fear, it is bound to have an impact on my self-perception, and on the way I operate my day to day business.
Fear came up several times during the day.
It was discussed on a radio show, I saw a book with that title while shopping in a local health food store, and then I met someone in a waiting room talking about the same subject.  
So I decided to pay attention.  
What is it that I fear?  I thought that I was going along so nicely with goals, image boards, techniques…you know the whole DMO (daily method of operation) of my day.  WRONG!!!!
I realized I was fearful of many things beyond the obvious fact that I'm not perfect.
So I made a list and started my challenge to "name" my fears.  
After a session of visualizations, meditations and mindfulness, I found myself facing in the inner Me.  Fears and all!
I'll be open and honest with you and tell you my fears.  Maybe you have the same, or maybe you can add to my list.
Fearful of doing a webinar.
That's right folks, I haven't done one yet because of so many excuses.  My husband laughs at this because I've been on radio, television, given many lectures and workshops… I just haven't done a freakin' webinar yet!  Fear of the unknown, you could say.
Fearful of moving.  
The more money I'm making, the more I have an opportunity to live in different quarters that might better suit my needs.  I want an office where my immediate team can work directly with me.  I want my own sound studio.  (that's right, I'm not afraid of doing videos, only webinars 🙂  Now, what does moving entail?  Packing, moving … you know, that whole dreaded relocation experience.
Fearful of all work overload.
Can I really do it all?  How long can I keep balancing so many diverse aspects of a growing and thriving online business before the wheels come off?
Fearful of traveling!   
I thought of the experience of packing, waiting on a long line at the airport, getting frisked, sitting in a plane and getting into the hotel.  What if I didn't like the hotel? What if I missed the conference I was attending?   Here is where I found all the what if's that I thought I had mastered.
You see, I may have mastered them consciously… but that doesn't mean they're gone.  Sometimes they just hide deeper inside us.
FEAR stops us in our path.  
We can have our business all laid out nice and neat; have our long term and short term goals set up; be taking all the right action necessary.  But what if one little piece of the puzzle short-circuits?  This is the kind of fear that Stops you from moving forward, for fear of what you "might" encounter around the next bend.
So you see my friends, we are all human, we can work our ass off to improve ourselves and our businesses, but the very first thing you must master is your own fears.  Get into yourself…really and be honest with what your fears are.  Until you've confronted, labeled and described them in detail, they loom as invisible monsters under your bed.  Once you bring them to light, call them by name and understand that they are rooted far more in fantasy than reality… they vanish!
I learned so much from laying on the acupuncturist table this week.  
I am grateful for the "appearance" of my subconscious, or my spirit guide, or whatever came to me and taught me this valuable lesson.
Now it is time to roll up my sleeves and see a new path at the end of my tunnel.
Grab my sword and slay the dragon.
What are your fears?  
Don't answer right away!  
Think about it and if you are comfortable, share some of them in a comment below.  If you don't want to share something that intimate, let me know what you think of my fears.
Blessings,
Donna