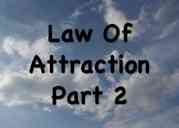 In my last post I wrote about how everything I was visualizing was falling into place. I explained how the Law Of Attraction was working for me.  I found that through comments and messages people gave, I had to continue to share my story.  I also learned how sharing experiences is the best way to teach.  So here it is, my friends… The next episode of how the flood gates are opened through intentional visualization.
I was focusing on living space,

two homes…one for winter and one for summer.  I wasn't sure how to put this together.  Just as I was wondering what this might look like, I was offered a "can't refuse" deal to sell an investment property I have.  I hadn't even thought of that angle.
     But there it was.
I'm actually in contract already.
This may actually free me from management responsibilities enough that I'll just focus on my new winter home, rather than uprooting my entire life at once.
Not really knowing what my winter home might look like, I just continued focusing on on "being there."
Opps…be careful what you wish for.  A very good friend invited me to visit her "down South" to see how I'd like to spend winters there.
Next "problem":
My vision included my dogs being able to stay in one place, and not be bounced back and forth between homes.  Taking a short trip to D.C. during this time, I found the perfect dog sitter who is willing to live in and take care of the dogs not just for the one trip, but for the "long-haul" when I'm ready to start snow-birding.
Lots of changes in my personal life being put into motion simply because I had an intention that I visualized, and then put into motion.
So, what the lesson about intentional visualization and the Law Of Attraction?
Well, I was thinking of a place, a different lifestyle as I explained in my last post.  That was my "intention".
Then I started reaching out to some people in exploring some options (this is called giving "attention" to the visualization).  
Associated opportunities and solutions to potential problems started attaching to me like I was a magnet.  
But I realize now these were quick lessons to be learned.  
Instant gratification is always short lived.  I am grateful for the lesson, but found something bigger in the scheme of things……
MY MERGE WITH DAVID
Changes on the horizon in my business life, too.  
While I'm continuing to operate my personal blog, I will be merging efforts with my husband, David, on an additional blog.  I think this merge is going to Rock!
The new business model took shape when David attended an intensive 3-day workshop with Daegan Smith.  If you don't know Daegan… you should.  Really!  He is one of the greatest guys out there teaching online marketing, and loving it.
 While David was working 14 hours a day with Daegan, I decided to tie up some open loops in my own business while holed up in my woman cave in the D.C. hotel, 2 blocks away from the White House.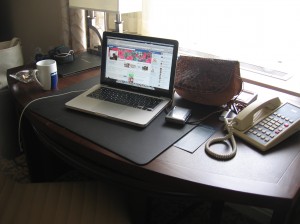 My thought went immediately to my "book"… my personal story… a project lurks continually in the back of my mind.   
I took all those bits and pieces I had written in random places, and started organizing and editing them for my book.  Details will follow when it is done …
Cool Right?  
David and I have frequently talked about merging our businesses someday.  
And as the Law of Attraction would have it, the bigger picture came to me while I was in D.C. with him.
Now, David has always taught people internet marketing from the perspective of under-the-radar methods for building a following, and converting that into sales and joint ventures.  I have always been more social and visible in attracting people to my personal brand.
So, I guess it's a natural thing to join the two different approaches into a single business model.
Together, I know we re gonna rock it!  
We've been masterminding like crazy, re-arranging our business, and modifying our lifestyle.
More business direction…
My dog/house sitter rocks!  She has so much energy and wants to spread it out to the world.  But she didn't know where to begin… until we started talking.  Now she's another one of my offline clients. 
I will group her some other women I'm already working with.  There are many eager people looking for a way to create an online business and income.  They are apprehensive and don't know who to trust.
Now we are hosting/coaching a small group of them in our home to outline the process.  They are all extremely talented and would benefit the world with their ideas.  They just didn't know where to go.
So the Law Of Attraction has brought us together with a core group of women that really need to make money and are willing to rock it. Who can ask for a better energy than that.  And who knows where it will lead in terms of the continual evolution of our business model.
Cheers,
Donna