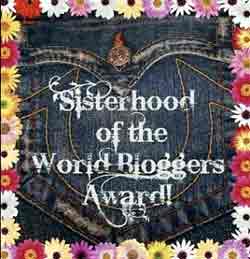 I am proud to announce that I was just nominated for the prestigious "Sisterhood of the World Bloggers Award" by my friends and fellow bloggers, Catherine Alexandra and Sylviane Nuccio  I had no idea what this was all about until I received notice from them.  These are two powerful women that I've been blessed to work with.
See Catherine's blog here:  http://www.catherine-alexandra.com/
See Sylvaine's blog here:  http://sylvianenuccio.com/
Here's how the award works…
Sisterhood of the World Bloggers Award Rules
Recipients need to thank the giver

Post 7 things about yourself

Pass the award onto 7  other bloggers of your choice and let them know they've been nominated

Include the logo of the award in a post or on your blog So here I go…
7 Things About Me
I have been a practicing Psychic for about 30 years in my business Mind over Matter of N.Y. Inc.

I have worked with people from all walks of life and came onto the internet to be a forerunner for my clients to obtain financial freedom.

I am married – my third one, Hey three is a charm. I love him more than anything.

He is not only my husband, friend, but partner.

I have one biological daughter and three stepchildren.  I love them all the same and our family is a blended-family.  We get together with our exes and kids all the time.

I love my work because it is people based.  My passion is to help them grow to their maximum potential.

I am a Roman Catholic and live in the path of Jesus.

I have been an entrepreneur most of my life and it has given me freedom to live my life with love and gratitude.  I want others to obtain that wonderful way to live.
Nominations for the Sisterhood of the World Bloggers Award:
This is a very hard decision because I work closely with the most awesome women in the industry.  I want to nominate them all, but I only have 7 outstanding bloggers who have impacted my life and others.
          1. http://adriennesmith.net/ Her mission is to helping you achieve success online
          2. http://raenalynn.com/ Helping you move forward with internet marketing.
          3. http://suejprice.com/  Home based business and residual income solutions
          4. http://growwithstacy.com/ Inspiring your success with personal development
          5. http://debbieturner.com/ Where passions and entrepreneurship meet prosperity
          6. http://www.patriciagozlan.com/ The prosperity zone
          7. http://margaretrwilson.com/  Online Business and marketing coach
I recommend you check out these power women because each of them has made a great impact on my life!
As always, please leave your comments below. 
Many Blessings,
Donna