This post was most recently updated on March 27th, 2014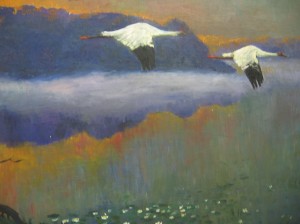 Can organizing your office space actually clear your mind?  Are you ready to De-Clutter?

There are so many ways you can improve your focus and be more productive without any distractions.  One way is to organize the space in your physical environment.  This will go a long way toward helping your clear your mind and sharpen your focus.
Look around where you are sitting right now.  What do you notice?  Is there a bunch of paper work you need to tend to in your sight?  Are there things you need to put away?  And how long have those things been there?
Do you see empty glasses or dishes crowding your space?
How about in other rooms?  Beds unmade?  Laundry piling so high it is over your head?
How's the kitchen?  Dishes need tending?  Food around?  Is your table cluttered so much, you need to swish stuff to the side just to eat?
Do you know where your phone is right now… without looking?
These are but a few things that might indicate that your space is filled with Clutter.

Now I'm not here telling you how to clean your house.  The main focus here is clutter and what it can do to distract you.  If you identify in any way with the above scenarios
Some people say they are comfortable with things not in order.  But are they really?
You see, when you have all these things around you they become dangling "to-do's".  I can take a wild guess that you already have too many to-do's in your business.  So why complicate things?
When you surround yourself with clutter, the to-do process can make you anxious, tired, and begin to burden your subconscious mind.  Reflect a moment on your ordinary thought processes: "I have to do laundry, I need to make that bed before I get into it" and so on.
You can see how quickly external clutter will un-focus your mind.  When clutter is all around you it stops your ability to focus because it distract you.  You cannot process information as you would in an uncluttered and organized environment.
When your environment is cluttered it distracts your brain.  When there are too many objects around they shout out to your brain that they to be attended to.
Yet, when you are in a clear environment, you can focus better and actually start to feel better.  You can even process new information more clearly and quickly when we are in an organized space.  So here are some tips to un-clutter your environment so you can un-clutter your mind and become more productive.
Even though you are working hard at your business, I challenge you to turn off your computer and phone, dig in and create a simple, new environment.  Create a home office that will help you think clearly increase productivity.
1.  Take time out and re-do your office space.  Make sure there are no papers around.  Put them in attractive containers or baskets, or better yet, a filing cabinet.  Don't worry, they don't go away, they are just organized better.
2.  Make sure your work space is a private place where there will be no distractions from others.  Have a door that you can close to the rest of the world, or at least position your desk so only your back faces the world around you.
3.  Make a list of what needs to be changed.  You may need a new desk with drawers to keep random things hidden from your immediate view.  Are you getting natural light, or do cumbersome curtains or shutters keep you in the dark?  If you spend a lot of time in your home office, you want to be exposed to as much natural light as possible.  If it is in the South corner, you will get your vitamin D all day!  Simple changes like these can really help keep your mind focused on your work, and undeterred by your surroundings.
4.  Don't put things in the middle of the room.  I cannot tell you how many offices I've been in where center of the room workspaces are major obstacles to the clear flow of energy.  In fact, while they are initially created as "work space", they almost always decay into clutter stations that nobody could actually work at even if they tried.
5.  Have enough empty space?  This will help clear your mind.  A nice empty room does the trick with just the simplicity of what you need in it.  Don't try to "take advantage" of every little space by filling it with tables, counters and other things that simply function as repositories of clutter.
6.  Please have no knick knacks  around.  The more "things" you have the more likely it will distract you.  Many people like a bunch of photos.  That's fine, but not in your office space.  Choose with mindfulness what you want to decorate your walls with.  Remember, less is more!  Art is great, but make sure it is something that makes you feel peaceful.
7.  Replace dusty bookshelves in your workspace with plants or fresh flowers .  This brings in "Living Energy" into a space, and clears out stagnant objects that are seldom needed.  Living things also represent growth and dynamic flow of ideas and action.
8.  Sound is important!  Some soothing sounds, or a small fountain with the sound of water will help you have a serene atmosphere.  Don't clutter your sound space with ticking clocks, whirring office machinery and annoying telephones that never stop ringing.  Put phones on soft rings, and if you must have music, make it gentle background music, not distracting foreground "noise".
9.  Lighting also has an effect.  Fluorescent lighting is too stark.  If you need bright lights, try full spectrum lights, it is softer.  The best is natural light.  Relieve your windows of clutter.  Keep them bare during the day to get as much natural light as possible.  Just keep in mind how you feel in different lighting settings.  It does change your mood.
10. Your desk position is important.  Position it in the opposite corner of the entrance to give you a sense of "command" which will make you feel powerful.  It is a good position when you want to expand your business.   But don't let it face spaces where people are clustered, or walking around.  Don't face a living room, for instance, where your spouse or kids are always about.  This clutters your visual and auditory space, and makes productive work almost impossible.
11. Even the color of your home office can clutter your subconscious mind.  Red, for instance, is an energetic color, but distracting when you need calm and focus.  Green is a great color because it represents growth, development and a natural sense of order.  Hey, it is also the color of money… lol.  There are many shades of green you can chose from.  Look at some color charts and see which one resonates with you.
Choosing to reflect on re-doing your home office or workspace will help you de-clutter your mind.  Your ideas will flow better and your business can flourish!
I'd love to hear some of your ideas about how you structure your workspace to keep it organized and free of clutter.
Donna
Image credit: klotz/123RF Stock