This post was most recently updated on March 26th, 2014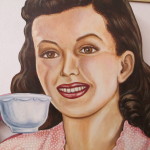 I've written before how important being on Social Media is for your business.  Social Media is just that…Social!  Engaging with so many people can lead not only to business ventures, but also masterminds, friends that can help you when you are in a bind, or just plain enjoyment.
In this article, I want to share a story about how being social offline can benefit you, as well.  Now if you are involved in Network Marketing or an MLM business, you have heard many ways to strike up a conversation.  I remember learning the "Elevator Speech"  when I joined my first MLM. 
For the record, I'm not into Network Marketing or any MLM business now, but was for a while.  Now I coach people effective ways of marketing, whether they are network marketers, internet marketers or any other type of marketer.  It's just so much fun for me!
Ready for a true story?   Well here goes…
If you know me well, you already know that I have a hobby of selling mid-century vintage items.  I just enjoy doing it!  Well, I'm downsizing now and moving along to a smaller place, so I'm giving up my little hobby.  I've collected so much stuff, it's incredible.  So I decided to have a moving sale.  I had my garage, basement and a few rooms in my house open for people to wander around and find their treasures. 
It did take some work to organize things, but once done, everything you can imagine was priced to go.   All the advertising was done and I was determined to sell my wares as quickly as possible.
Now, there is a funny thing that happens when people enter your home and ask you about your stuff.  They want to know the history of it, or they come to chat.  I'm a very social person and enjoy talking to people.  I always keep in mind that people like to talk about themselves.  So I ask them questions like "where are you from?", or I might say   "Oh, what a pretty necklace you are wearing."  Stuff like that, just to open up a conversation.  When I talk about them, even the shyest people will start talking.
So here's the good part….ready?
During my chit chatting, I came across a woman who was interested in my depression glass collection.  "I love this glassware so much, I wish I can buy it all,"  she remarked.   "You can!"  I told her.  But, she asked, what would she do with it all.  I told her that if she loved it so much she could easily sell it at the low price I was giving it to her for.
As we chatted, I found out that she once owned a store, but it didn't work out.  This woman knew everything there was to know about glass.  The era, the different manufacturers who produced it, what region of the world it came from, etc.  She was a powerhouse of information.  
Then I slipped it in… the big question!  "Did you ever want to write a blog about this?" 
To make a very long story short, I explained how beneficial her knowledge was on particular glassware.  I told her how people would find it interesting if she taught them the little marks or designs on it to distinguish what was old or what was a reproduction.   This immediately peaked her interest.  My wheels turned faster.  I suggested that she start writing a blog and use it as a launchpad for selling her products and even appraisal services.
She is now my client!
Socializing is so important online, but even offline for the internet marketer.  As long as you are not pushy then you are ok. From this experience, I have learned to get out of my box more and socialize with people offline.  I have done this in the past with a few business owners I know.  I got them set up and started blogging.  Even those who knew nothing about social media are now Facebooking and Tweeting like crazy.
I know how to make a complicated thing simple so people can turn their ideas into businesses.  Oh, and that "know, like and trust" factor.  I find comes so easily when I am socializing offline.
I am making business cards, now, and having them ready to give out when I make a point to step up and socialize more with strangers.
But Wait I have a happy ending for you.
After 2 weeks of experimenting with this, I have picked up 5 clients. 
I am currently in the middle of the mayhem of moving.  Still, I'm doing a meet-up with this little group at a quiet, local cafe.  I'm taking my laptop there and teaching them how to start their own businesses online.  It's all got me doing a happy dance, and these five woman are dancing too.  After all, just days ago they had no direction for their business or ambition.  Now they are on a path to fulfilling their dreams.  Each one has a different niche, but none of them know a blog from an e-commerce website.  They don't even know how to register for a webinar to learn some of the skill-sets they'll need to get started.  
So my dear friends, I'm out on the streets now, offline and building my internet business like crazy.
I wanted to write this to encourage those of you who, like I was, keep your internet business strictly online.  Get a business card, give a person a compliment and find out who they are and what they like.  And then ask…."Did you ever want to share your knowledge with the world?"
What do you think?  Are you strictly an online marketer or do you engage in the real world too?  Have an experience to share?  I would love to hear it.
Many Blessings,
-Donna