This post was most recently updated on March 26th, 2014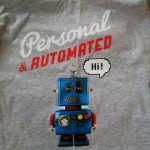 Here is a real life story of a marketing lesson I've learned from doing business with Get Response.
We hear about building relationships on our blogs all the time.  That's the best way to market yourself, your products and your services.
Sounds right.
I think we'd all agree that relationship marketing is the way to go.  That's a pretty vague thing though, when you think of it.
Make friendly chat, impress people with your expertise or special knowledge, let them know you care about them and want to help them achieve their goals (which also helps you achieve yours, of course).
All of these things are a part of relationship marketing.
But what does online relationship marketing actually look and feel
like?
I'd like to tell you about something that happened to my husband, David.  I think it will give you a little more concrete idea of how to do some relationship building on your blog.
David and I both subscribe to Get Response for our autoresponders.  David attends their webinars and visits their blog from time to time.  Recently, he left a comment on one of the Get Response blog posts. 
No big deal, pretty common stuff, right?
He would have forgotten all about it, except a week or two later, he got an email from them thanking him for his comment, and for adding to the conversation on that particular blog post.
Nice touch, right?
So, you think… very nice to have someone recognize your input not just by replying to it in the comments section of the blog, but by going an extra step by emailing their thanks, personally.
But that's not all.
They even asked for his physical address so they could send him a Get  Response t-shirt.  Wow!  He loves t-shirts, too.
So, sure enough, another few weeks went by and he got a package from Poland.  It was his t-shirt from the Get Response home office.
Now what went on, here?
Not only did Get Response make a personal contact to thank David for his comment (think Gary Vaynerchuk: "The Thank You Economy"), but they gave him a tangible item to cement that relationship, PLUS, they got his physical address for possibly future contact via direct mail.
And why not?  You never know when somebody might shut down the online world… lol.  But even if the internet remains alive and healthy, direct mail marketing is making a big comeback these days, and don't think they don't know that at Get Response.
One more thing, here.
Get Response is a big company.  Pretty removed and aloof from the many, many people who use their service.  But for the price of one little email (zero dollars), and a simple little t-shirt (minimal cost, for sure)… they just made a big company look like your next
door neighbor.
Now, that's relationship marketing at it's best.
How do you go about trying to build relationships on your blog?
Did this little story give you some ideas for maybe reaching out to your readers in a little bit more tangible way than you've been doing?
I'd love to hear about it in the comments below.