This post was most recently updated on March 26th, 2014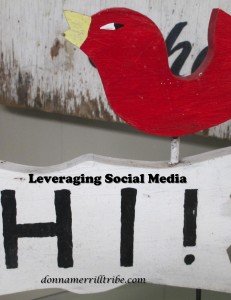 I have been writing a lot lately about blogging and social media.  In the past two weeks, I've hear  from some fantastic bloggers telling me different reasons that they didn't feel comfortable on the social media platform.
Now, that got me thinking!  I love these folks and they are superior bloggers.  So, here is a little help for my friends who are kind of shy or may need a little push to get on social platforms.  
It is important because the Google bots are sweeping up not only the content and SEO structure of your blog, but these little robots are picking up how much you are socializing.
So, here's the answers to some of the questions I've received from folks.
Q:  What can I say on Facebook or Google+ besides sharing blogs I have read?
A:  Anything!  Think about what you are interested in.  Just keep in mind that this is a place where we want to be social. 
We are not selling, we want to get to know other people.  So, for example if you have an interest in fishing, post a picture of you catching that big fish! 
Talk about the pleasurable experience you have while being in the open air, ask anyone if they like it too, etc. 
What I'm saying here is that you can share part of your self that you may not write about on your blog.  
Took a great picture of something?  Share it!   
Not a shutterbug?  Go over to Youtube and find something that interests you.  It can be those cute cuddly animals, a funny video, anything appropriate that you find interesting.  Share it around and see if others find it interesting, too.
Ask a question.  This should get you plenty of responses.  It could be something simple like "What was your favorite toy as a kid?"  
Now, don't expect 100 responses at your first shot.  If you want to use this type of engagement, you might try posting a question of the day.  My friend, Adrienne Smith does this, and I look forward to answering her question every day.  It's fun!
Q:  Should I post an inspirational photo?
A:  If you are in the Self Development niche, I think that would be appropriate.  It can be encouraging.   If you are not, something funny that can resonate with any niche.  You can even be a techie and share a funny techie quote or cartoon.  
Q:  How do I know if what I post on social media would be pertinent to my niche?
A:  It doesn't have to always be pertinent.  You are on social media for just that…being social!  There are no rules here except one: be yourself and be positive.  You will be surprised how many people outside of your niche want to become your friends.  
These are the folks you should socialize with, too, because you never know where it could lead.  If you are a plug-in designer, I might enjoy socializing with you even though I am all thumbs when it comes to technical things. 
I will become your friend, get to know like and trust you.  When you mention to me later on that you have designed the latest and greatest plug in, I'm likely to check it out to see how it might benefit me.  Hey, I may even purchase it.  
Q:  What if no one presses the "Like" button on Facebook…or worse …what if they don't comment?
A:  Just start doing it.  It may take time for people to see you and recognize you, but eventually it will happen.  It still happens to the best of us on social media.  Sometimes you won't get a comment or like.  But push on, don't give up.
Q:  I don't have any time to be on any social media platform.
A:  Please consider that those Google bots are never going to find you if you are not on social media.  You can be on them all, or pick and choose one or two.  Be consistent!  I know I've said this time and time again, but all you need to do is get on your favorite social media site at least twice a day, for 10 minute intervals.  
I'm sure that 20 minutes of your time is worth playing nice-nice with the friendly Google bots.  Scan and like other people's messages, too.  Comment on them.  Post something and then get back to it later to see if people are liking or commenting.  
So, there you have it, my answers to some of the questions my readers have asked me.  I hope this helps, and will give you a little push.  You, too, can achieve top ranking with Google by improving your social interactions online.
Blessings,
Donna