This post was most recently updated on March 26th, 2014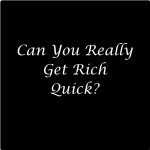 I have been working with many newbies coming into the blogging world. 
The one question they have asked me is how long will it take for me to make money?
Well, there is no answer to that question.  If you have been around for a while, you have learned that already, but if you haven't there is  "No Free Lunch!"  
When I'm asked about making money online, I like to give people some concrete information they can relate to.  
So, I'm telling you now that building a business online is just like building one offline.  
If you decided to open a store, for instance, what would you need?  Rent a space, design the interior, fill it with display cases, and then stock it with your stuff.  How much would that cost you?  Regardless of what you want to sell, it would have to cost a pretty penny!
Then comes the advertising.  Even if you are in a prime location, people have to know who you are and what you are selling. You cannot just depend on the folks that just happen to pass by your front door.  So there is more money spent there.
Are you with me so far?  Well, in this video I'll explain the truth about what it takes in terms of time and money to build a business online.
So, you see, if you are just coming on board or you have been here for a while, you need a home base, which is your blog.  That's where your friends and visitors will come in and take a look around. 
If you are giving good content, and your readers come back repeatedly, you'll do fine.  People visit their favorite food store or boutique because of the quality of the products, the pricing and the service.  They'll visit your blog for the same reasons.  But it takes time and effort to build a dedicated following.
With so much information on the internet, people are understandably confused about where to start.  Too often, they've been told how "easy" it is and how quickly they can start banking substantial profits. 
But seasoned and professional bloggers know that it takes patience, persistence and some investment.  The facts are that you will have to put some high quality "meat" on your blog, and you will need to outreach to others.
So my friends, when the next shiny object pops up, take your time and evaluate it. If someone is telling you that business will flourish easily and it will cost tons of money to do so, take a step back.  Is it a reputable company or individual offering this promise?  Are they trustworthy?  Do you know others who are already involved, or are you going it alone?
Remember, there is no get rich quick business.  If you still don't believe me, check out the hottest trending marketers.  Dig around and find "their story."  If they are honest, and many are, they will tell you about the rugged obstacles they had to overcome to get where they are today.
I'd love to have your comments below.  Have you found a get rich quick business online?  Have you tried some out?  What was your experience?
After you leave a comment, please share this article on your social sites.  
Thanks for stopping by, and for sharing your input!  
Thanks!
-Donna