This post was most recently updated on March 26th, 2014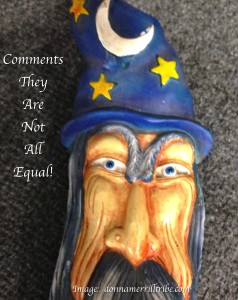 Social media engagement is so important in the current world of blogging.  Pages, posts and your entire blog are ranked by search engines largely on the amount of social engagement your blog generates.
One of the key ingredients to social engagement is the amount and quality of comments that your blog posts get, not only on your blog site, but on social sites, too.  
This means, when you share your blog posts on one of the social sites, like Facebook, people need to not only press that like button, but leave a comment there, too. 
That's the beginning of the conversation on a social site.  Likes are not ranked anymore by Facebook, but the action on your post on a social site is.
When you are on a social site such as Facebook, keep in mind that the more you give, the more you will receive in the long run.  One of your friends might post something and your comment there is just as important as a comment on a blog. 
Getting comments is not the whole story though.  That's because not all comments are equal.
Engagement Blogs
Engagement blogs are ones that are really focused on getting people to come from social media sites like Facebook, over to your blog and get engaged there.  When somebody visits you blog from social sites, you want them to leave comments and social shares.
Comments are critical if you have an engagement type of  blog. 
You want people talking about you, and when they come read your articles from social media sites, you want them to see that you have a healthy conversation going on with your readers.
That stimulates a lot more comments, but even more… good and thoughtful ones. 
If you come across a blog with tons of one liner comments, it's not really engaging.  "Great post buddy!"  If you see something like this, are you willing to go to that comment yourself and see who that person is?  NO. 
But if you come across a good comment on a blog, you are more likely to remember that person's input.  You can go the extra mile and see who that person is, go to his/her blog and connect with them on social sites. 
This is how a good blog and engaging comments grow organically.  When this happens, you can bet that you will attract a better quality of back links from other bloggers.  Then meet them on the social sites and have a conversation.
Personal Branding Blogs
If your blog exists to give you credibility as an authority or expert of some sort, the amount of comments is probably not as important as the quality.  But you still need engagement. 
So you seek out others that are in the same niche as you.  You don't stray too far from your niche. 
Now that's fine, as long as you put your best foot forward and start searching for others that are in your niche, go to their blogs and leave your own great comments.  Hopefully they will return the favor. 
Keep doing this repeatedly and expand your search every day.  Eventually you will be hanging out with bloggers in your own niche. 
And of course, you'll connect with them on social sites, too, leaving comments and getting to know them there as well.
When you use your blog primarily to build your personal brand, you really want people to leave comments that thank you for your new ideas and leadership. 
You want readers to constantly be reminded that you are a leading authority in your niche. To do so, engagement is a key point here as well, but high numbers of comments and social shares are not nearly as important as good quality ones.
To get these kinds of comments, you will probably need to target your blog more specifically to readers in your niche.  People don't really care about expert opinions in niches that they have no interest in. 
So, don't flaunt your cooking blog in front of crowd of WordPress techies.  They won't care, and you won't get many visitors or rave comments.
Influencer Blogs
Influencers are a small percentage of the bloggers, of course.
These are the bloggers that have already achieved the authority that the personal branding bloggers are trying to get.
If you're an influencer, someone that people widely consider to be an authority in your niche, you may not want comments at all.
That's because so many people will leave shallow comments just to try to boost the quality of their back links, or even take issue with every little thing you say, just so they will get noticed by the many readers you are attracting. 
You will notice on many Influencer blogs, the comments are turned off entirely.  Now don't get all upset when you hit a blog like this because these bloggers reached a point where they are giving content and that's it!  They don't want comments.
They are not snotty people lol.   They just have too much to handle and have been through the exhausting experience of having too many try to ride their coat tails.  Those back links will just drag their blog ranking down.  So try to understand where they are coming from, my friends.
Many of these blogs are more like ezines.
Will the lack of comments cause they ranking problems?  Not likely. 
They have probably already reached high rank on the search engines, and are now seeking social shares, not comments.  The social shares alone become their main juice, and search engines don't care nearly as much about your comments as they do about the amount of traffic flowing back and forth between social sites and your blog. 
Remember, comments are essential for most bloggers. 
But not all comments are equal. 
Seek the best quality comments by delivering best quality content, and by engaging with your readers off your blog, too… on your social media sites.
So my dear friends, the bottom line is this:  The comments on your blog, and the comments you give on other people's blogs are very important.  But they have become just as important on the social sites.  So keep that in mind the next time you see something  that interests you on social media and leave great comment there, too. 
What about YOU?  How important do you think comments are on your blog?  What do you do to attract high quality engagement?  I would like your input!
-Donna