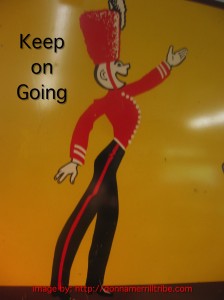 I've spoken about the importance of developing the right character traits required to achieve online success.
One of those traits is persistence.
I've worked with a lot of people online who have had varying degrees of success, and persistence is a character trait that every one of them developed.
In this article I'll explore a bit more in depth, the significance of developing persistence if you are seeking online success.
Persistence Defined for Online Success
Persistence is the ability to move forward toward your online success, despite setbacks, disappointments and obstacles you encounter.
Have you tried to build up a business opportunity through online network marketing efforts?  Have you attracted only people who join your organization then never follow through developing their business, though?
Have you tried to get your blog to "catch fire" with lots of social interaction, conversation and shares?  How about getting your posts ranked high in the search engines?
Maybe you've decided that the main reason to blog is to build a list of eager prospects and loyal followers, but you've only been able to build a tiny list after 6 months of effort.
There are so many obstacles you'll encounter as you seek your online success that I can't begin to list them, here.
The bad news is, every one of us runs head first into these obstacles virtually every single day.
The good news is that there are always ways to overcome these obstacles.
While you will need to learn those methods and strategies for overcoming all the stumbling blocks to your online success, you will only be able to navigate those learning curves through persistence.
It's Not Enough To Learn The "How-To"
Many of the obstacles you'll encounter won't even revolve around learning the right things.  They'll be more concerned with your ability to work through setbacks and disappointments, even failure.
Let me tell you a little story that may seem fairly insignificant, but speaks to the importance of building up the important character trait of persistence.
The "No Excuses" Path To Online Success
Persistence means essentially one thing.
No matter what your setback, inconvenience, failure, or other difficulty… you must move forward toward your goal each and every day.
There are no excuses for getting sidetracked or sidelined… none… ever.
You must be laser focused on achieving your online success at all times.  You must take the actions that will move you forward in that direction each and every day.  Nothing can stand in your way or hold you back.
That's the essence of the character trait we call persistence.
Without developing this character trait, you'll find online success to be very elusive, if not impossible to achieve.
Do you find that practically every day you have to overcome little stumbling blocks like the one I spoke about in my video?  Have you been sidelined by bigger and more difficult obstacles?  I'd like to hear how you move forward in the face of such difficulties.  Have you developed the character of persistence for online success?
Don't be shy, If you have something to share please do in the comment section!
Blessings,
-Donna