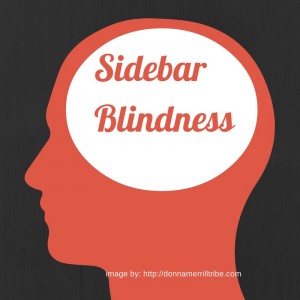 As a blogger, I'm sure you are busy reading many blogs. 
My question to you is do you have sidebar blindness?  Or…do you read everything on a person's sidebar when you visit their blog?  Do you actually go to them?  Sign in for newsletters?  OR…have you developed a blindness when it comes to all those things on the sidebar.
Clearly, the only way something will work on your sidebar is to have a call to action to it.  If you are writing a post to something congruent to an opt-in, mention it by saying "you can click the (Blank) image on the sidebar".   You can also put your option offer in your author box.
Even if you do all these things, though, people really are developing sidebar blindness, even if you reinforce it in your post and in your author box.
What happens when you see too many things on someone's sidebar?
Confusion, I can say that much.  Especially those links that blink as you fight your way to read the post without distraction.
Clutter, too.  It looks like you want to sell every plugin, new book and shiny object there is on the planet.
It causes people to be blind to it all.
So what to do?  
Well the first thing is to use some good old common sense.  
If you have many things on your sidebar, take a look at how many conversions you have made in the last month.  If you haven't made much or anything at all, toss it!  
If you really want to sell that sidebar smash, then do something about it.  Write a post and give a call to action.  Review it, don't just advertise it!  Then, if it is not working, redo it or toss it away.
If you have an affiliate link to a product or service on your sidebar, how many people are opting in?  
Maybe the bigger question here is did you ever tell them about it?  
Did you draw attention to it in a blog post, or in an email or Facebook update?  
Moreover, have you ever advertised?   I know some bloggers that will put a link up on their sidebar and think people will go right to it and they will make a sale or convert an option to their list….NOT!
Of course, we do want to put something on our sidebar.  But make it something that will work.  Social Media "connect with me" buttons can work wonders if your blog visitors are so impressed with your posts, that they do want to connect with you on some or all of the major social media platforms.
If you have a product, let them see your face with a picture or video display, with some kind of call to action alongside your option box or link to your sales page.
If you want them to subscribe to your Newsletter, put a little "Join my newsletter to receive ________."  Fill in the blank and make the offer worthwhile for a person to join in.  
MAKE THE SIDEBAR ABOUT YOU
Yes you heard me… whatever is on your sidebar should be about you for branding purposes.  Even if you have the best affiliate product in the universe, make it all about you and how you enjoy being part of this, why you recommend it, etc.  It's not about the thing you're promoting, it's about YOU and why you are recommending it.  
When people see YOU in your sidebar, their interest will be piqued, and your personal brand will be reinforced.  When they just see "stuff"… they'll subconsciously default to sidebar blindness.
I would suggest a video.  Not a company or promo video someone gives you.  Your readers have seen that one a zillion times and will click away immediately.  Introduce your offer, opportunity or whatever, with a short video.  Make it full of excitement from your heart, and you will have a much better chance for a conversion.
The biggest mistake I find bloggers making is this.  
They install an offer on their side bar.  It goes directly to someone else's sales page.  
Those bloggers just lost their branding opportunity, and possibly their credibility (depending on what they're promoting, and what their readers' preconditioned perception of it is).  
 
If your visitors want to check out your opportunity, they are doing it because they are interested in working with YOU.  They care more about working with you than they do about your opportunity or product.
So please, do your part to steer them clear of their sidebar blindness.
Take a little time to shoot a very short video of you, telling them why you'd like them to take action on what you've got for them.  
Then, you can link your video to a squeeze page, opportunity or sales page.  Nothing shady please because you don't want to lose your prospective subscriber, customer, lead or prospect.  They're checking out what you promote because they've come to trust you.  Don't violate that trust on your sidebar!
LESS IS MORE
One of the best ways to keep your visitors from defaulting to sidebar blindness, is to give them less to look at.
The less "stuff" you have on your sidebar, the more people will pay attention to it.  
Don't believe me?  
Well think of this:  You walk into someones home.  The person is a pack rat.  There is clutter all around and you have to move stuff out of the way just to sit down.  Is that comfortable?  I don't think so!
You go to someone's home, everything is clean and neat.  It is spacious and airy.  Plenty of seating room.  
Will that make you feel comfortable?  Probably so.
Are you likely to spend more time in the neat, well organized friend's home, or the pack rat's?
The answer is clear.
YOUR BLOG IS YOUR HOME
I know I've said that a million times!  But, when someone visits your home, don't you want it to look clean and neat?  Associate that with your blog.  Clean up that sidebar and make people feel welcome.  Give them some sidebar vision, not sidebar blindness.
Now if you really want to increase your conversion rates, there are far better ways to do it than with your sidebar.  I teach people these methods in the "Whirlwind Success VIP Club" regularly, and am working on a more definitive outline of these methods for an upcoming webinar.
Check out the many benefits of becoming a member of the "VIP Club".
In the meantime, look over your blog's sidebar.
How can you simplify it?
How can you make it more appealing?
How can you make it reflect more of YOU and less of "stuff"?
I'd love to hear from you in the comments section below, and please share this article with your social media friends.
Blessings,
Donna