This post was most recently updated on July 30th, 2016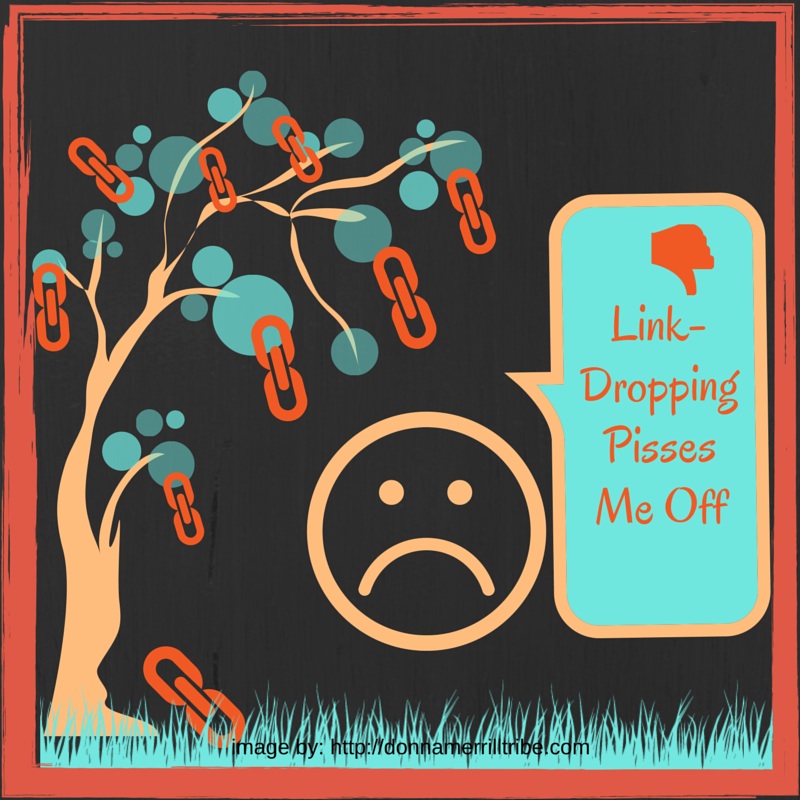 Did you ever put up a post on a social site and BAM… someone comes in and just drops their affiliate sales link on it?  To make matters worse, the sales link probably has nothing at all to do with your post.  This is why "link dropping" (as I like to call it) totally pisses me off!
Social media is just that… social.
Yes, it is fine to link to your blog post on your social sites.  Post your pictures with clever sayings, share some photos of your pets and kids.  Fine.  Social media is a place you can visit to express yourself, after all.  Other visitors may even come on over to like and comment.
Sometimes the wittier we get, we can ignite some interesting conversations.  That's the point of social media.
Sharing and conversing.
But when someone comes over and just link drops, what do you do?
You can delete the links, obviously.
You can spam block them.
You can even go as far as being kind enough to get in touch with them and explain why link dropping is not appropriate.  But will they listen?  Usually not.
Link Dropping on Blogs
I personally would never allow spam links on my blog, although I know a lot of people do.
I use CommentLuv to manage my blog conversations, and Akismet to weed out spam.
If someone ever tries to drop their link in a comment, it immediately gets deleted.
Those kinds of comments simply scream "I don't care what you are talking about but I want to get in front of your readers so that they can see me!"
Like my readers care… lol.
Link Dropping on YouTube
I don't police my YouTube much, but I got in there the other day to share something.
I found some comments, some thumbs up so I ventured to see what they were.
I found one guy, who I don't know, had dropped his link into a comment.   Not only on one of my videos but many.
This Link Dropper Pissed Me Off!
So I did what I had to do and reported him.  Sometimes you just have to catch those guys and put them in their place!
Link Dropping on Facebook
I have a pretty great crowd I hang out with on Facebook.
I love to see what my friends are up to and like and comment.
I get into conversations with them and we go back and forth with each other.
It can be light and fun to break up the intensity of my busy day.  Yes, there are some complainers and bashers out there.  I usually just ignore them, shake my head and tell myself "They just keep running their brand into the ground with that stuff," lol.
There are times, though, that someone who I'm not friends with… like a friend of a friend… sneaks in, doesn't comment at all but just drops a sales link.  Or even worse, they jump into the middle of a conversation and say "I can help you with this, just join me at this L I N K!"
Now, that really pisses me off!
So I delete them, and even block them when they pull this kind of nonsense.
By the way I asked the question of Link Dropping  on Facebook and here is what some of my friends had to say about it.
The Link Dropper Personality
To me, the Link Dropper is like the guy in a car who beeps his horn at you and whistles or shouts "hey baby" and really thinks he will get a reaction, or even a date.  Ha.
This is delusional behavior in my book!
Instead of beeping his horn, the Link Dropper might put up a quote, and you get a completely irrelevant link to heaven knows what.
The Link Dropper thinks that if they drop their links everywhere imaginable, people will click on it.  What people?  No one knows this guy, they don't trust him, so why even click the link.  It's just spam!
Is The Link Dropper A Narcissist?
So, I'll play pop psychology, here.
Why not?
If they can spam my blog and my Facebook page, I can spam their brain!
For fun, at least.
So, a narcissist is someone totally self absorbed, and all the psychology I've seen says he's the self-proclaimed center of his own universe.
Now, I don't want to get into infantile experiences and Mommy-Daddy issues, but suffice it to say, he's not a happy camper unless he's center stage, facing an adoring audience, or back-stage signing autographs for them.
OK, I understand that we must live with narcissistic people in this world, but we do not have to let them rule the roost.
If you have an online business, and these folks are strutting around trying to upstage you at every turn, I think you need to set up a strong boundary to keep them on their own side of the fence.  My boundaries are set.
On a kinder note, I will admit that there are Link Droppers who just don't know any better, maybe they're total newbies who have gotten some bad coaching… it happens.
So, OK.
I do understand this behavior, BUT…
The Link Dropper is still pissing me off.

What do you think?
Am I ready for some therapy, deep breathing, or what?
Maybe the Link Dropper is neuro-linked into my subconscious so strongly that I have to get some EMDR Therapy (see one of my other posts about that… sorry, I'm not doing any cross linking today).
I'm working on it my friends and just wanted to share it with you.
Anyone that knows me fairly well understands that I just need to vent from time to time.
So, now, let me ask you… how do you deal with Link Droppers?
Does it Piss you off as much as me?
Or do you let it roll off your shoulders?  (Maybe you're just better adjusted than me).
I appreciate your advice.
It's been fun!
-Donna