This post was most recently updated on July 30th, 2016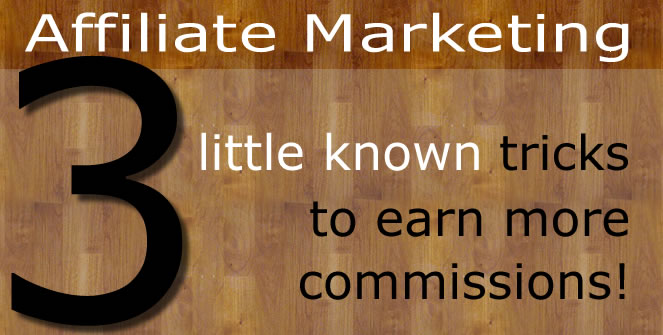 You can earn more affiliate commissions, and I'm going to show you some really cool ways to do that.
Well, actually, I won't be showing you that, today.
But I'm going to introduce you to a blogging authority who will.
You see, I've asked fellow blogger and internet marketer, Enstine Muki, to step up to the podium and take you inside his world of earning affiliate commissions right on your blog.
When I first thought of raising this topic, I immediately thought of Enstine, because I know he's pretty much an expert in this area.
When you visit his blog, you'll immediately notice that it is heavy with information about making money blogging.
So, I know you're in good hands on the topic of how to earn more affiliate commissions with Enstine.
Just to fill you in a tiny bit on his back story, Enstine is from Douala in Cameroon. He brags about being a happy dad and husband since 2008, and I think that's pretty cool.
He's been working online since 2005, creating websites and web applications, so he's a product creator first, an affiliate marketer second.
So, enough for the introductions, let's get down to Enstine's tips that will help you earn more affiliate commissions.
Over to you, Enstine!
It's another year and I'm so excited to be here with Donna 😉
I know we are all set for a beautiful and more successful year ahead of us.
No one prays to fail 😉 What's terrible though is that even the wicked prays to succeed in his wickedness. That's life!
The only thing that will secure your success this year is the right action.
It's not just taking action.
It's taking the right action.
Any action you take will generate corresponding results;
The right action -> the right results

The wrong action -> the wrong results
One of the things we want this year (for those of us who want to make money with our blogs) is to be able to make more money.
As a matter of fact, there are so many ways to make money as a blogger.
I remember in the past, I wrote an article on my blog on 15 different ways bloggers make money.
If you want to really know more ways to generate income online as a blogger, you may want to check that post out.
Today, I want to lay emphasis on one of these ways and share some beautiful tips that have proven to work for me. In fact, I'm still using them with exceptional results.
Let's talk about Affiliate Marketing.
3 Little known tricks to earn more affiliate commissions
Affiliate Marketing is a beautiful money making activity on the Internet. It's simply promoting others products, making sales and earning commissions.
So many bloggers are making a lot of money from this exercise and as Internet Marketer and product creator, it's my second source of income online.
You can actually focus on this and make it full time business.
Yes. Affiliate Marketing can generate a six-figure income for you consistently.
Also, check out these 4 Essential Steps of Affiliate Blogging by Donna
So here are some 3 smart ways for you to make more affiliate sales from your blog and earn more commissions:
1 – Get a unique coupon code from product creator
This is one of the smartest things to do to highly boost sales but I see it not really exploited by many bloggers.
I have worked with many product creators who are willing to generate custom codes uniquely for my readers.
To make it even better, these discount codes are tagged to my affiliate account. That means even without using my affiliate link, once my unique discount code is used, I get the commission.
If you come across a product you want to promote, find out from the creator if his sales platform is flexible enough to generate a unique discount code for you to share with your readers.
Your readers will trust you more for negotiating a special discount (not found elsewhere) for them and if this helps them save considerably, they will…
•    Use your discount code to buy the product
•    Share your code with loved ones and friends. This may ignite a viral effect and you know how those sales can start accumulating.
2 – Add your own value to the product
Here is another excellent thing for you to do to make more sales.
People love bonuses added to the products you promote on your blog.  If you can add a bonus, there is surely going to be an increase in sales.
I have done this with a great deal of success.
My readers who buy from me end up getting a free copy of CashDonator or some free credits into their BroadedNet account.
This not only helps me make more affiliate commissions. It also helps me promote my products.
Now I know not everyone of us is a product creator.
You may be saying to yourself  "I don't have a product."
Well, a very possible option is Private Label Rights products. All you have to do is buy PRL products that are closely related to the product you promote and give out as bonuses.
The more value you have in your bonuses, the more you stand to make sales and earn commissions.
3 – Invite the product creator over to your blog
I did this once and got impressive results.
It's going to be one of the main features on my blog this year so I encourage it fully.
What happens is you invite product creators to your blog and do an in-depth product based interview. Try as much as possible not to make it a traditional blog interview.
It has to be focused on selling the product through bringing out its values  – focus more on uses and how they help solve problems.
Don't just end the interview without getting a special gift for your readers from the product creator.  This may be a special price reduction or unique bonus product from the product creator that's only available on your blog.
Here is the whole point…
If you are promoting any affiliate product on your blog, you have to make it different from others.
Everyone else is promoting the same product so why should someone buy from you? By making it a special package that's unique to your blog, you get more buyers.
Now, there are different ways you can use your blog to do Affiliate Marketing – banners, product reviews, text links.
As the owner of your blog, you will have to know which of these generates the best results.
Don't just paste banners because you think they are beautiful or simply because you found them on a friend's blog.
We are all different and our readers certainly think differently.
Test things out to find out what works best for you and focus on it.
Banners have their limits as I point out in this post.
You have to think outside of the box to turn them into a real income magnet.
Think about your readers first.
As affiliate marketers and bloggers, we must not forget that our readers are the most important things we have.
Whether we are placing a banner or reviewing a product that pays once off or recurring commission, we must think of our readers first.
The product we want to advertise must attract their attention.
It must be valuable and relevant.
If we miss this point of relevancy, we completely fail.

Thanks for taking the time to read this post.
Please drop a comment below and let me know how you are doing to Earn More Affiliate Commissions.
I'll be so excited to have a chat with you here, and am always happy to have you visit me on my blog, too!