This post was most recently updated on July 30th, 2016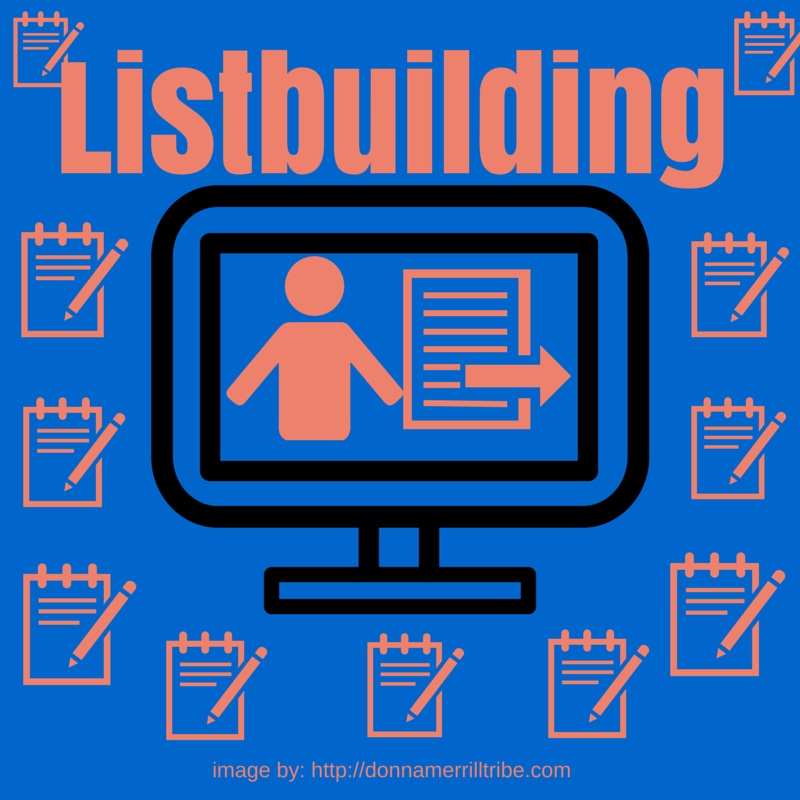 Listbuilding for bloggers is probably the most important reason to blog in the first place.
Here's "Why" bloggers need to be listbuilding, and "How" they can do it.
Why?
Unless you're purely a recreational blogger, you want to build a database of your readers and followers.
That way, you can interact with them.
You can build a deeper relationship with them.
How will you accomplish that?
The answer is listbuilding.
You want to put your readers and followers into a database that you can tap into anytime you want.
That database is called your email "List."
When your readers join your list, they invite you to contact them with your email messages.
They give you permission to send them more information, instruction, and assistance.
So, if you have a dog training blog, someone might sign up for your email list hoping to get more information about dog training.
They are giving you permission to send them that information.
You want that permission because you want to offer your readers a deeper understanding of how to train their dogs, you want to get to know your readers a bit more personally, and you want to offer them products and services to help them do a better job of training their dog.
So, listbuilding is not a casual thing you do because you see other bloggers doing it.
Listbuilding is at the very heart of your personal branding.  And that, in turn will determine your ability to make your blog a profitable business platform.
Listbuilding for bloggers is really listbuilding for bloggers who want a way to sell products and services at the end of the day.
How?
Now that we know "why" it's so important to do a good job of listbuilding on your blog, let me show you "how" to do it.
There's more than one way, of course, so here are the ways I think work best for most bloggers.
Sidebar Opt-in Box
I'm sure you've seen the sidebar banners or boxes that ask you to join somebody's email list.
That's what I usually call a sidebar opt-in box.
So, on your dog training blog, you could create a banner image that says "Sign up here to get more tips for training your dog."
Then you'd have a place where people could give you their email address, name, phone number or whatever you think is important.
When they give you that information, that's it.  They're "signed up."
Of course, you need to connect the sign-up form to your email service, your autoresponder. 
That might be Aweber, GetResponse, or whatever. 
Whatever service you use, the important thing is to have a good and reputable one that will database your sign-ups onto an email list so you can keep in touch with them.
Pop-up Opt-in Forms
Another way to collect people's sign-up information, is on pop-up opt-in forms.
I know you've seen these.
They are those annoying little opt-in forms that suddenly appear (pop-up) on your screen when you are trying to read someone's blog post, or watch their video.
You have to stop what you're doing and either subscriber to the list, or try to figure out how to make the form go away so you can get back to reading the article.
I think you can tell that I hate pop-ups.  I've never used them, and don't think I ever will… but who knows?
I'd guess that you probably agree with me that these little forms popping up from the top, the bottom, the left side, the right side… they're all totally annoying.
But most bloggers, and maybe you, use them.
Because just about any statistics you'll find on this topic will indicate that pop-up ads are very effective, and certainly more effective than the standard sidebar opt-in box.
That's because they jump in your face and force you to make a decision whether or not to subscribe to the blogger's list.
The sidebar opt-in just sits on the sidebar, and you don't have to decide yes or no, you can just go about your reading without even looking at it.
And that's exactly what the vast majority of your readers will do.
So, pop-ups may be a good choice for you.
There are many, many softwares and plugins that you can use to set up pop-up opt-in forms.
Just do a Google search and you'll find them.
Some are free, most are not.
As with anything, the free ones are very basic, and the more you pay the more bells and whistles you'll get.
PS: If I did decide to use a pop-up, I'd probably use an "exit pop."  That's one that only pops up when someone goes to exit your blog.  So it doesn't interfere with their visit, but as they are about to leave reminds them "Hey, before you go, why not subscribe to my great 'dog training' newsletter?"
Banners
Banners are like the old magazine "space ads."
They're a picture or image that can be clicked on, and when you do, it redirects to an opt-in form or squeeze page.
You can embed these banners on your sidebar, or as your blog header or footer, or even within your blog post itself.
It might be a picture of somebody training a dog, for example, with the instructions "Click Here to get my great dog training tips right in your inbox."
There are plugins and software that will help you do this… do a Google search, again.
You can also get custom made banners from a graphics designer, and then just link it to your autoresponder.
Native Opt-in Links
Ok, so I always save the best for last.
My favorite way of collecting opt-in is within my blog post itself.
That can mean banners, like I just said, but there's something I've helped many of my clients coordinate, and that we have found to be even more effective than the above methods.
It's also the simplest… figures… lol
All you have to do is hyperlink some text within a blog post, and send it to a squeeze page or opt-in form.
So, on your dog training blog, you could have a post about your "5 Favorite Training Leashes."
Within your post, usually toward the end, you have a sentence that says something like this:
To learn more about training leashes and get all my top dog training tips, just Click Here.
Then, hyperlink the "Click Here" to your squeeze page or opt-in form and that's it.
I like this best because it's actually "added value" to what you're writing about, as opposed to something that interrupts your reader's pattern of thought with an unrelated pop-up or banner that tells them to "subscribe now."
Life After Listbuilding
Once you've built a list of subscribers, you are on the verge of having a real, live, profitable business.
How good, and how profitable… depends purely on what you "do" with your list.
That's a topic for another day, like probably my next blog post…
It will be all about using "email marketing" to build relationships and profits!

Meanwhile, I'd like to hear what your favorite "listbuilding for bloggers" methods are.
Please… drop me a comment below and let me know!