This post was most recently updated on July 30th, 2016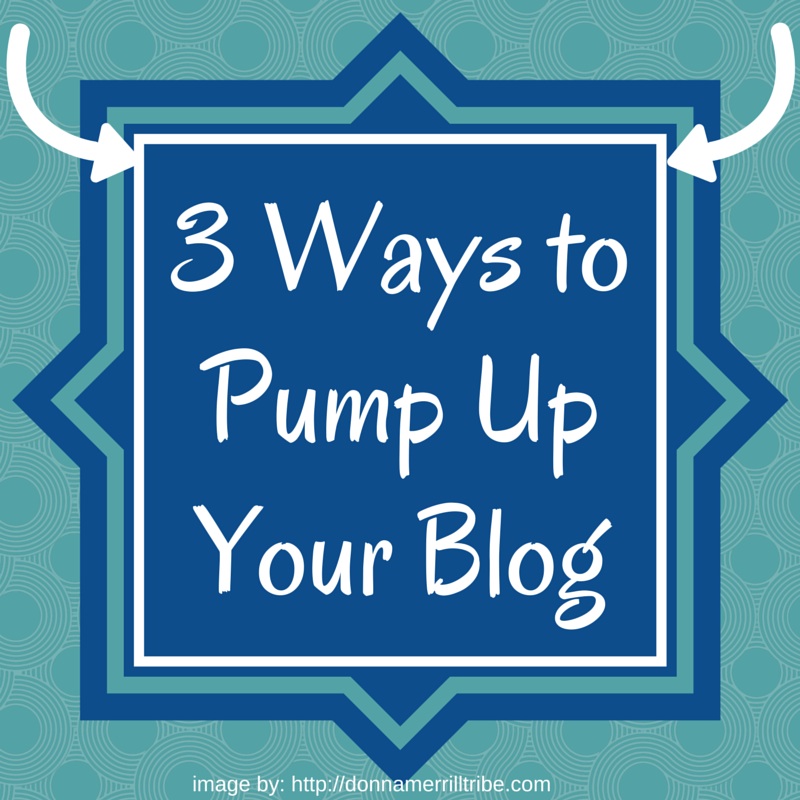 There are 3 Ways To "Pump Up Your Blog" that you need to pay close attention to, in order to advance your blog to the next level.
Are you a blogging pro or a blogging newbie?
Either way, maybe it's time to "Pump Up Your Blog."
What do you think?
Have you been blogging a while, but just aren't getting the results you want?
Have you been blasting out your brains trying to figure out what to write, to whom, or toward what end?
Or, maybe you've got a clear vision of what you want to accomplish with your blog, but it's just not happening.
I know bloggers who have bought into a service that basically does all the blogging for them.
It gives them great content, perfectly optimized for the search engines, and laser targeted to their audience.
The pay lots of money for this service, but still are not getting the results they need to maintain the new overhead they've taken on.
These are all good reasons to start figuring out how to pump up your blog.
Perhaps you've just started blogging, or maybe are just thinking about it.
Well, then, this is really the perfect time for you to learn how to blog the right way, right from the start.
It can save you a lot of time and effort going in the wrong direction, only to have do a slick little U-turn to try to steer back onto the straight-away.
So, do you think it's time to give a little TLC to your blog, or to put it on the right footing, or improve your results?
If so, then I've put together a little checklist for you.
These are the 3 major areas I'd like to see you start paying closer attention to.
CONTENT
"Content is King," it's been said.
I won't argue with that.
Without top grade content, your blog is not ready to step up to the next level.
I'd suggest you stop everything you're doing, and focus first and foremost on the value of your content.
Are you writing good and valuable articles for your target audience?
Do you make them interesting and actionable?
People like to learn things, but they especially like to learn what they can do to improve their lives.
Give them content that responds to that basic need, and you're well on your way to having a rockstar blog.
Bring you content to life with images, video, audio and infographics.
There are so many ways to make your content more consumer friendly.
Have you been embedding some videos into your blog posts?  There's probably no better way to reach out and get personal with your readers, than by letting them see you in action.
How about images and infographics?  The internet is all about being visual these days.  People learn better and will remember you longer when you add images to your posts.
Do you know how to do a podcast?  A lot of your readers may like to listen to a narration of your blog post while they're on the treadmill.
Do everything you can to offer your readers high quality, entertaining and most of all… valuable content.
Special: Do You Know The Steps To Take To Pump Up Your Blog? Find Out Here.
You can do everything else right, but if your content is lagging, it won't matter.
This is always the first thing to look at when thinking of ways to pump up your blog.
TRAFFIC
Of course, even great content needs eyeballs on it.
Without traffic, you are blogging in a vacuum.
Do you have a strategy in place for getting a steady flow of traffic to your blog?
Are you reaching out to the right people, the ones that can send readers your way?
Have you thought of using paid adverting to let people know what you're doing?
Are you involved in blogging communities?
Do you know how to leverage other people's blog sites, fan pages and Facebook groups?
More importantly, do you know how to do it without being spammy.
When you push yourself on others, they run away.
But when you join the conversation, you will attract them to your blog.
Learn to be a magnet of traffic, not a seeker of it.
How about forums?  Forums are such a great source of traffic, yet many bloggers just don't understand how to tap into them properly.
You see, there's no shortage of traffic out here.
Traffic is everywhere.
You just need to get your blog in front of it, and then the magic begins.
Whether you have no traffic coming to your blog, or just not enough (is there ever enough?)… one of the ways to pump up your blog fast is to start exploring new ways to hurl your blog into the multiple streams of on-rushing traffic.
SEO
One key way to getting traffic to your blog is through proper search engine optimization (SEO) strategy.
If you're a regular reader to my blog, you probably know that I'm not a big fan of SEO.
It's basically about getting your blog posts ranked high in Google, Yahoo and Bing search results.
While I don't lose any sleep over optimizing my blog posts with SEO, I do use basic strategies and plugins to give them the best shot of being exposed to my target audience.
You should do that, too.
If you have a "money site," it's especially important to have a good SEO strategy in place.
By "money site," I'm talking about blogs that are almost exclusively used for selling things.
So, if you had a dog training site, and it was all about reviewing and selling dog training equipment, devices and tutorials, I'd call that a money site.
You definitely want to use SEO strategies to bring people to those sites because one of the best ways for you to find customers for your products, is through relevant search terms.
SEO is done both "on-page" and "off-page."
So there are things you should be doing on your blog, and with each and every blog post you write to help your blog get ranked in the search engines.
In addition, there are ways to help get good ranking by attracting links to it, from other people's websites and blogs.
This is "off-page" SEO because it's not about what you do on your site, it's about attracting people from other sites to it.
This is typically done in the form of backlinks from other sites.  Every time someone links back to your blog, search engines register it as a vote of confidence for your blog.
Therefore, they rank your blog higher.
Special: Revealed: The Cure For A "Lackluster" Blog
There are other off-page methods also, but I don't want to get off topic, here.
Suffice it to say, that paying careful attention to the SEO strategy you're using, and improving on it, is a great way to pump up your blog.
MONETIZATION
Most people want to make their blog a business, that is… a source of income.
If you're one of those people, then don't just write good content, attract readers, and expect profits to start rolling in.
You've set the foundation for monetizing your blog by doing all those things.
Hopefully, you're inspired to pump up your efforts along those lines.
But don't get so caught up in giving good content to a growing audience that you forget to create ways for converting them into paying customers and clients.
This means, make sure you are using your blog primarily to build a database of your readers.
That gives you an opportunity to build income streams into your business via your so-called "email list."
You can also sell products and services directly on your blog site, too.
You can sell affiliate products, Amazon products and others.
You can encourage people to sign up for your business opportunity.
And you can promote services that you can provide to them.
Engagement
One of the keys to monetizing your blog, is to build engagement with your readers.
Engaged readers are your most likely customers and clients in the long run.
It's one thing to get people onto your blog, quite another to get them to engage with you.
By "engagement," I'm talking about getting people to join in a conversation with you.
On your blog, this is done by leaving a comment.
You should be doing everything you can to encourage people to leave comments.
You should also be doing everything you can to leverage those comments into a buzz that surrounds your blog, and that makes your readers eager to get involved in.
There are many ways of creating this buzz, and it should be a major focus if you're trying to pump up your blog.
In addition to the buzz you create "on-page," or on your actual blog site, you should also be exploring all the many ways to create that buzz "off-page."
This means using other people's sites to promote conversation about your blog.
You can do this on other people's blogs, on forum sites, and particularly on social media sites like Facebook and Twitter.
There are many ways to promote this "off-page" engagement with your blog.
Explore the ones most suitable to your style and your audience, and start engaging them, and involving them in your blog and in your business.
There's absolutely no substitute for building relationships with your readers.
Don't just talk at them.  Talk to them, and make them comfortable with talking to you, too.
That's the essence of engagement.
Engagement is one of the cornerstone of your monetization strategy, and it's one of the most powerful ways you can start to pump up your blog.
Together, list-building and engagement are the top methods for monetizing your blog.
If you're not taking full advantage of them, then it's probably time to pump up your blog with these strategies.
If you think it's time to pump up your blog in any, some or even all of these ways, I'd like to invite you to our next "Whirlwind Success" live event, called… surprise surprise… "Pump Up Your Blog."
We'll be showing you some great ways for building great content on your blog, driving traffic to it and monetizing it.
I'd love to have you attend!
So, now, tell me this…
How would you like to pump up your blog?
Do you think it needs better content, more traffic, a better monetization structure?
Or something I haven't mentioned (it happens, lol).

Whatever it is, I hope this article has inspired you to call a "staff meeting" with yourself to sit down and figure out some new, exciting ways that you can pump up your blog.
-Donna