This post was most recently updated on July 30th, 2016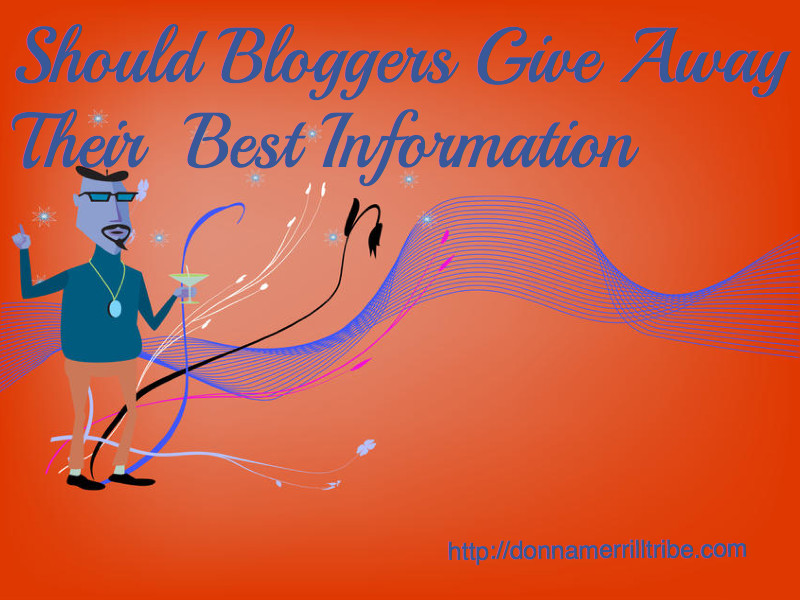 I was recently asked "why should  bloggers give away their best information for free, rather than make readers pay for it?"
I answer questions from students and clients all the time in my coaching program, but this one in particular caught my eye.
After all, the question continued, doesn't giving out your best work, advice and training for free lead people to perceive it as less valuable?
What do you think?
This really is a question that bears some thought.
It is true that when we blog, we are often giving away our best content, right?
So why would we do that?
How do we expect people to pay us for information or training that we give away for free every time we post a blog article?
I ask again, what do you think?
Does this sound like a familiar dilemma to you?
When you are blogging and giving it all you've got, do you have a plan in mind, or are you just doing it because you were taught to?
Do you think that somehow, if people see how awesome your content is, they will suddenly start buying your ebooks, or video trainings?
Do you think they will seek you out to coach them, or hire your services because they've seen how great your information is?
Do you think they'll become paying clients and repeat customers of yours because they've been so impressed by your command of your niche subject, or because you seem to really know your stuff?
Well, that's a lot of questions.
Let me tell you what I think the best answer is, here.
It's Really A Matter Of Conversion
First of all, the question is really one about conversion.
How do we convert our readers into subscribers, customers and clients?
Now, that's not a simple matter.
Entire courses and books have been dedicated purely to the matter of conversion.
You've probably heard blogging, and all internet business for that matter, defined as a question to drive traffic to your website, and convert them into customers.
Blogging is really that simple.
It's all about traffic and conversion.
Now, my client was not asking about traffic, but was focused on how we convert our blog traffic into customers.
Do You Have A Master Plan?
I think the answer lies in whether or not you have a clear conversion strategy in place, or are you just blogging day in and day out without a plan?
You see boys and girls, each and every blog post you write has to have some purpose.
Each blog post must be leading your readers down the path of your "master plan."
You must have a strategy.
That strategy must revolve around getting people to take actions that you have anticipated for them in advance.
So, I can write a blog post that gives you a ton of great, free information about losing weight, assuming for the moment that my niche is weight loss.
I can "hope" that you'll then notice that I have written a book  called "The New Weight Loss Diet." It features a 30 day regimen, complete with recipes designed specifically to help you lose 3 pounds a day over the next 30 days.
Will you buy it if you just finished reading my blog post that tells you how you can lose 3 pounds a day over the next 30 days?
Well, it depends.
It depends on whether or not I've developed a good marketing strategy that draws you into my sales funnel.
Does Your Blog Follow A Business Model?
You see, I don't just want to give you great free content because I'm just a nice person.
That's fine, but it's not a business model.
I want to give you great free content only if it inspires you to respond to my clearly stated "call to action" (CTA).
Let's say, at the end of my post I give you this call to action:  "Now that you know exactly what you must do to lose those extra pounds, why not buy my book that will give you that same information again."
I'm sure you can see why I won't get too many people to buy my book with that call to action.
On the other hand, take a look, for example, at my recent sales funnel post.
I gave away ("for free") some good basic information about "why" it's important to build sales funnels into your blogging business.
I even give you a concrete example of "what" a sales funnel is, and what it looks like.
So I told you "what" a sales funnel is, "why" you need one, and… 
Oh, yea… how about "how" to actually build a sales funnel, how to implement it, how to make all the working parts work in unison to build your blog into a thriving business?
If you want the "how" then you can pay to gain admission to my premium webinar called "Sales Funnel Profits."
Here's just one of several calls to action I put into my post, to invite you to buy my webinar.
I think you can see why I converted many more readers into paying customers, than I would have by using the "buy my book that will give you that same information again" approach that I described above.
And in fact, I got a really nice response using this approach.
Should You Give Away Your Best Content?
I wrote this article to respond to my client 's question about why bloggers should give out their best content for free.
If our "best content" means our complete information, then I'd have to say that there's no reason to give it for free, unless we're just feeling charitable.
As a marketing coach, that approach tells me that you have no clear plan for how you intend to convert your reader into a buyer.
You can, however, give your "best content" on the subject in an outline form, or with incomplete information.
My blog post might be written to show people "why" they need to modify their diet in order to lose weight without telling them specifically "how" to do it.
For that information, I'll encourage them to buy my book.
Or, I could tell them that there are 5 things they need to do, but in my blog post I only reveal the first one or two.  Then I wrap it up by saying "buy my book, and you'll get the last 3 methods, which are the key to making this work."
You see, there is a way to give "your best" information on your blog for free… a way that will draw people into your sales funnel in order to get the next level of your training or information.
Unfortunately, as I speak with bloggers all day long, a great many of them have spent far too much time giving away all of their best stuff for free, with no plan at all to get anything back in return.
Some of them know enough to try to entice their readers to join their email list,.
But even then, they have no clear or well defined plan for using their email list to pull people into their business, or to buy their products and services.
They probably even gave away a free ebook to get folks to sign up, so they had to develop even more free content to convert their reader into subscriber.
So after giving tons of quality free information on their blog, and then even more on their free ebook, they still have little notion of how they'll end up with a paying customer or client at the end of the day.
Bloggers often do everything they're told to do.
Give away tons of free stuff and expect windfall profits to follow.
But with no idea how to make that happen, and with no conversion plan in place,  the results they had counted on never materialize.
So, they become disappointed and often, just give up.
You see, as bloggers, we're always being told to give your best stuff away for free, and everyone will want to follow you.  They'll become your best and most loyal customers.
That's true, but not by accident.
It will only happen by careful design.
I was recently asked "why should  bloggers give away their best information for free, rather than make readers pay for it?"
The answer to my client's question is this.
Don't spend a lot of time, effort and even money… just to give away free stuff, and maybe build a list… unless… and until, you have a plan in place to leverage that free content into paying customers and clients.
Give them enticing calls to action.
Move them to the next step in the process.
Give them a compelling reason to enter your sales funnel.
Otherwise, your hard efforts will leave you disappointed for lack of results.

Have you been spending too much time giving away free content, with little to show for it in the form of concrete results?
Do you have a strategy for converting the consumers of your free stuff into paying customers?
If not, do you know how to develop one?
If so, how's it been working out for you so far?
Lots of questions to consider.
But it's really important to get some answers to them, and some guidance to put those answers into practice.
I'd love to hear some of your answers to these questions in the comments below.
-Donna