This post was most recently updated on July 29th, 2016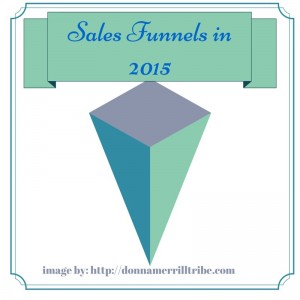 I've been telling my clients to start their sales funnels in 2015.
More than a few of them, knowing nothing about sales funnels, have asked me to suggest ways to get their businesses on the right track for the new year.
The "Know-Nothings"
Some of my clients don't have any business at all, really. 
I affectionately call them the "know-nothings" because they come to asking how to build an online business, but they know pretty much nothing about how to to create and leverage and sales funnel.
And that's pretty much HOW to build an online business. 
They have a blog that they do some nice things with in terms of content… cool videos, awesome images and truly high quality content.
But, they haven't learned the trick for turning all of this into a business.  Their blogs are really still in the "hobby" phase, and they're getting ready to turn a new leaf by bringing it into the world of business and profits.
They simply don't know how.
When I suggest that they need a sales funnel, I just get the "deer in the headlights" response. 
That's okay.  I had exactly the same response a while back when I was given the same advice.
But you know what? 
It turned out to be maybe the single most important advice I ever got.
I had no idea what a sales funnel was, and it sounded very geeky and scary to me, so I really didn't want to learn about it.  I was much happier hanging out on Facebook and "liking" warm, fuzzy pics of cute puppies and kitties… lol.
But where was that going to get me, if I was serious about creating a "profit-centered" online business and blog?
Answer:  Nowhere.  At least, not until I learned how to leverage those warm fuzzy photos.
So, it's true.  At that point in time, I was one of the "know-nothings" as far as building a sales funnel was concerned.
Special: Even if you're a total Newbie, Learn to Build Easy "Sales Funnels" Right Here!
The "Know-Somethings"
Now, other clients actually know what a sales funnel is, and maybe they've even created a sales funnel or two already.
The problem is that they haven't achieved the results they anticipated, so they moved on to doing something else.
Yea, this was me, too.
I'd try it out for a while, put some big hours into creating sales pages, video, opt in offers and all the rest.  When it started looking like too much work for too little return, I bailed out.
So, when I tell these clients that they need to create some great sales funnels in 2015, to get their businesses moving in a better direction… they kind of wince and whine and tell me, basically this:
"I've dabbled in that whole sales funnel approach, but it just didn't work."
Dabbled?
Tried?
This is not the model for success online.
Here's what works:
IMPLEMENT
I then proceed to work out some very simple sales funnel designs with the "know-somethings" to make things simple, but extremely powerful.
You see, things don't have to be complicated or expensive or elaborate to get your business cranking.
Alert: Register today for my upcoming "Sales Funnel Profits" webinar, and learn exactly how to make your blog or online business rock in 2015!
The "Know-It-Alls"
One of the problems that my "know-something" clients have, is that they've been following around behind some of the "know-it-alls."
The "know-it-alls" are those folks who tell you they know "everything" about sales funnels, and if you just buy their system, software, ebook, training course or whatever… your success is assured. 
You just need to make a few clicks, push a few buttons and then head to the beach while the sales stream into your Paypal account.
The "know-it-alls" usually tell you these things because they get a nice affiliate commission when you buy into the push button system or software that they're trying to sell you on.
So, what is the magical system or software that you'll need to create a killer sales funnel in 2015?
Your Sales Funnels in 2015
Of course, there are none.
I'm not going to tell you that there aren't some really good systems and softwares that will make your life easier, and save you some time and make your presentation nicer looking.
There are.
I'm not selling any.  I don't affiliate any at this time.  And I'm not recommending any here, although I might recommend some on a case by case basis when I coach people.
My point is this.
If you're like so many of my clients who are determined to make 2015 the year you will start building or increasing profits with your blog and online business… then I'm telling you to focus on building sales funnels.
Start with just one.
And here's the simple version of how you do it.
Let's use that fun niche called "dog training" as an example.
Here's an example of what the funnel might look like.
On your dog training blog, offer a free ebook about dog training.
When somebody opts in to this free offer, redirect them immediately to a sales page for a  low cost dog training ebook.
If they don't buy it, they're still on your email list and you can continue to offer the ebook in your follow up emails.
If they do buy the ebook, thank them for their purchase and suggest they purchase the entire training course for, let's say $397. 
Again, if they don't buy it, they're still on your email list and you can continue to offer the $397 training course in your follow up emails.
The sales "process" might end there.
But the funnel goes deeper.  Far deeper.
Once people have committed to following you, joining your email list, maybe even buying one of your products (yours or an affiliate product you're promoting)… you simply need to keep offering them products and services in the dog training niche.
Maybe you offer your own coaching service, or a phone consultation, or a new course that just came out or is ready to be launched next month.
Don't forget "accessory" items like special dog training collars, treats, whistles and all the rest.  You know, the stuff you can simple link to Amazon for.
You now have built a profit centered business that you only need to expand over time.
What about the high-cost sales funnel systems and software that the know-it-alls want you to buy?
Some are good, some not, some overpriced, some not… but you don't NEED any of them to get started.
What you need is a way to create "funnel pages"… things like squeeze pages and sales pages.
All you need for that is a blog.  Just a plain old simple WordPress blog, or something similar.
I'd love to have you join me in my upcoming webinar, and I'll show you in much greater detail how to make this all work. 

That's all you need to get up and running with your sales funnels in 2015. 
I'd love to hear if you've got a sales funnel or two put together right now, or if it's something you've got planned for 2015.
I'll look for your comment below.
Let's make things happen this year!
-Donna