Do you know how to do explainer videos?
I talk a lot about doing live video to build your blog, your audience and your business.
But not everybody is on board with the move toward live video.
So what's the alternative?
Or what other things can you do to build interest around your blog, your product, your service… your core message?
When you know how to do explainer videos, you will find them to be a great method for building your business.
And that's because they are an extremely potent way to deliver your core message.
How to use explainer videos
As the name implies, explainer videos are used to explain something.
What is your target audience?
Who do you want to visit your blog?
What are their biggest problems and challenges?
How can you help?
Well, the key to this process is to demonstrate how you can help.
It's fine to tell people you can help, but now you want them to see how you actually do help.
You might say, "I can help you to get your dog to stop barking on command."
But people in your audience are now going to say "How do you do that?"
So you write a blog post telling them how.
Fine.
Explainer videos give a demonstration
Now they are likely to say "let me see how that actually works."
In other words, they want you to demonstrate how it works.
Not just tell them that it does.
People can tell you how great it is to watch back episodes of your favorite TV series on "Demand."
"Fine," you say… "Now can you show me how I do that?"
This is the value of explainer videos.
They take your audience beyond just telling them something.
In addition to "telling," they allow you to demonstrate how something works, or how it should be done.
Build your authority
When you demonstrate how to do something, people are grateful for your assistance.
More than that, they will likely perceive you as an expert or authority.
Now they want to get to know you better.
Read your blog often.
Subscribe to your email list.
Follow you on social media.
Watch more of your videos.
How to do explainer videos
There are many different types of software that you can get to do explainer videos.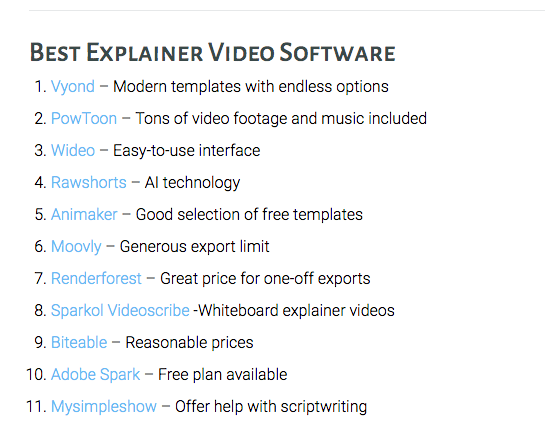 Read the full article here…
Best Explainer Video Software to Use in 2020
(Website Tool Tester)
Just shop around to find the one that best suits your needs.
Then get down to the work of creating your explainer videos.
Keep it simple
The first "rule" to creating good explainer videos is to keep them simple.
Think of an explainer video as a short commercial or instructional guide.
You want to make a point.
Maybe you are teaching something.
Or perhaps you are selling something.
Either way, you would want to use this formula for keeping it simple.
This should get you organized.
And it will keep you getting right to the point.
Here is WHAT I am going to show you (or sell).
Example: "This is what term life insurance is."
Here is HOW it works.
Example: "Term life insurance works like this…"
This is WHY you want to do it this way (or buy it).
Example: "Term life insurance gives critical security to your family."
Keep it short
The best explainer videos will be short.
I'm talking about 30 to 90 seconds.
Now, isn't that petty much the average length of TV commercials?
People making those commercials know something very important.
Your audience has a very short attention span.
Show them very quickly and very convincingly what, how and why.
Focus on how it benefits them to do what you suggest.
That's a good commercial.
And it's perfect for your explainer video.
Make it visual
Like any good commercial or instructional guide, people must be entertained in some way.
Appealing, humorous, cute characters and images make your explainer video fun.
One of the best ways to hold your audience's attention is with highly visual content.
This is how you can establish a strong connection with your audience.
Good visual content is highly engaging.
It also builds a mental anticipation in the viewer, who wants to see the next image.
If they see a character driving a car through a tunnel, for instance, they can't help but want to see the car emerge from the other end.
So they keep watching for that to happen.
Even the tiniest, split second moments of anticipation build a mini-commitment to seeing the entire video to the end.
And to pay attention to it, so they don't miss anything.
This is the power of explainer videos.
People want imagery and action.
Otherwise they'd read an article.
Explainer videos provide that.
Narrating your explainer videos
You might think that the visuals you use are the most important part of your video.
But, actually, the narration is even more important.
People will not usually get through an explainer video that is poorly narrated.
But I've seen many well-narrated, clear, simple and short videos that are completely compelling.
Even if the visual aspects are pretty weak.
By "well-narrated" I mean clear, with no background noise or interference.
Also, it should have a certain interesting, even exciting quality to it.
Now, if you can do a professional, high-quality job of narrating your own explainer video, then that's great.
Do it.
But if you don't sound professional, compelling, interesting, exciting or funny… then hire someone to do the voiceover for you.
It's easy.
Just go to a digital marketing service like Fiverr or Upwork and find someone who fits the bill.
Hire them.
Get the audio track and attach it to your video.
It's that simple.
A professional voiceover will breathe life into your video far more effectively than slick visuals.
Scripting your videos
Now, as important as the voice quality of your video is, there is nothing more important that the script.
In fact, the voiceover is simply the narration of your script.
So, yes,… what you say is even more important that how you say it.
Really, for a 30 to 90 second explainer video, the script is everything.
Before you do anything at all, you should write the script.
Make sure it conforms to the "what, how, why" formula I described above.
Write it clearly and simply.
And don't make the common mistake of being too wordy.
Yes, what you say is critical.
But the less you say, the better.
As long as you are making your main point.
How to do explainer videos
Making explainer videos is pretty simple.
But it's very important to have a really strong script, professional quality voiceover, and engaging visuals.
When you put all those elements together, you will have a very powerful way to reach out to your audience.

Have you ever tried this?
What was your success or main challenge?
Let me know in the comments section below.
Tell me if you think I've helped you see how to do explainer videos.
-Donna
PS: Please share this article on your favorite social sites!