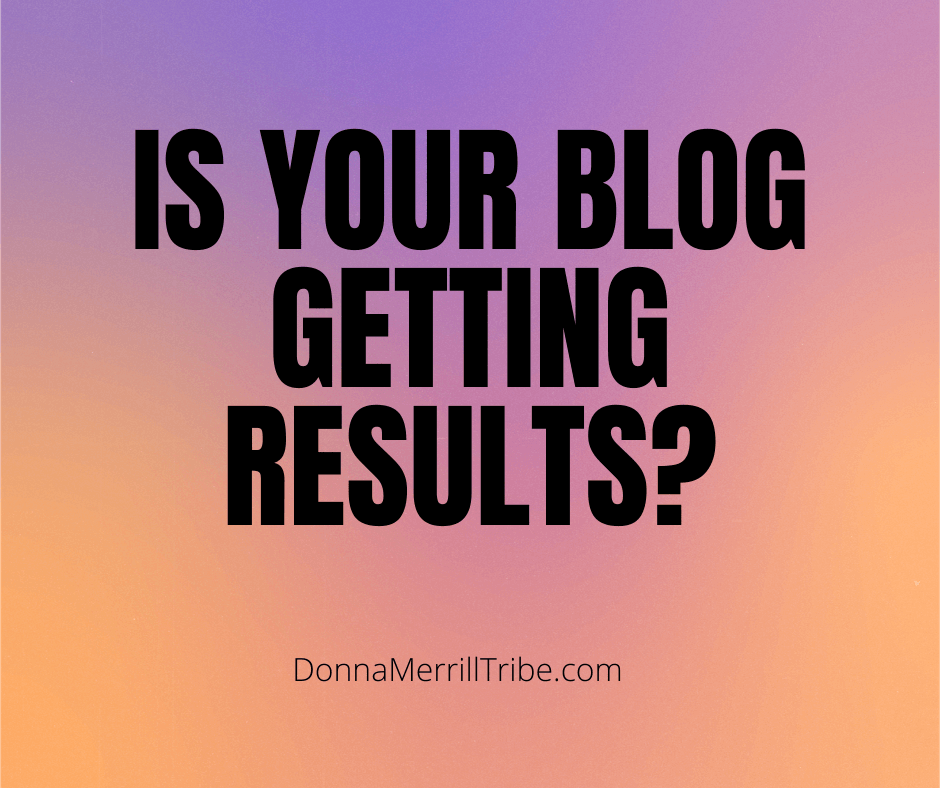 Is your blog getting results?
I mean, the results you want.
That's not the same for everyone, of course.
So, first thing… think of what kind of results you expect from blogging.
Profit
Recognition
Social Following
Monitor your results
Whatever your end game is, you need to constantly reassess the extent to which you are achieving your goals.
That reassessment means answering this question…
Is your blog getting results?
I suggest you do this monthly when you're first starting out.
Once your blog is more established, you might do this "results assessment" every 3 to 6 months.
But however often you check on your progress, you need to do it.
Here's why.
I work with student and client bloggers.
They are usually very excited to get their blog started.
Then they want to get it noticed.
After that, they look to making it popular.
Finally, they look toward achieving their goals… getting results.
So the process goes along a sort of a timeline that looks like this…
Set up your blog
Drive traffic to it
Gather some social media following
Achieve results
The failure model
Now that process looks fine, right?
It makes sense.
Start at point A, arrive at point B.
It's a simple plan, and it works if you're doing the last 3 steps continually.
If you're not, though, then you are on a failure track.
Assuming you've set up your blog properly, you have to always do the work necessary to get the results you want.
If you do not work to get traffic to your blog, then it will fail.
In most cases (not all), if you're not building a social media following that is connected to your blog, then you are likely to fail.
And in every case, if you do not have a results-oriented structure to your blog, it will fail.
The success model
The success model for blogging is just the opposite of the failure track, of course.
So the successful blogger will be working to get traffic, build social media popularity and have a blog structured to get results.
What really makes a blog successful, though, is not just the business outline or timeline, but the actual work that goes into it.
Get traffic
Bloggers know they need traffic.
Does your blog have all the traffic you need to for getting results?
You would probably say "no."
Even if you are getting lots of traffic, it's never enough, right?
But the issue is not really if you need to get more traffic.
It is what you are doing to get more traffic.
Traffic strategy
Here's an example of something you could do.
Write an ebook.
Link to articles on your blog within your ebook.
Then promote it relentlessly.
Have people subscribe to your email list in order to get your ebook.
Write emails to your subscribers often and regularly.
Always let them know when you have a new blog post.
But, also, keep linking to your problem-solving blog articles.
This will get a steady stream of traffic going to your blog.
Is your blog getting results?
It will if you do this one simple thing.
Write an ebook, offer it to your readers, build an email list and keep sending your email subscribers to your blog.
Yes, it's simple.
But it also requires a lot of work.
You have to write the ebook.
And make it good.
Make it better than anything else your readers have seen.
Then you have to promote it.
Do videos, write social media posts, do podcast interviews… promote everywhere you can, and in every way you can think of.
And don't forget.
You also have to be creating great, valuable, problem-solving blog posts.
And you have to create them continually, to keep the steady stream of readers flowing into your blog.
Now, that's just ONE little traffic strategy you can employ.
There are many other ways to get traffic to your blog.
The best strategies are always simple.
But all of them require plenty of work if you want your blog to be getting results.
Build social media popularity
It's almost impossible to keep getting results on your blog if you don't leverage the power of social media.
That doesn't just mean making friends and posting inspiring quotes, though.
It means sharing content.
Lots of content.
A wide variety of content… images, video, live video, blog posts.
High quality content.
The kind of content that your readers are looking for.
Content that helps them solve big problems, and overcome key challenges.
So, yes, you need to create really good content all the time.
Then get onto social media sites and share it.
Let people know that your blog can make their lives better.
Solve problems, answer questions and add value.
This is how to build your social media popularity.
But it's not about getting big numbers of followers.
It's about creating the loyal following of the people you attract.
And it's about getting them to start following you on your blog, not just your social media channels.
Continually creating and sharing the kind of content I just outlined, will let you do that.
Structure your blog to get results
Getting traffic and building a popular blog are key parts of your blogging success.
But it won't help your blog get results if your blog is not structured to get those results.
So let's get back to the big issue, here.
You want your blog to be getting results.
But what results are you looking for?
Profit
Recognition
Social Following
Decide what results you want.
Then structure your blog to get them.
For instance, and since most bloggers want profit… how do you structure your blog to make money with it?
Here's the problem.
Most bloggers don't spend nearly as much effort structuring their blogs to get results, as they do creating content and building social media followings.
How does your blog help you get results?
Have you created courses that people can sign up for?
Do you sell advertising space?
Does you blog give readers a way to hire you for a service you provide?
Or does it feature an email sign up bonus?
These are just a few things you can do to get results from people who visit your blog.
You should be structuring and optimizing these kinds of conversion techniques for your blog.
But even more.
You need to give equal weight to this aspect of your blogging.
It's not just about getting more traffic and bigger social media popularity.
Is your blog getting results?
If your blog is not getting results, it's probably not because you don't write blog posts or develop your social media profiles.
It's probably because writing blog posts and developing social media is 99% of what you are doing.
Many bloggers I work with focus almost entirely on those activities.
And, of course, those things suck them in, and take up all their time.
They require lots of work and attention.
But where bloggers go wrong is to give so very little attention to converting their readers and followers into buyers and clients.
In other words, they don't have a clear idea of what to sell and when.
If you're looking to get better results from your blog, take a look at what you are asking people to buy.
Your services?
Maybe you teach a class, or created a course?
Products?
You could be selling affiliate products.
They might be physical products from Amazon, for instance.
Or digital products from ClickBank or others.
You must clearly define what you have to offer.
Then devise better ways to make your pitch.
And start spending as much time on that aspect of your business as you do the others.

Now, please, leave me a comment below.
What could you do to improve your blogging business?
And tell me… is your blog getting results?
-Donna
PS: Please give this article a social share 🙂