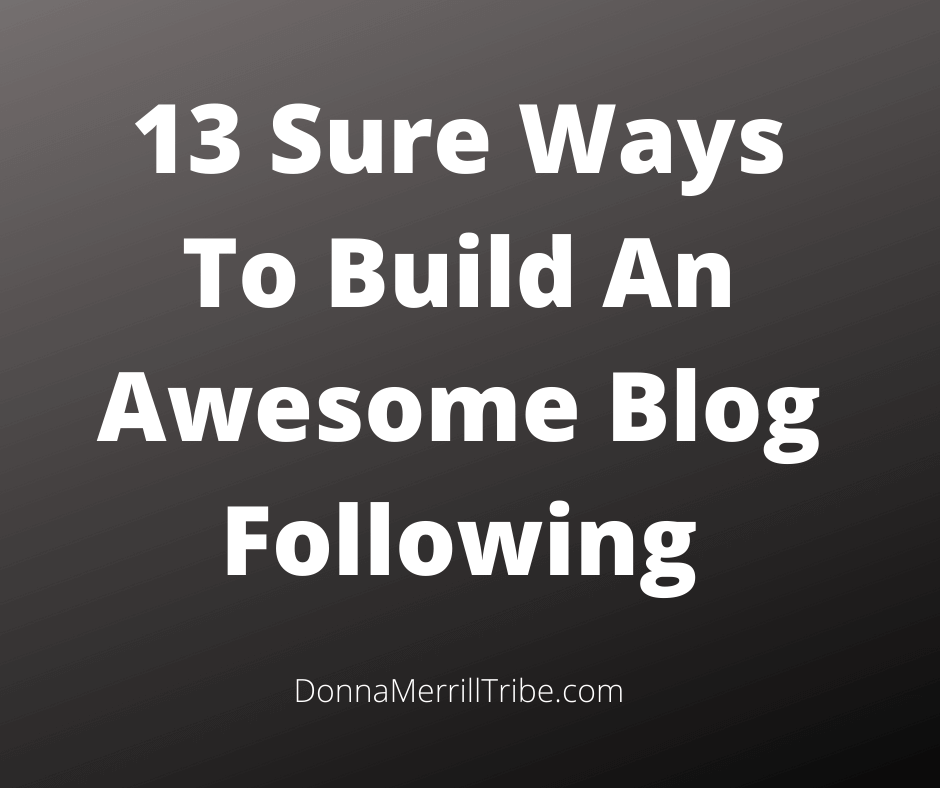 You can build an awesome blog following by sticking to some proven methods.
Bloggers typically try to build a following by getting lots of social media followers.
That works well, but there's more to it than that.
One of the most reliable methods is to build an email list of you readers so you can continually reach out to them.
This is a great idea, too, because it gives you a way to reach out to your readers every time you publish a new article.
But getting social media followers and email subscribers requires you have some strategies in place.
Once you get even one method that is helping drive people to your blog, you need to keep working it.
Then you could always add a second, third or fourth strategy.
So, here's some things that should get you on your way to building an awesome blog following.
Write an e-book
One of the best ways to build an email list of your followers is to write an e-book.
An ebook is a perfect enticement for people to join your list.
And if you write it on a topic that is frequently covered on your blog, then you know that the people who join your list will be interested in most of your blog posts.
Then you just follow up with them by emailing them each time you publish a blog post.
Now, the problem with this method is that people find it so challenging to write an e-book.
I have addressed this problem in another article in which I show you a very easy way to write e-books fast and often.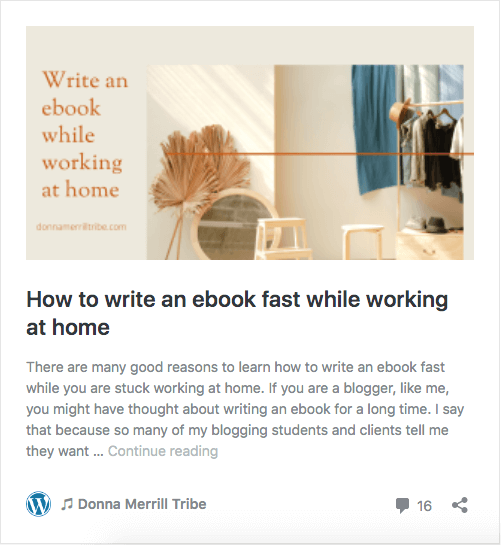 Another mistake bloggers make is thinking that all they need to do is write one e-book and that will be all they ever need.
They can just use that over and over to keep trying to build their e-mail list.
However, you want to write e-books frequently.
That way you will always be current.
You will always be writing e-books on current trends and current topics.
And you'll be covering a wide variety of topics within your niche.
So you'll always have an opportunity to reach out to a wider audience.
Offer a service
Another thing you can do is to offer a paid service.
Having a paid service relevant to your blog will show people that you are, in fact, an authority on that topic.
If your blog is about graphic design, for instance, and you might offer a service to do graphic design for a fee.
Your readers will then know that you are not just writing about graphic design, but that you actually do professional work in the field.
This gives you enormous credibility.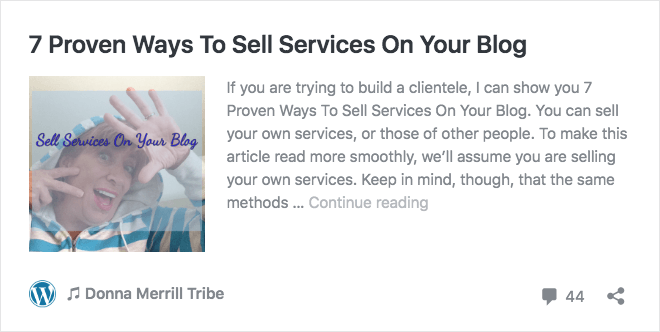 That credibility will result in people visiting your blog regularly.
Of course, you may also get some paying clients in this way.
But that's not even what I'm talking about here.
I'm just saying that by offering a professional service tells people that you are a serious professional, and very knowledgeable about your niche topic.
This will certainly help to expand your blog following.
Create a course
The same can be said for creating a course.
Again, the course should be highly relevant to your niche topic.
So if you create a course on graphic design, then people will see that you're an expert in that field.
Another great benefit to creating a course is that people who go through your course will almost certainly become regular followers of your blog.
That's because they will really have gotten to know you.
And that leads to them gaining trust in you.
When people know who you are and have already worked with you in some capacity, then they are far more likely to become followers of your blog.
Teach a class
Teaching a class in your topic is another good way to get people to follow you.
Now the class can be a paid class or it can be a free class.
Either way, people will see that you have expertise in your topic.
So this makes it much easier for you to attract a loyal following in much the same way it does when you create a course.
And remember, that when you teach a class or create a course… anybody who attends your course or class will automatically get signed up to your email list.
So they're going to get used to opening your emails/
They'll see updates on the class or the course.
And they will get used to opening your emails to see what your latest blog post is.
Do webinars
Webinars are a good way to get people to start following your blog.
That's because webinars give people a chance to see you showcase your expertise.
Usually a webinar is offered for free.
It can be promoted widely on social media.
So people see your free webinar invite.
They sign up to attend and are instantly enrolled on your email list.
When they see the webinar, they find out that you have valuable information to share with them.
Because of that they will certainly look forward to opening your emails and reading your latest blog post.
People that see you conduct a webinar will almost always become regular followers of your blog.
Guest posting
Writing a guest post on your topic is another great way for people to see that you are worth following.
Your guest post should be non-promotional and add real value to people.
Find blogs that have the same kind of audience that you're trying to attract.
Pitch them your idea for a guest post.
Again, make sure that it's going to be something that people value highly.
That way, you will you be attracting an audience that appreciates what you do.
And you will be more likely to land an increasing number of those top guest post assignments.
I'm not a big fan of writing millions of guest posts all over the place, because it's just too time-consuming.
But choosing the right blogs to get your message out can be extremely valuable to building your own blog following.
And for icing on the cake, a guest post is a really good place to offer your free e-book and build your email list from among your new readers.
Content marketing
Of course, a very powerful way to build your following is to constantly market your own blog content.
But this doesn't mean just the blog posts that you publish.
If you do a video on YouTube, for instance, you should market that content in the same way that you would a blog post.
Naturally, the video should be on a topic that is of great interest to people in your blogging niche.
That way you will be attracting a highly targeted audience.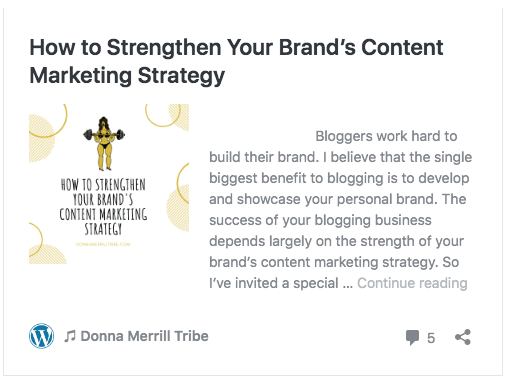 It's important to be constantly creating content and even sharing other people's content that is meaningful to that audience.
Let people know that you are there to help them solve their problems.
When they get that message, they will be very likely to become followers of your blog.
Get interviewed
Try to get interviewed by podcasters and other bloggers.
This is another way to brand yourself as an expert in your niche.
But it will also expose you to new audiences.
During an interview, you get the opportunity to pitch your free e-book so you can build your email list.
That way you can capture some of the new audience that you will get from your interview.
Everybody likes to follow an author.
When they see you have written an e-book, people will be more likely to follow you rather than somebody else in your niche who is not an author.
Host interviews
In addition to trying to be interviewed you can also host interviews.
Hosting an interview is a great way to position yourself as an expert in your field.
Try to interview people who are well-known and have their own substantial following.
And make sure that they promote that interview to their own audience.
This is a great way to expand your own audience and bring people into your blog following.
Facebook Live
Doing Facebook Live videos is another wonderful way to build an awesome blog following.
When people see you doing live videos it will instantly put you at the top of their list of people to follow.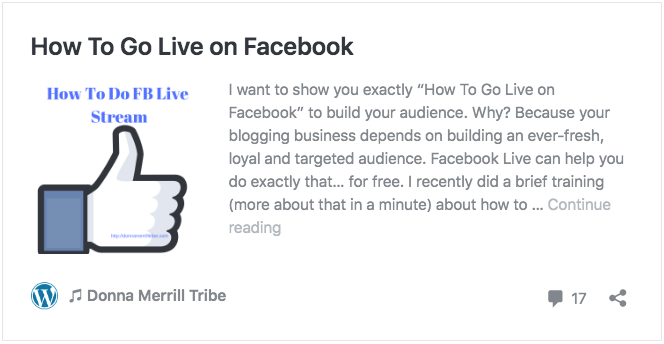 Make sure that you often refer people over to your blog posts during your presentations or talks.
Your Facebook live videos should add value to people in your audience.
An especially powerful technique for bloggers is this.
Talk about a topic that you've written a blog post about.
Mention just one or two things that you wrote about in your blog.
Then refer people to a link to the full blog post so they can "learn more."
This will drive people to your blog.
Once on your blog, they should be prompted for ways to join your email list.
That way they will become part of your blog following and get periodic updates on your blog posts.
Facebook Communities
Facebook also has communities.
You can tap into those communities on Facebook pages or even Facebook groups.
You can use them to market your content such as your blog posts or videos.
But you can also create your own Facebook page or Facebook group and build followings there.
Once people follow you on your Facebook page or group, you can obviously send them to your blog by sharing your content with them.
YouTube channel
Having your own YouTube channel is another great way to build your blogging audience.
In order for this to be effective, you should be publishing videos consistently.
That way, people get used to seeing you and learning from you.
A nice feature of YouTube videos is that you can include a link to a blog post where people can "learn more" about the topic of your video.
Just add your blog post link in the video description field.
So, if you're continually putting up good high quality videos on YouTube, and people are valuing your videos… then they will certainly click over to your blog and start following you there as well.
Just like with Facebook Live videos, your YouTube videos can be a condensed version of a blog post you've written.
Then you simply direct people to your blog post on the topic.
Pinterest Boards
Pinterest boards are another good place to build your audience.
Pinterest is a separate search engine just like Google or YouTube.
So you can find different people on Pinterest than you would find elsewhere.
It's a vast platform with an avid following.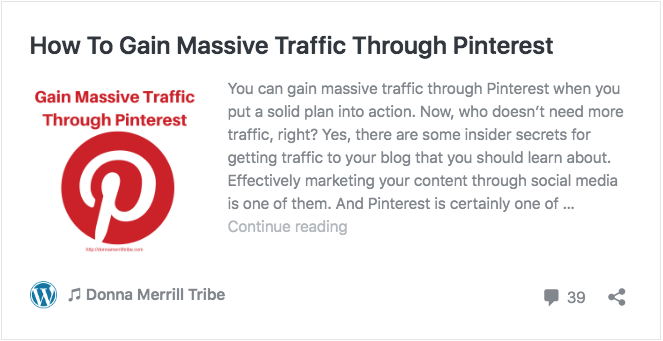 And it's especially good for people that have visual information to share since Pinterest is all about posting images.
But I've known bloggers who get creative with their images, too.
So even if they're not in a visually appealing niche, they share appealing images that will drive people to their blogs.
13 Sure ways to build an awesome blog following
So those are some great ways to build your blog following.
Of course, there are many others.

I'd like to hear your ideas.
Leave me a comment below.
What do you do to build your blog following?
And what do you think of the "13 sure ways to build an awesome blog following"  I shared with you here.
–Donna
PS: Kindly share this article on your social sites 🙂