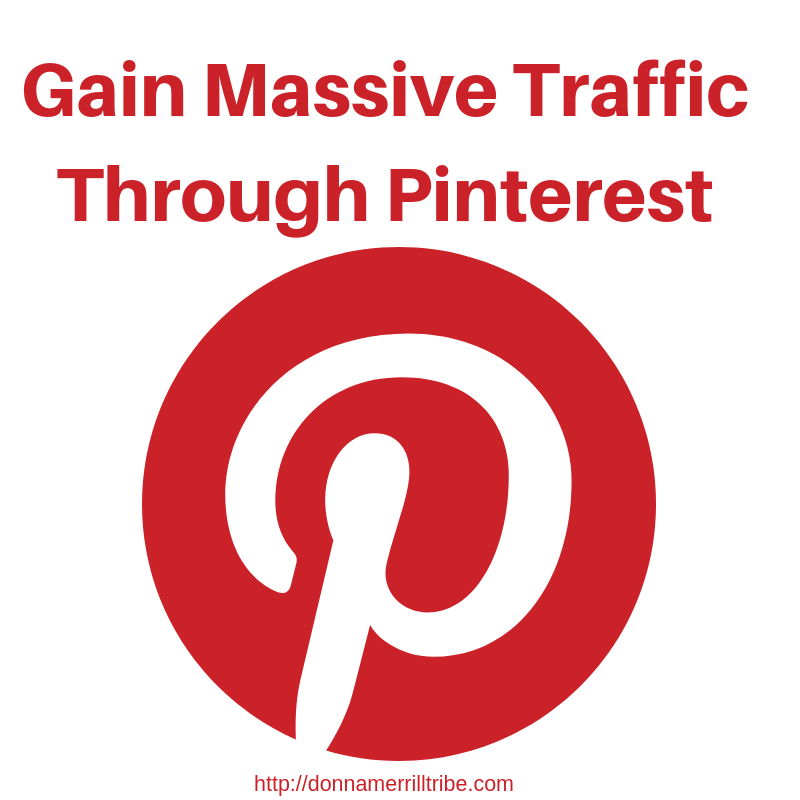 You can gain massive traffic through Pinterest when you put a solid plan into action.
Now, who doesn't need more traffic, right?
Yes, there are some insider secrets for getting traffic to your blog that you should learn about.
Effectively marketing your content through social media is one of them.
And Pinterest is certainly one of the major social media platforms you should be using.
But many bloggers just don't think of Pinterest as a primary traffic generation strategy.
So you might be surprised to see how powerful it really can be.
That's why I've asked a social media expert to go through some of the basics on this topic.
And she did a great job with it.
So listen carefully now.
And take notes.
And then implement, my friends.
I'll bet you'll be creating some highly popular pins on Pinterest in no time.
But you must understand that no strategy or technique will get you any results until you take some serious steps to implementing it.
So now, let me turn this article over to my guest writer.
She'll show you exactly how to gain massive traffic through Pinterest.
How To Gain Massive Traffic Through Pinterest
by Elmira Assiyeva
After Facebook, Pinterest is the highest referral lead generation and traffic-driving social media platform.
With more than 200 million users, the platform offers endless opportunities for getting public exposure.
So if you are a blogger, housewife, gamer, business owner, or just a fashionista owning a personal website or blog, Pinterest could serve you as a perfect traffic generator.
If you are already utilizing social media to gain traffic to your blog or your website, you should know that this is one of the best ways to acquire new contacts and forge useful relationships.
But what is it that makes Pinterest so special as compared to the rest of social networks like Facebook, and Twitter?
The best thing about Pinterest is that your posts don't blur out of the spotlight like posts on other social media.
The life span of a pin is one week!
Wait, what?
Yes.
You've heard it right.
You get an absolutely huge time exposure.
As a result, you can gain massive traffic from Pinterest in ways that are not as likely from other social media platforms.
For example, you can certainly generate much more traffic than compared to that of 24 minutes for Twitter or 90 minutes for Facebook.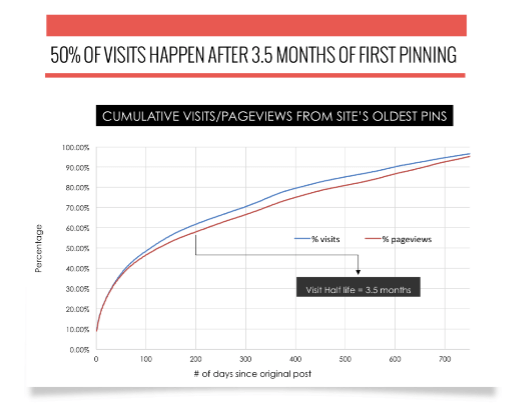 Image source: Shopify
Moreover, unlike other social channels, Pinterest is less crowded.
It consolidates more reliable audiences who might actually be interested in your expertise and become your long-term subscribers later on.
Keeping all these things in mind, this is the time you should start utilizing Pinterest.
But first, you need to know how you can leverage its potential for your blog or website promotion.
Here are a few tactics you can make use of to elevate your marketing strategy and gain some massive traffic through Pinterest.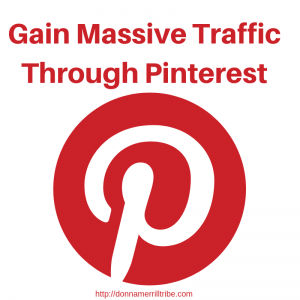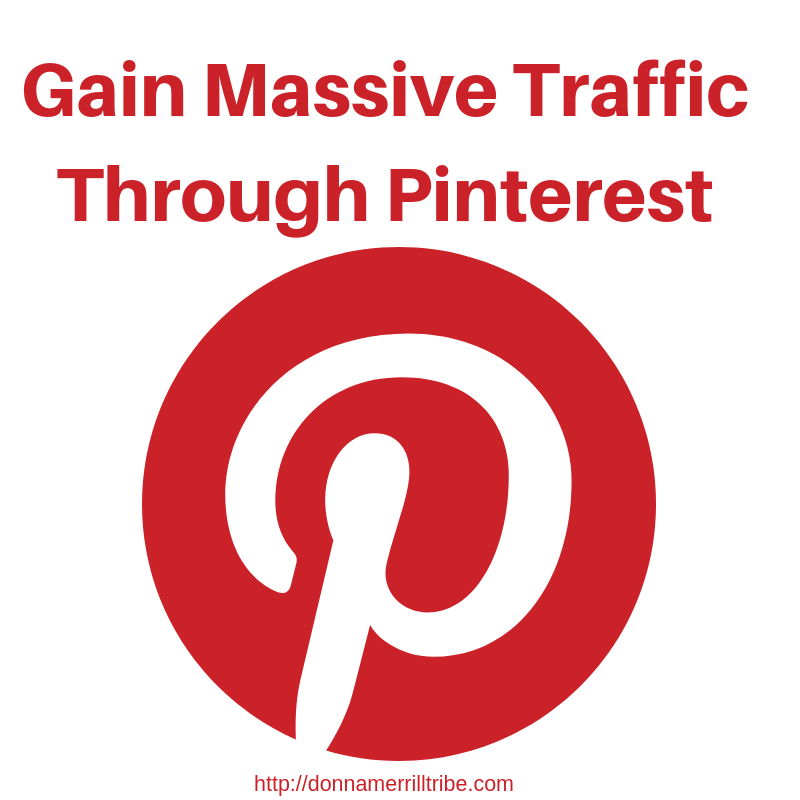 #1 Optimize your Pinterest Profile and Claim your Website
Since Pinterest is a visual search engine, individuals can without much of a stretch discover you as long as you improve your profile.
Just like you optimize your content and product pages, you ought to optimize your Pinterest presence too!
Consider Pinterest like Google – you want people searching for your keywords to find your pins, profile, or boards.
Here are three important things you need to have for an optimized bio:
a title with keywords
information about what you do, and a
call to action
For example, Myra the owner of My Blessed Life blog, has several keywords after her name:

Source: My Blessed Life on Pinterest
Verify Your Website
After optimizing your Pinterest profile, keep in mind to get your website verified on Pinterest.
Doing this could enable your users to recognize your blog and your posts that you pin.
It will also help you gain the trust of consumers.
In order to add and verify your website, tap on your Pinterest profile picture in the upper right corner and select "Settings".
Here, you'll find the option to add your website domain.
Once your account gets verified, a red tick will appear in front of it.
Like this…

Source: Amazon on Pinterest
#2 Create a Pin Worthy Image
If you want to gain massive traffic from Pinterest, the first and foremost step is to research the best and the most suitable type of images for your niche.
Pages with valuable content are most likely to be shared on Pinterest.
Therefore, your business should focus on adding pin-worthy images on such pages.
For instance , Louise Myers from Visual Social Media, updates her social media cheat sheet all the time.
Take a look:
Source: Louise M .com
Create Pin-Worthy Images
But what makes for a pin-worthy image?
Do some competitor research here.
If you search carefully, you will get a fair idea of what type of images to post by looking at images shared by websites similar to yours on Pinterest.
Here are a few things that you should consider doing to get your images pinned on Pinterest:
Pinterest is a visual platform, so think about using high-resolution, high-quality images that could enable you to stand out. Abstain from utilizing low-quality images or the images that are excessively occupied.
Remember to add the elements of newness to your images to get people excited about your ideas.
Pinterest feed is mostly white, so images with bright and strong colors will stand out.
The vertical images with the aspect ratio of 2:3 (600px wide x 900px high) will probably stand out as the pins are organized into the columns.
If an image does not provide enough context itself, consider using text overlays.
Using the images with specific stats and data on a particular topic could also prove to be advantageous.
#3 Make use of the Pinterest 'Pin It' Button
Utilizing the Pinterest 'Pin It' button is an incredible method to drive extra sharing on Pinterest.
That alone can successfully drive massive traffic to your website.
The 'Pin It' button has made it simpler than ever for you and your website visitors to create a pin out of practically anything that exists on your site.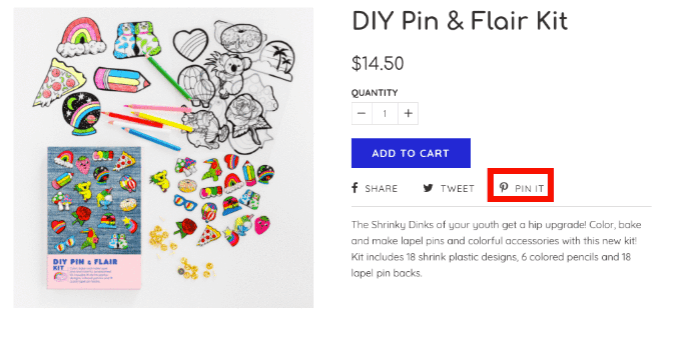 Source: Yellow Owl Workshop
Image sharing buttons can likewise be directly added to your website's images.
A Pinterest Pin It button will show up over your website's images, making it simple for individuals to pin that image.
#4 Enable Rich Pins
You may want to display extra bits of information on pins.
And you might want to have more control over the details associated with your products and content.
Rich pins could prove to be beneficial to you.
Plus, they're free to use.
Learn how to enable Rich Pins here.
There are four different types of Rich Pins:
Product
Recipe
Article, and
App
A regular pin just incorporates a description of the pin in the comment field.
But Rich Pins, additionally provide a clear title.
And they guarantee that product information doesn't get changed or removed.
In one business example, About.com increased their traffic by 70% using Rich Pins.
How To Gain Massive Traffic Through Pinterest
If managed appropriately, Pinterest could prove to be a potent tool for driving traffic to your blog.
It requires a little more effort.
And it requires an entirely different strategy to promote your blog or website on Pinterest.
But the results are tremendous.
Pinterest is not just for images anymore.
It has a vibrant community of readers.
Don't miss the developing opportunities to expand your global reach through this exciting social platform.
By sticking to the tactics mentioned above, Pinterest gives you the chance to drive
massive traffic to your blog.
What are your favorite ways to leverage Pinterest for more traffic?
What strategies have worked for you?
Now tell me… are you ready to gain massive traffic through Pinterest?
Please give me your comments below, and share this article on your social sites.
-Elmira
About the Author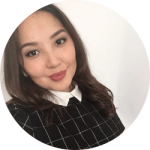 My name is Elmira.
I am a content developer at Statusbrew.
I'm fascinated by storytelling, entrepreneurship and travel.
I love to write about Social Media and Digital Marketing strategies.