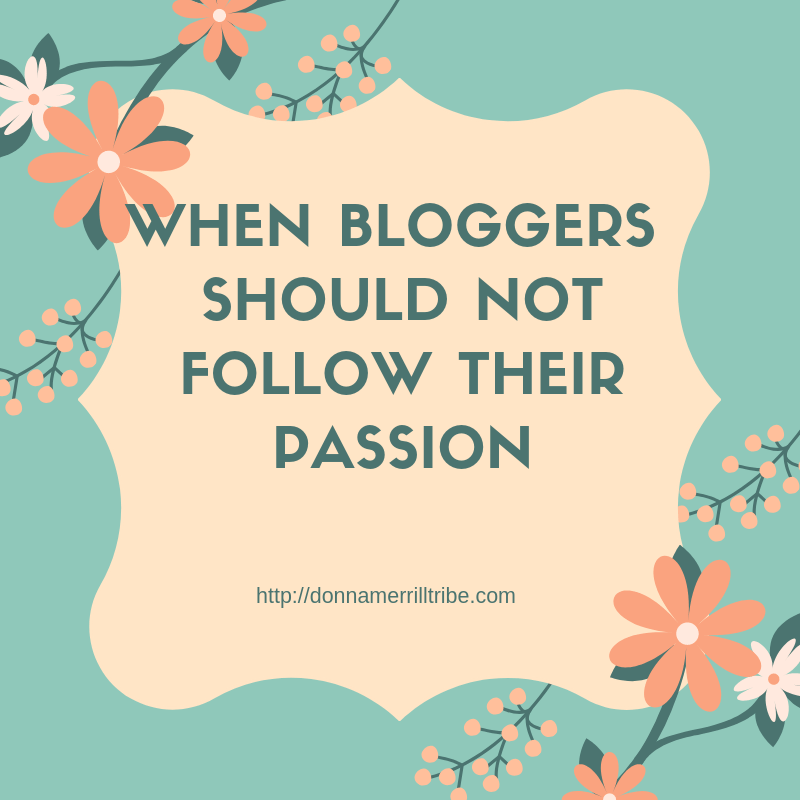 There are actually times when bloggers should not follow their passion.
Has anyone ever told you that you should follow your passion when you are blogging?
Well I've heard it many times.
And I'm sure you have.
In fact, I have always followed my passion in my own blogging business.
So sure, it's good advice to follow your passion.
Because building an online business or a blog is a lot of work.
It takes time.
Unfortunately, it takes failures.
And most importantly, it takes overcoming those failures.
You see, if you're not totally passionate about something, you might just drop off by the wayside and give up when things get a bit tough.
But if you are passionate about your topic… your interest, desire and motivation can push you forward at a time when others might quit.
The Problem with Passion
There is a problem with passion, though.
And this is something that I see very often when I'm consulting one-on-one with clients.
The problem is that people get passionate about something and they work really hard on it.
But it's not bringing them any profit.
Because the truth is that many things that you could be passionate about simply are not profitable niches or topics.
My Advice to Newbie Bloggers
So before you go head first into an online business or blog…
consider whether or not it is a good niche from the perspective of profitability.
My Advice to Experienced Bloggers
If you're already involved in blogging or online marketing, I suggest that you might want to take a step back from time to time.
Take a careful look at how things are working out for you.
This is important just to make sure that you're doing things that have solid profit potential built into them.
I hate when people tell me they've been working for three years (or six months, etc) in a certain niche, or on a certain blog, or in a certain business… and they have yet to make any substantial profit.
If that sounds like your story, then you really need to take another look at what you're doing.
How to Profit from your Blog
Generally speaking, the top profit areas to build your business in are
1-wealth,
2-health, and
3-relationships.
Those are the three things that the vast majority of people are interested in.
And that's where there are products and services already earning big profits from a well defined audience.
Your job is to find out in what niche within those three broad areas you could build your business on.
So what is your niche?
What is your topic?
What is it that you are trying or hoping to be profitable in with your online business?
Take a moment to think about these two things…
1. what is your niche?
2. is your blog actually profitable in that niche yet?
If you're not getting that profit from your passion yet… it could be that you're on the wrong track.
You're not alone.
Many bloggers get on the wrong track without even realizing it.
Very often, these are precisely the times when bloggers should not follow their passion.
When Bloggers Should Not Follow Their Passion
It's really critical to know when you should not follow your passion.
This is a point on which I see both newbie and experienced bloggers get tripped up.
Don't turn a "blind eye" when it comes to your success.
You can't just blindly follow your passion and assume that at some point it's going to make your blog successful.
There's just too much at stake for your happiness, your future and your financial freedom.
Figure out a profitable path to follow.
This does not mean to simply follow your passion.
It means follow a profitable business model.
Then, keep your "eye on the prize" until you have achieved success.

So what's your story?
Do you follow your passion on your blog?
Is it bringing you the profit you are looking for?
When do you think that bloggers should not follow their passion?
Drop me a comment below, and then… share this article on your social sites.
-Donna