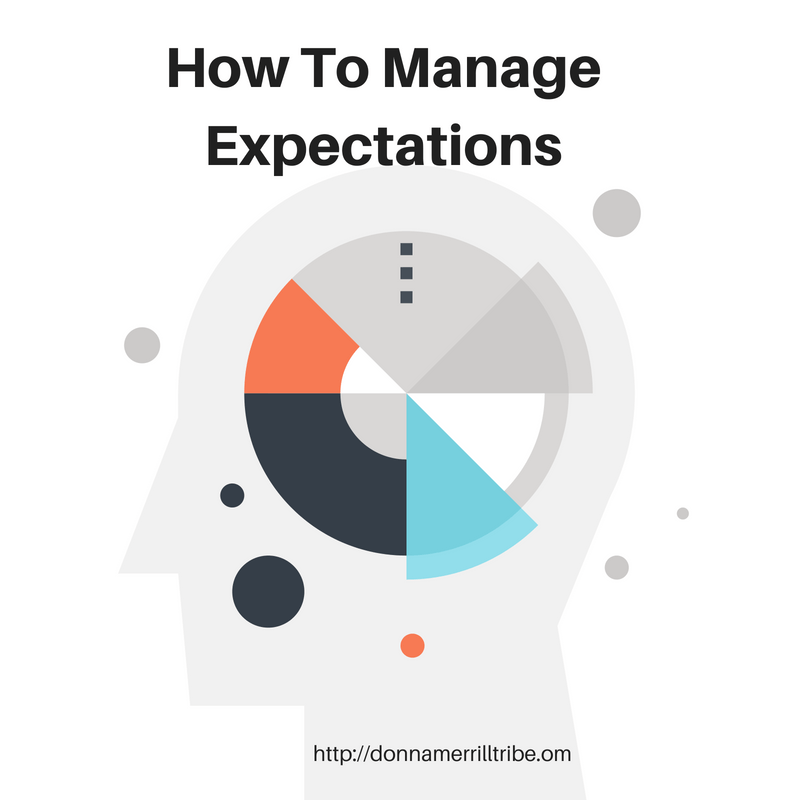 How do you manage expectations in your blogging business?
This is really important when you understand that your expectations shape the success or failure of your blogging business.
So how do you manage those expectations?
It's really pretty simple, actually.
You Get What You Expect
You see, when people talk to me about getting the results they want, they're usually thinking simultaneously about all the reasons that they'll never get them.
It goes something like this.
Spoken Words:
The result I'm looking for is to drive a steady stream of traffic to my blog.
Hidden Thoughts:
How will I ever get more traffic to my blog?

I don't know anything about how to get more traffic.

The bloggers who get a lot of traffic have been well established for years.

They know a whole bunch of traffic ninja tricks.

It's way beyond my capability.

I just write blog posts, and I'm not even sure how good they are.

Why would a whole bunch of people suddenly be interested in reading them? It's not too likely.
You see what people do is this.
They tell me what they "want."
But that's like a pie in the sky dream from some other world.
Meanwhile, they tell themselves what they truly expect the results of their efforts to be.
Subconscious Expectations
Now, the student or client in the above illustration may never put those thoughts into words, not even to themselves.
But they think them, nonetheless.
They probably don't even know they're thinking them.
So they really try to get that flood of traffic by doing exactly what they're told.
But subconsciously, they don't believe it will happen.
In other words, they don't expect it to happen.
They're trying to do all the right things to get results that they never really believe they will.
It's one of the reasons that when people sell you things, they make sure to offer a money back guarantee.
They know the psychological makeup of the vast majority of buyers.
They "want" the results promised on the sales page, but they expect to fail in achieving it.
So one of the most important things they look for when buying is a way to backtrack when they fail.
They want to see a money back guarantee.
Because while they are excited to get the results promised, something inside of them is saying…
You'll never get those results… somebody else might, but not you.
What You Expect of Others
Often times, bloggers build up expectations of their readers that actually break down their ability to bond with them.
They might, for instance, expect their readers are not sophisticated enough to understand the value they are delivering on their blogs.
Yet, on the other hand, they might put their readers on a pedestal, thinking they will not value their content because they are already too knowledgeable.
I know bloggers who assume their readers are only looking for free information, and will never convert into buyers.
In any case, bloggers can build a wall between themselves and their readers if they expect something of them that is not true.
Keep in mind that when you expect people to behave in certain ways, then that's the crowd you'll most likely attract.
Expect The Best of Others
You tend to slant everything you do as a response to your expectations audience.
This takes you out of your game.
Instead of being yourself and delivering the best you can, you try to be somebody that you think people want you to be.
But simply delivering what you think they are looking for, only works when you are really in harmony with your audience.
So first, know who your audience is.
And then expect them to be the best audience in the world.
Give them encouragement and positive messages in your content, and in your interactions with them.
When people know you have high expectations of them, they tend to live up them.
What You Expect of Yourself
It's all fine and well to expect great things of others.
And to have the positive expectation that they will respond to your messaging in a way that will improve their lives.
But what expectations do you have of yourself?
Do you expect to be a person who can motivate others to new heights?
Because you can be.
Do you expect to be able to give your audience great and valuable guidance along the way?
Because you can.
Do you expect your business to grow and succeed from the great value you offer people?
Because it will.
Expect To Attract A Wonderful Audience and Following
You should also expect that your audience will be the best in the world.
Expect that everything you deliver to them will encourage them to grow, learn and share to the best of their abilities.
When you do this, what you were really doing is creating an expectation that you will have an incredible following.
That you will have a loyal following.
And that you will attract only people who will convert into customers and clients because they are highly motivated by you, and value what you are sharing.
When you expect to have a wonderful following and a great audience… guess what?
You will.
The Failure Mindset
Failure is really easy to do.
All you have to do is expect to fail and you will.
And there are so many good reasons to fail.
After all, once you have failed, you can stop trying to achieve that thing you know is so important to achieve..
You could just say "well, that didn't work… I didn't expect it would and it didn't."
This allows you to give up on all the dreams you have that have gone unfulfilled.
You can tell yourself, and others, that "well it's no way that I can work on making those dreams come true because I already tried."
So you kind of let yourself off the hook.
Now you can hide inside of your comfort zone.
Just continue to deprive yourself of the things you want most in life.
And who can blame you?
After all you tried.
The Success Mindset
There is another way.
Develop a blogging success mindset by managing your expectations.
You can expect to succeed.
Expect people to value who you are and what you bring to the table.
Trust in the process you've committed to.
Trust that you will make it work.
Focus on putting that together, and expect that it will get you the results you want.
And then it will.
How To Achieve The Success Mindset
Start achieving things.
Don't hope to or dream about achieving… just achieve.
Sounds easy, but HOW do you do that?
Set Realist Goals
You have to set reasonable and achievable goals.
Make them realistic.
If you just started a new blog yesterday, don't expect to have a raving audience next week.
But know that you can write a great blog post on your site, today.
You can write one that's going to be highly valued by your audience because it's going to help them get more of what they want out of life.
That's realistic.
And it's a key step in achieving your Big Goal of getting that raving audience.
So go out and achieve it.
Write that killer blog post that will resonate with your audience.
Do it today.
It's within your grasp.
You can do it… and so you will.
Expect Your Blogging Business To Be a Big Success
Once you have adopted a success mindset, you can expect your blogging business to be a big success.
You can make it the cornerstone of a profitable business.
And to make that happen, you should expect to reach your realistic goals on a daily basis.
Make Achievement of your Goals a Daily Practice
Of course, you need to have a Big Gameplan.
That's your blueprint for success.
And it should outline the succession of milestones you must reach as you move toward your Big Goal.
Now, once you've got your milestone goals lined up, you must fully expect to do whatever it takes to achieve them.
That happens when you learn to achieve each of your smaller, more immediate tasks.
Know that each of those little goals or milestones will end up getting you exactly the results you want.
So achieve every little task you set for yourself, each and every day.
As you make the achievement of your goals a daily practice, you will become conditioned to achieving anything you set out to do.
Your expectations for success will move you steadily forward, along your way to blogging success.

So, now, I'd like to get your feedback.
Please leave me a comment below, and then share this article on your social sites.
Let me know, how do you manage expectations in your blogging business.
-Donna