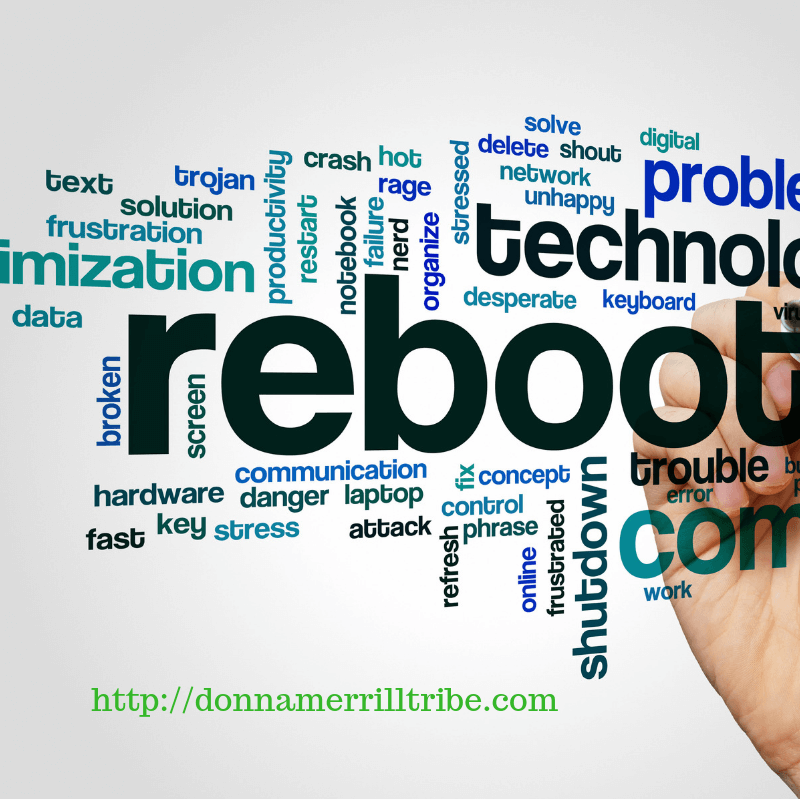 This is the perfect time to reboot your blogging business.
We're heading into the last few months of the year, and you still have time to turn a sluggish blogging business into a thriving one.
It's also a great time to take what you've built to this point and make it explode.
Not getting any good results so far?
This is your time to turn that around.
Looking to improve your game and take it to a new level?
This is your time to add some new dimensions to your blogging business.
How is my blog doing?
Now here's a few things you might think of doing.
First, take an assessment of your success up to now.
Are you getting what you want from your blog?
Some people are looking for income.
Others just want to build their personal brand.
Still others want to spread a message.
So take a moment to think about this.
What is the main reason you blog?
And are you accomplishing that goal in your blogging business?
How do bloggers make money from blogging?
All bloggers have asked themselves this question:
Blogging can be fun, but can I make money at it?
Let's face it.
Most bloggers are looking to make money with their blogs.
So just how do bloggers make money from blogging?
Well, of course… they have to post valuable content.
They need to build a target audience.
And they need a regular, loyal readership.
But that's not enough.
If you've done all those things, but still are not making money with your blog, you need to move on to the next level.
How do I choose a profitable niche for my blog?
Ok, so you have to wonder if you've chosen a "bad niche" or a good one.
It's good to blog in a niche that you're passionate about.
But is it a profitable niche?
Is it a niche that other bloggers are already making money with?
If it's not, then you need to consider possibly changing your niche.
I did a 2 part series a while back on how to find your niche…
Finding Your Niche – Part 1
Finding Your Niche – Part 2
How do I convert my readers into buyers?
Now, just blogging in a profitable niche is not enough.
You also need to set your blog up to convert your readers into buyers.
It's great to get a lot of readers, of course, but that will do you little good until you learn to do the things that will convert them into buyers.
Consider, for instance, the importance of taking action in sales when a lead shows interest in your content.
What is a sales funnel?
One of the most powerful ways to make your blog profitable is to draw them into your sales funnels.
Of course, you need to set those up strategically.
A sales funnel is simply a path you want your readers to take to be exposed to the products and services you offer.
If you get this part right, your blogging business can become immeasurably successful.
How can I get more traffic to my blog?
Traffic is the lifeblood of your blog.
Here are 25 Tips Guaranteed To Easily Increase Your Blog Traffic.
You need to find your target audience and give them a reason to visit your blog.
Sure, write great content ON your blog.
But find your audience OFF of it.
You will usually find them on social media sites, or even other blogs in your niche.
The important thing is to develop a very clear strategy for doing this.
It won't happen if you just randomly paste some links back to your blog.
How do I sell a product or service to my readers?
Well, this is the big challenge, isn't it?
I mean, you finally get a bunch of traffic and rave reviews.
But how do you sell a product or service to these people?
In fact, WHAT do you sell them?
What are the best things to offer your readers?
You have a lot of choices to make, here.
Will the products be your own digital products?
Here's how to create your own product to sell online.
How about services, things you can DO for them?
Here's 7 proven ways to sell services on your blog.
Maybe you want to sell other people's products or services.
That means you need to figure out how to sell affiliate products.
You'll need to know how to do product reviews on your blog, for instance.
Is it time to Reboot Your Blogging Business?
If you have all these things going for you…
profitable niche,
great content,
nice sales funnel,
good conversion strategies in place,
plenty of traffic, and
irresistible products and services to sell
…then you should already have a profitable blog.
Who should "reboot"?
But if you don't, even though you've put all the pieces together…
Or, if you don't because some of this is not well developed (like maybe you're not getting enough traffic, or don't have irresistible offers, etc)…
then this is the perfect time to Reboot Your Blogging Business.
In other words, to take what you've developed it and give it a fresh kickstart.
It's time to reach the next level
Push it to the next level.
Don't get stuck in the spot you're at now.
It's time for a new growth spurt.
The earth is spinning, it never sits still.
It's tossing us into a new season.
So truly, this IS the perfect time to align your intentions to achieve Better Results from your blogging business, with the new energy that the Universe is giving us with approaching Autumn Season.
Click the image below, and join me on the 30 Day Challenge to Reboot Your Blogging Business.

So, what do you think?
Are you ready for the challenge?
Is it time to reboot your blogging business and give it some new life and Better Results?
I'd love to hear from you in the comments below.
And of course, I really look forward to working with you during the 30 Day Challenge to Reboot Your Blogging Business.
– Donna