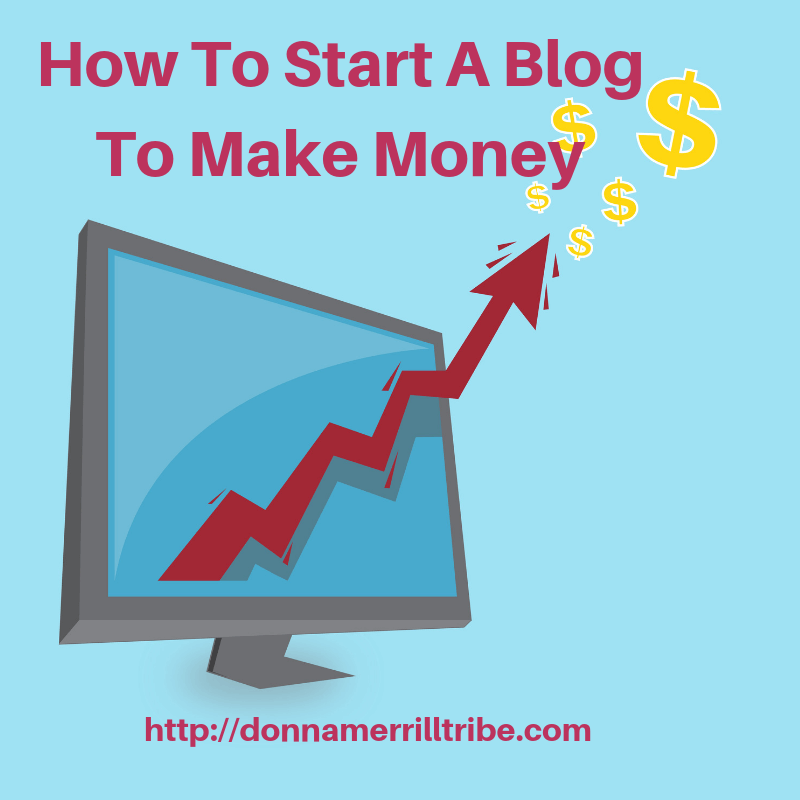 I'm often asked "How do you start a blog to make money?"
I get that question mostly from people who don't know much about running an online business.
Some common ways that they look to make money online when they're just starting out are things like
promoting a business opportunity, or
selling affiliate products.
Then, if they've been reading my blog or attending one of my classes or trainings, they start wondering if blogging might be a good way to make money.
The thing is, when they ask how to start a blog to make money, they're usually thinking it seems like a lot easier path toward profits than the other, more complicated methods.
How hard is it to start a blog?
Well, its not really hard at all to start a blog.
You can do it yourself, for sure.
But if you're really feeling like it's too much of a technical challenge, then you can have somebody else set one up for you.
In fact, my team can set one up for you at no cost.
Just enroll in my FREE Fast Start Blog Training Program to get the details on that special offer.
What are the steps to starting a blog?
Starting a blog is really easy.
Let me outline the steps here.
Basically, you need to do 3 things.
1. Get a domain name
2. Find a good blog hosting service
3. Sign up for an autoresponder
This will get your blog set up and prepare you to integrate it with a powerful email marketing strategy.
That will be critical in order for you to start a blog to make money.
Once you've done those 3 things, you're on your way.
What is the best blogging platform?
Now, you can set up your blog on a free platform.
But there's a problem with doing that.
It's really hard to turn a free platform into a profitable business model.
That's why I tell my clients to set up their blog on a self-hosted WordPress site.
Just go to WordPress to get started.
WordPress is so easy.
It takes 2 minutes to set up.
And it is perfect for blogging because anything you want to do, just get the plugin to do it for you.
Things like…
SEO Optimization of your posts
Build an email list
Embed your opt-in forms
Place banner ads
All these things, and many more can be accomplished with free plugins.
It's easy and fast.
Again, I think WordPress is absolutely the best blogging platform.
How much does it cost to blog?
Every business costs money to start up.
Just be sure to map out exactly how you spend money blogging.
But here's the thing.
It costs very little to blog.
In fact, I don't think there's a business you can start for less.
Just think of what you'd have to spend to start a little shop.
Think of how much it would cost to even set up a service business.
Say you want to clean houses.
That doesn't sound like a big expense, does it?
Yet, when you stop to think of it for a minute, you're probably looking at some pretty hefty expenses.
Startup costs for a simple offline service business
You need a car.
Okay, you say you have one.
Now you need to factor in extra gas, mileage, wear and tear on your car.
And if your car breaks down and you have 5 houses to clean today, you're in a big bind.
You also need equipment.
A good commercial vacuum is not cheap.
And if you try to go cheap, you'll probably be burning it out pretty quickly.
Mops, rags, cleaning solutions… none of these are cheap and you have to keep buying them. They are consumable.
Now, for some of the bigger expenses… insurance and advertising.
They are absolutely necessary, and you'll need to have funds in place for those things.
House cleaning is not a very costly business to start.
I don't know if you can find a cheaper one.
But it's still way more expensive than blogging.
What is the best way to make money blogging?
There are many ways to make money blogging.
Ad networks
One of the popular ways bloggers make money is by putting ads on their sites.
This could be Google Adsense, or CPC (cost per click) ads.
I think bloggers choose this as their business model because it seems easy.
Just put ads on your site and wait for people to buy stuff.
That way you don't need to create your own products or services, and you don't have to work hard to promote affiliate offers.
The downside of ad placement, though, is that you can only make decent money if you have a lot of traffic coming to your blog.
And you need a steady stream of it in order to keep making money consistently.
So while it's easy enough to just place ads on your blog, figuring out how to get that level of traffic can be a big and expensive job.
Private Ads
Another thing bloggers think of right away is to sell advertising space on their blogs.
That's a nice idea, but really… who is going to advertise on your blog?
You need to promise and prove a big readership over a sustained period of time.
So, again, you need to generate lots of traffic.
Even then, if people are not getting good conversion results almost instantly, they'll pull their ads down.
So while this sounds like a simple solution, it's really not.
Sell Your Own Digital Products
I don't consider this as a top method for making money blogging simply because not too many people believe they can do it.
It takes time and a lot of technical knowledge to put together digital products to sell on your blog.
Of course, you CAN do it, and I strongly suggest you create your own product to sell online.
But… while this is a totally excellent approach to monetizing your blog, few bloggers are actually willing to put in the effort to do it.
I actually work with people to help them create their own products, both free and paid versions.
I even offer a service where my team will do it for you.
So if you're interested in me helping you create and sell your own digital products, just contact me and we'll talk about it.
The best way to make money blogging
The "best way" is the one that best fits your skills and temperament.
So actually, I don't think there is a single best way.
But there are some really good ones that I typically steer my clients toward.
These are what I think are, for most people, the 3 best ways to monetize your blog.
Build an email list
This is absolutely essential for most bloggers to do.
Use your blog to build an email list of prospective clients and customers in your niche.
Then use that email list to build a deeper relationship with them, and sell them relevant products and services.
Sponsored Ad …
Build Your Email List …
If you have a blog and are not building an email list, you are missing out on a great opportunity to earn money from your blog.
Develop services people need
I'm always surprised that more bloggers don't do this.
Find a service you can provide, make a sales page, and ask your readers to hire you.
In fact, to make this simple for you… Here's my "7 Proven Ways To Sell Services On Your Blog."
This is, of course, perfect for business pros and professionals who already have a service, and now are trying to decide if a blog is a good idea.
Of course it is!
Say you're a real estate agent, or a lawyer or chiropractor.
This is for just about any professional practice.
One of the best ways to let the world know how good you are at what you do, is to talk about it on your blog.
Then invite people to contact you about your services.
What if you don't have a service?
If you don't already have a service, it might be worth your effort to develop one.
Can you write?
Offer to write for people.
Can you create nice images?
Offer to do that.
There are so many services you can provide.
Just look at what's being offered on Fiverr, Upwork and others.
Is there a service you see there that you could do yourself… or learn to?
Maybe you should be offering that service on your blog.
Affiliate Marketing
Affiliate marketing is a great way to make money on your blog.
You find products and services that are related to your niche.
Then write articles about them.
Link to them in your articles.
The links should go to your affiliate links so that if people buy them while reading your blog post, you will get an affiliate commission.
You can write product reviews on your blog to talk specifically about the products you are promoting.
And you can post banner ads and sidebar ads to various affiliate products.
Then just drive traffic to your blog post to convert your readers into buyers.
What is the best niche to blog in?
While there is no one "best niche" to blog in, some are definitely better than others.
So do your research to find what works best for you.
What is a niche in blogging?
A niche is really just a topic or category.
So it's like a field of interest.
You might have a blog centered around the topic of photography, for instance.
Photography would be your niche.
There are 3 big categories of blogging that are probably pretty good niches to explore.
Health
Health and wellness is always a huge marketplace of ideas, products and services.
Just think of all the products you see related to weight loss, exercise and remedies for specific illnesses.
And that's really just the tip of the iceberg.
If you have a blog about some aspect of health, you're certainly on firm ground.
Wealth
Wealth is another huge marketplace.
But not just how to create it, also how to invest it, how to keep it and how to grow it.
This can refer to how to make money, how to invest money and lots of things related to building and saving wealth.
Just think of things like investing in real estate, stocks and bonds, retirement accounts, making money online, career development and so many others.
This is a great area to blog in.
Relationships
Relationships is another insatiable market.
And, therefore, it's a great niche to blog in.
This could include things about marriage, dating and any kind of interpersonal relationships.
Just think of all the dating sites you've heard of.
How about relationship advice, wedding services, parenting and so many others.
Find your micro niche
Blogging is not primarily about niche topics.
There are so many micro niches within those three main niche categories.
You would really want to develop a micro niche because the big ones are just way too broad to be practical.
For instance, instead of a blog about "health"… how about "Juicing for athletes."
And rather than "wealth," maybe "how to flip houses."
You wouldn't want to blog about "relationships," but a blog about "dating for single retirees" might capture a solid market share.
Those are all examples of micro niche topics.
How do you start a blog to make money?
Okay.
Here it is, step by step, the things you need to do to start a blog to make money.
Step 1
Decide on a blogging platform to use.
I always recommend WordPress.
Step 2
Choose a niche topic to blog about.
Most likely, something that would be in the health, wealth or relationship niches.
Step 3
Think of the kinds of monetization methods you will use.
Build an email list? Promote your services? Affiliate marketing? Something else?
Sponsored Ad …
Build Your Email List …
Step 4
Consider the costs involved and commit to spending money to build your business.
If you don't want to spend any money, I'd suggest you get a job, save some for the purpose of starting your blog, then come back to this article.
But if you're ready to get started now, then factor in your costs and be prepared to spend a few dollars.
If you're really smart, you'll hire a coach or mentor who can help you hit your stride much faster and far cheaper than if you try to reinvent the wheel.
Step 5
Now, you're ready to start.
Just do these 3 things.
1. Get a domain name
2. Find a good blog hosting service
3. Sign up for an autoresponder
Start blogging!
Now I'd love to hear what you have to think.
Leave me a comment below, and please be sure to share this article on your social sites for extra good Karma ranking 🙂
Let me ask you…
What's your favorite tip from this article?
Are you looking to do better with your blog when it comes to converting readers into buyers?
And, whether you're new to blogging or just trying to develop new streams of income…
are you ready to start a blog to make money?
-Donna