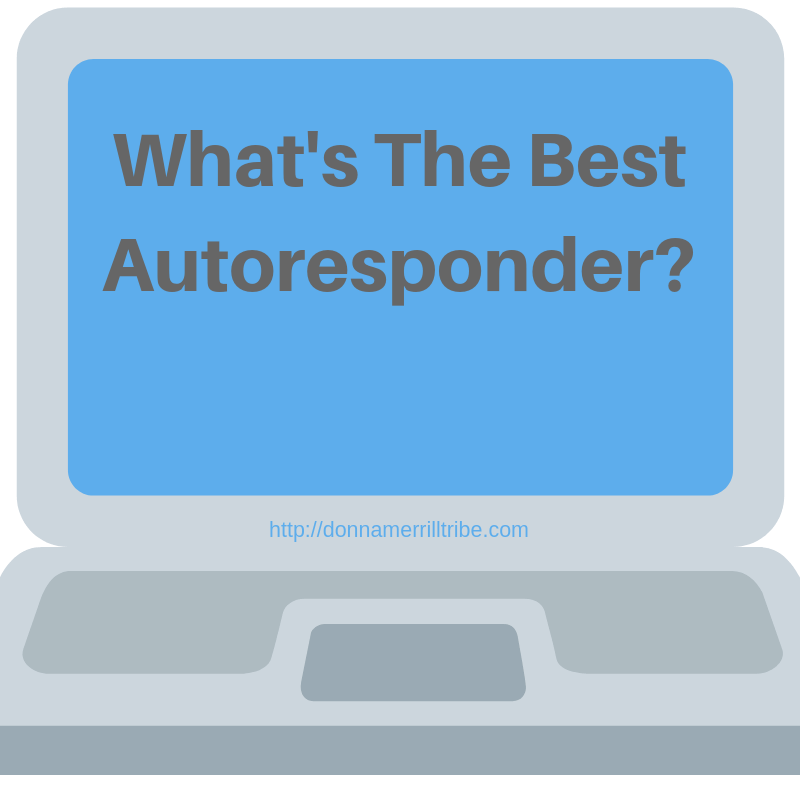 "What's the Best Email Autoresponder?"
I wish I had a dime for every new blogger who has asked me that.
And I have no hesitation to tell them to get started with GetResponse.
Is it the best email autoresponder?
Well, truthfully, I haven't used a lot of them.
GetResponse was the one I started with, and it's the one I've stuck with ever since I started blogging.
So I am obviously very happy with it.
Happy enough that I haven't felt the need to use any others.
I have played around with a few because they made such great promises that I thought…
"wow, I should give that a try."
So I ran them parallel to GetResponse.
But I dropped them after a short time because they just didn't measure up.
I know GetResponse prides itself on many things, but these are the two things I've been most impressed with.
GetResponse is So Easy to Use
Sometimes, clients come to me with other email autoresponders they are already using.
So I've had to help with constructing things like an email marketing campaign, or a follow-up sequence for a product or service they offer.
So they give me access to their autoresponders.
And, believe me, they are so non-intuitive and complicated that I've had to ask them to please switch to GetResponse.
Now, I always feel a little funny doing that because I am a GetResponse affiliate.
But, at the risk of looking like I'm hawking my affiliate programs, I tell them anyway, for your own good… make the switch.
I've never had anyone who took that advice tell me they were disappointed.
In fact, they are usually pleasantly surprised.
That's because they had been struggling to try to figure out how to do the simplest things with their autoresponder.
So I simply offer them this tool to make their lives easier.
I mean, there's enough techie stuff to navigate through with running a blog or online business.
So why complicate things even more?  Here's David Merrill in this short video to show you how simple it can be.
Opt-in forms
Something as simple as grabbing the code to putting an opt-in form on their site could cause people nightmares.
When I work with these folks, I tell them to start using GetResponse because it's just so easy.
Just copy and paste, and if that's too weird for you… add the GetResponse plugin to your WordPress site.
It's a snap!
Setting up email sequences
The main thing you need an email autoresponder for is to set up automatic emails, of course.
You can refer to My 3-Step Email Marketing Strategy for more information about putting together a killer email marketing campaign.
One of the key components of a great campaign is your automatic email flow.
Now, that should be a simple thing to set up, right?
I mean, that's one of the main things than an email autoresponder does.
But I have to say that many systems make it very complicated.
It takes so long to set up your emails to begin with.
Then, if you want to duplicate a sequence for another campaign, you have to copy and paste one email at a time.
Then, each time you do that, you have to go back to insert hyperlinks, add images, signatures and other routine things that are part of every email message.
But with GetResponse, all you have to do is copy an entire "campaign" (an email sequence) over to another campaign.
I had David demonstrate this for you in the quick little video above.
So if you want to copy a whole bunch of emails, you don't need to do tedious copy and paste forever.
It's all set up and done with just one click!
Sweet.
Believe me, this saves you so, so much time and effort.
You want simplicity from your email autoresponder, and that's what you get with GetResponse.
Simple.
Easy.
Sponsored Ad …
Build Your Email List …
GetResponse Gives You Fast, Human Help
Did you ever try to get help from just about any web service?
I don't know about you, but it drives me totally crazy.
You don't usually get to call customer service on the phone.
Instead, you've got to email them on some support site.
Then you get an automated email message like this:
"We got your request for help. Your business is important to us. So we will have somebody get back to you as soon as possible. You should have a response in 24 to 72 hours."
So you wait a few days.
You keep checking your email in case you miss their response.
Which you very well may.
When they do finally get back to you, you might get a message like "just go to this link and it should answer your question."
Wow.
How helpful is that?
I think it's all designed to discourage you from using support.
If they make it really difficult, and then you get nowhere… how likely are you to keep asking for help?
But I digress.
So now you have to email back and say…
"I already saw that link and it didn't answer my question.
That's why I emailed for support to begin with." (duhh)
And then they finally get back and say…
"oh well, why don't you just try this or that."
And on and on it goes until maybe… you finally get an answer put together after a week or so.
Maybe.
Or you'll get discouraged and decide it's just all too difficult.
So here's what's so great about GetResponse
If you have a problem they have a 24/7 Chat Line available.
You can just go on chat and talk to the rep about your problem.
That way you can get an answer right then and there.
But let's say that your issue is not so easy to put into a chat box.
Maybe you have to discuss something in detail, or explain how something works or doesn't work.
And you really just need a human being to help you with it.
So you call the 800 support line.
That's right.
You can actually call GetResponse and get to speak to a live support representative on the phone.
In my experience, the wait time for this is not 12 to 18 minutes, but typically under 60 seconds.
And then you get to have a back-and-forth discussion.
A real live person not only helps you, but they're willing to give you some ideas of how to do things that you might not have even thought about.
This goes way beyond mere customer service or technical support.
It can help you set up and maintain your entire email marketing strategy.
If you've got the questions, trust me… they've got the answers.
I don't think I've ever worked with a company that was as helpful.
This is one of the very big reasons why I first started using GetResponse.
And it's why I haven't stopped.
I hope this information gives you an idea of what to look for in an autoresponder,
Especially if you've been wondering "What's the Best Email Autoresponder?"
So drop me a comment, and tell me what you think.
Don't forget to share this article on your social sites, too 🙂
-Donna