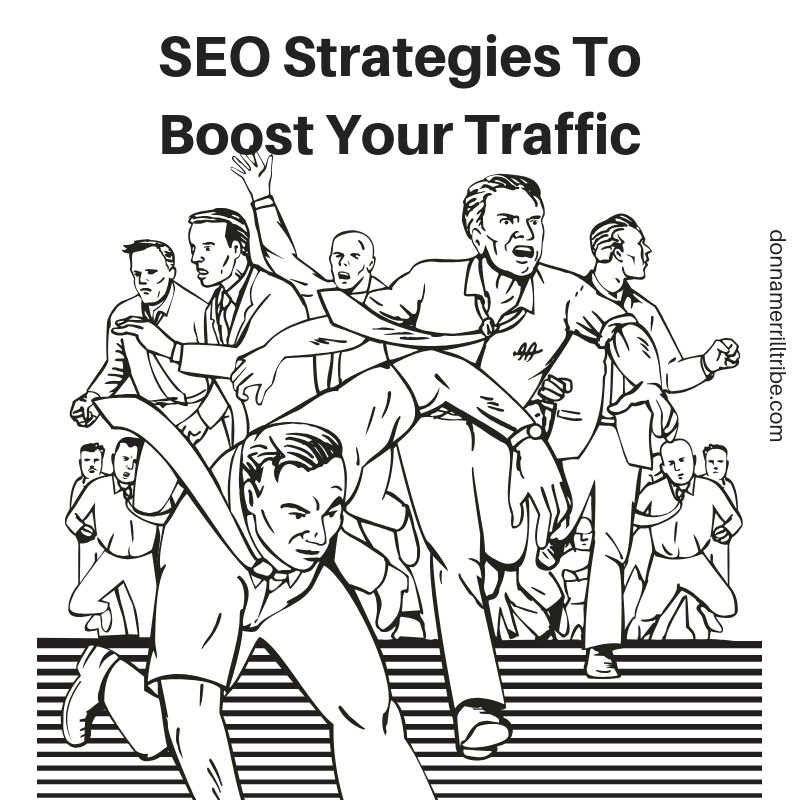 I know you'd love to know the "Top 5 SEO Strategies To Boost Your Traffic In 2019."
Building a blogging business that actually results in profit can be a very demanding task.
And at the heart of that task is driving traffic to your blog.
Without that, you'll never be able to get the results you're striving for.
So I asked a top blogging expert to give you some of the best ways to do this.
He's really put together a masterpiece here, so let's get to it!
Top 5 SEO Strategies To Boost Your Traffic in 2019
by Swadhin Agrawal
In total, there are more than 440 million blogs on the entire web, and a study by Marketingprofs shows that 2 million blog posts are published daily.
That's a LOT of content.
Imagine you spending one full day in researching and planning the content and another day in writing it.
Finally, you're all set to publish your blog post (which you think is the best on the planet.)
Sadly, after publishing you see no one is interested in reading it.
*crickets*
Do you think you have a chance of ranking in Google without having a strong SEO strategy?
Well, even if you have one you might need to change it with the SEO strategies that I'm about to you show you in this blog post.
So, are you ready to skyrocket your traffic from Google?
Keep reading!
Top 5 SEO Strategies To Boost Your Traffic in 2019
Here are my top strategies to keep that traffic coming to your website FOREVER.
1. Topic Cluster
I bet most of your competitors won't be knowing about this simple hack to get boatloads of traffic from Google.
Topic Cluster is the new SEO strategy which often people overlook.
Let's first understand:
What is Topic Cluster?
It's an SEO strategy where you show the web crawlers that your website is an authority for a particular topic.
Simply put, you build authority on a specific topic (e.g., SEO) with the help of content marketing.
How about an example?
Let's suppose you are in the blogging niche and you write everything starting from SEO, social media marketing, content marketing, etc.
With Topic Cluster you need to build authority around these topics.
That way, you can gain more visibility when someone searches for a topic (along with other keywords related to it) rather than a single keyword.
For example,
On my blog, this Black Friday deals page is a perfect example to help us understand the topic cluster (or hub & spoke) model.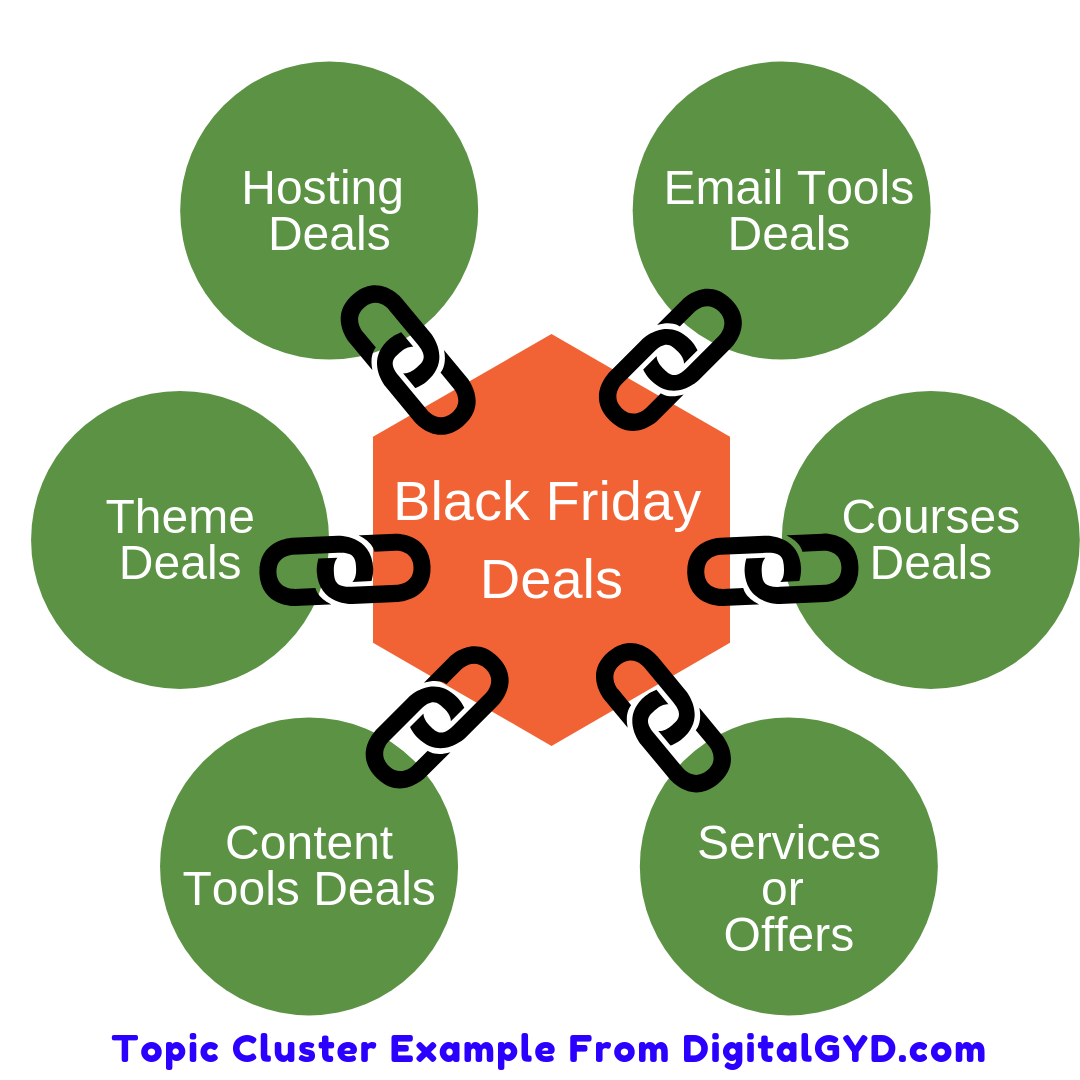 Here's what I did (you can replicate it no matter what niche you're blogging in):
Built a massive page with 3300 (approx.) words around the topic Black Friday deals for bloggers. Please keep in mind, ranking for this term alone is pretty tough and it is decently broad enough to cover at least 20-25 other articles within it. That's why it makes a good topic page (or hub page).

I then created individual articles that come under the broad topic (for example, Black Friday hosting deals, Black Friday theme deals, etc) that form the spokes of the hub & spoke model.

I linked each page to the hub page showing that they are a part of that topic cluster and vice versa.
This creates a site hierarchy showing my site's expertise around the topic "Black Friday deals."
And in return, it gives a preference over other thinly organized content.
Also, if one article does good in search, it will give an additional small boost to the whole model.
This is a good thing for other articles in that model.
Note: Implementing Topic Clusters will take time. Expect about six months, or more in some cases, to show considerable results. If you don't see any promising results even after six months, you need to change your strategy, or in some cases, the entire keyword.
This is by far the best strategy to increase your traffic from search engines in 2019.
Author's recommendation: Topic clusters work with any niche…
For example, if you run a productivity blog, you can create a pillar page on best productivity apps and then create individual articles for each app or tool you mentioned as the spoke pages.
If you're not yet convinced of the importance of implementing Topic Clusters, here are some benefits of having them:
Advantages of topic clusters:
Search engines are providing users with trustworthy results:

With Topic Clusters you can build authority around a topic and tell the search engines that these pages are worth showing at the top of the SERPs. I cannot stress enough on how important it is to be building authority for your name and your website in 2019.

Web crawlers better understand semantic keywords: When you use similar keywords which resonate with your main keywords – search engines try to pick those up. Advanced algorithms like Rankbrain are powerful enough to know the relevance of a topic.
Snatch in more Traffic:

As I mentioned earlier, when any of your cluster pages start to perform well in SERPs all your other pages will start pulling up. This result will drive more traffic to your blog or website.

Keep your audience engaged: You know that User Signals is the most important ranking factor currently. So, when you have covered all the content that your user is interested in, they'll naturally spend more time on your website.  And this will eventually give you higher rankings.  
2. Update Old Blog Posts
The reason more than 2 million new blog posts are published daily on the web is that no one is concerned about what is happening with the old outdated content.
No matter how well you have written your articles in the past, Google starts to devalue them when they see other articles published with fresh content. Slowly, you'll see your rankings start to drop like a stone.
If the above situation sounds familiar to you, it's finally time to ramp up your old content and update it with the latest and the best information.
How to Update Old Blog posts?
Most of the experts will tell you to update your old article with new content, and you'll start ranking.
But very few tell you how to do it… the exact way.
See, updating old content doesn't necessarily mean just stuffing in extra words, and you're done.
That's a big no-no!
Here's a more effective and proven way to get the most out of your blog post updates.
Step 1: See what new and better pages are doing:
Spying is the most important skill when it comes to SEO.
In the first step, you need to see what content your competitors are covering, particularly content that is missing in your article.
Note down all the pointers and include it when you finally start updating.
Step 2: Add More Multimedia Content:
With people's ever decreasing attention period, you need to add some spice to your blog posts for them to stick around.
One such way is to add videos, images, and GIFs to your blog posts.
Look at your competitors and see what types of images they are adding.
Do they use "how to" screenshots, stock photos or some random GIFs to make the post funny?
Learn from them and implement it in your blog post.
Step 3: Open Google Search Console and Get Ideas:
This is a proven technique to churn out more keywords that you're already ranking for, but haven't included in your content.
Let's see how it works:
Go to Google Search console

Next, go to Performance in the left navigation menu

Down in the Queries, you'll see all the keywords you're currently ranking for.

Now sort it with "Clicks" in the descending order and see what all keywords are getting impressions but no clicks.

Click on any keyword and now go to "Pages."

Next, click on the page that belongs to that keyword.

Now at the top remove the keyword filter and go back to queries. Here, you'll see all the keywords you're ranking for in the search which aren't present in the article.

Export the list of all the keywords from Search Console and start adding relevant content around those topics.
Step 4: Fetch Your Updated Article and Wait:
The final step after updating the article is to fetch it in Search Console and wait for the results to appear.
3. Voice Search
According to the latest SEO statistics, about 30% of all searches, by 2020, will be done with devices without screens.
That's voice search!
This alone states how important it is to improve your website to better perform at voice search queries.
Brian Dean published a fantastic article on voice search and some interesting findings which I highly recommend.
Tips to optimize for voice search:
1) Go for Featured Snippets
To optimize your content for Voice Search you need to rank for featured snippets.
If you notice, most of the smart devices like Google Home or Alexa devices read all the content that comes first in the featured snippets.
Now there's no proven way to rank for featured snippets yet.
However, there are certain things which you can do to claim the number one spot.
a) First things first, try to answer your user queries. Use a tool like com to see what questions people are asking.
b) Answer the questions in an easy to understand format.  Don't use jargon words which are hard for both search engines and humans to digest .
c) Develop great, mind blowing content. It's a no-brainer that to rank in the featured snippets you need to be in the top 10 search results for that keyword. Now to rank in the top 10, you need strong content and a high-quality link portfolio.
2) Mobile Friendly website
A mobile-friendly website is one of the most overlooked factors that website owners never take seriously.
The majority of the voice searches occur in mobiles and you, for sure, need to have a mobile-optimized website to rank in the SERPs.
To check whether or not your website is optimized for mobile you can always use the free Mobile-Friendly Test tool by Google.
Head over to the site and pop in your URL there.
If you get a green signal, you're all safe.
But, if it's a red … you need to quickly get it fixed before it gets any worse.
3) Use Schema Markup or OG Data
Web Crawlers are dumb engines unless you let them know about a specific thing.
This is when Schema Markup comes into the picture.
In simple words, Schema Markup data helps the search engines understand about all the things that you have mentioned on your page.
The better they understand your pages, the higher your chances are to get high rankings.
If you're a WordPress user, all you need to do is install a schema markup plugin, and you're all set.
To check whether it's implemented properly or not, there's a free Google tool to check it for you.
Head over to Structured Data Testing Tool and enter your URL.
Allow the tool some time to run all the tests.
Later something like this will be shown to you.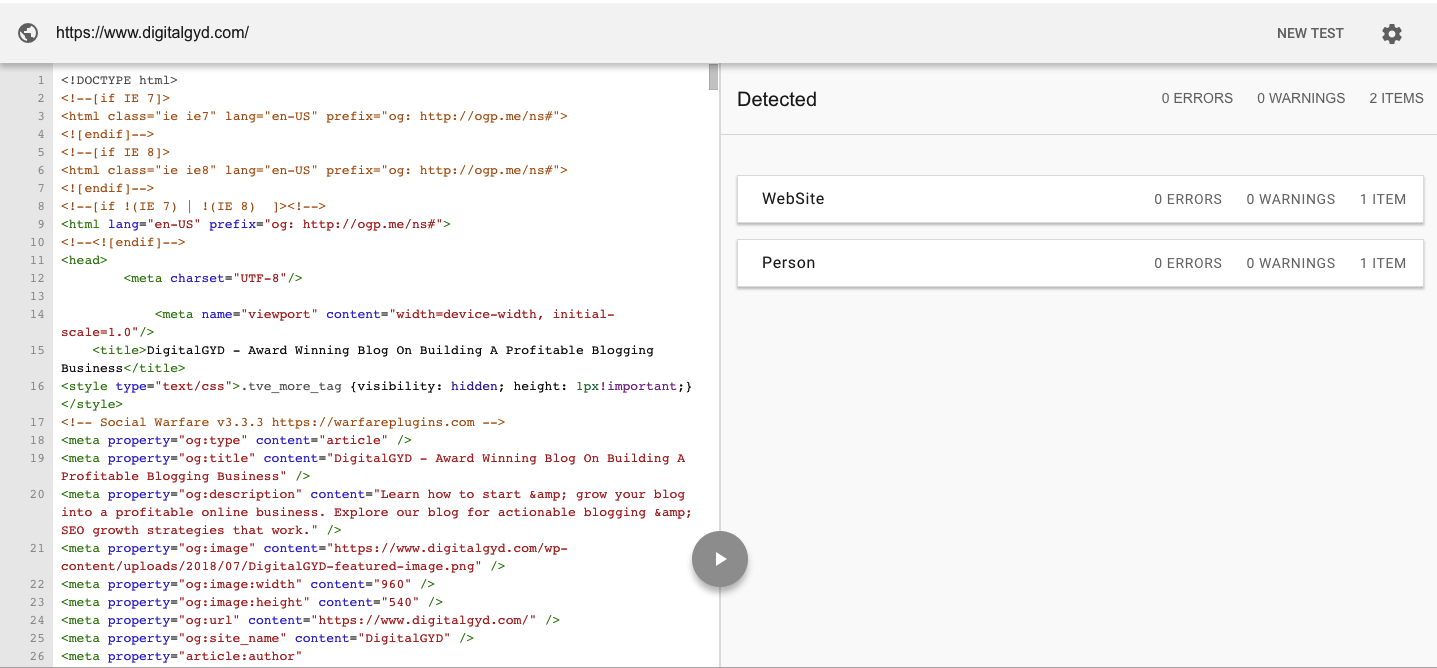 4. Building A Brand
Well, this isn't a direct ranking factor but indirectly, branding impacts your rankings dramatically.
Let me explain:
A recent study by Sparktoro showed that if you're not among the top 5% content creators in your industry you barely have a chance to be seen.
Being in the top 5% percent is difficult but not impossible.
Blogs like Backlinko and Neil Patel are considered to be among the top 5% websites on the internet, in the Blogging and Internet Marketing niche.
They have built a brand around their niche.
How did they do it? Let's understand:
1) Writing Nail Biting Content:
Content is your first step on the ladder for creating a brand. All the top 5% content creators provide top-notch content and massive value to their audience.
Brian Dean at Backlinko is never covering topics like "What is SEO," or "How to do SEO."
Instead, he is writing articles on advanced link building strategies which people struggle with the most.
Plus, if you read his content, you'll notice that its 100% unique and never seen on the web before.
Slowly, when you start to solve your audience's problems with practical and action taking content, you start to win their trust.
That's when they treat you as a go-to solution and not a mere website which they'll never read again.
2) Promoting Like Crazy:
Promoting your content is more important than writing it.
If you spent 20% of your time creating a fantastic piece of content, you must spend 80% of your time to promote it.
The better you promote it, more people will know that you exist and slowly start trusting your website.
Look, creating content and promoting it are both interconnected.
You cannot master just one part of the equation.
You need to master both.
A good example is Making Sense of Cents, where Michelle is the go-to resource for anyone looking to save money or get out of debt.
Now, Michelle absolutely knows her thing.
When you read her blog posts you'll quickly see that.
But she also does an excellent job of promoting her blog, and that's really why it is so successful.
3) You'll No Longer Fight for Competition
Once you have established your brand and have a thriving audience who trusts you and wants to read all your content you need not to worry about the competition, ever.
They are now your loyal followers, and they'll consume all the content that is coming from you.
PS: It takes time and effort to build a strong brand, but it's worth every minute.
4) It's Easy to Sell Products
If your friend and I both sell you the same product at the same time, whom would you buy that product from?
Your friend, right?
That's the power of branding or trust building.
When you know the person – you'll always trust their recommendation.
This makes it very easy for you to sell ebooks, courses or also recommend products or services to your audience.
5. Building A Community
Clever marketers always make the most out of their efforts.
Would you like if someone visits your website today and possibly will never see it again, ever?
Sounds dangerous, right?
Well, to avoid this from happening, you need to build an active community among your audience.
That way, you can engage with them any time you want.
A few good examples of building a community are
starting a Facebook group, or

building an email list.
You can then use the list or group to make any new announcements, like your new launch, service or ebook.
Wrapping Up:
I really hope the 5 strategies that I just showed you will level up your blogging game in 2019.
Now is the time for you to leave a comment down below and let us know which strategy are you going to apply in 2019.
Is it the Topic Cluster one?
Or optimizing for voice search?
Maybe both?
I'll look for your comment, and please… be sure to share this article on your social sites, too.
-Swadhin
About The Author

Swadhin Agrawal is the founder of WPChime and DigitalGYD.
He helps people start, grow and scale their blogs into profitable blogging businesses
with the exact strategies he used to grow his blogging business.
Feel free to join his blogging community on Facebook to connect with him.