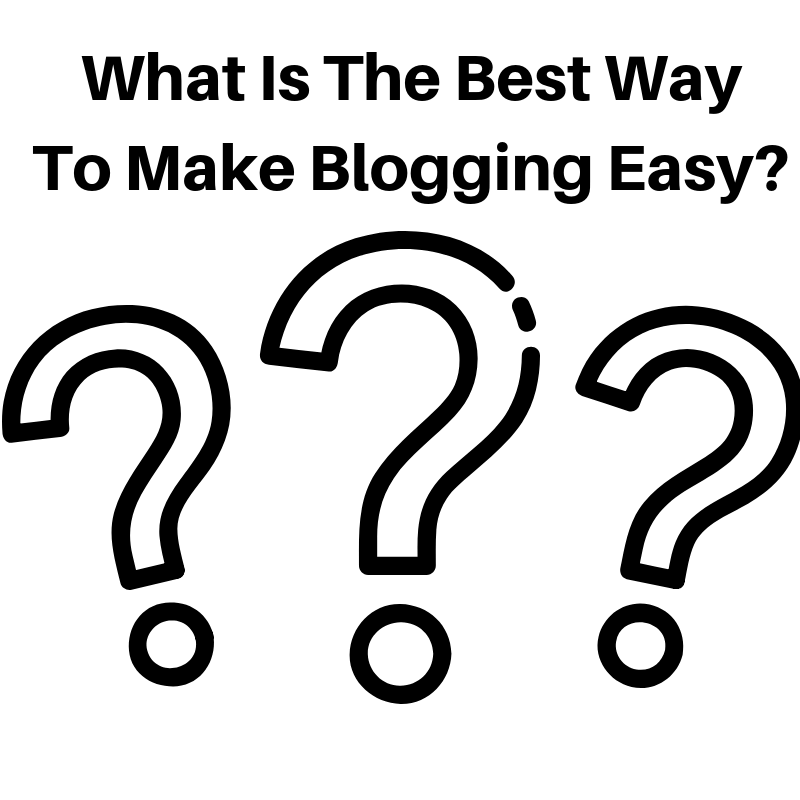 What is the best way to make blogging easy?
Every blogger wants to know.
But you really don't have to struggle hard.
First of all, though, I should say that blogging is not easy.
It definitely requires a what I've called a blogging success mindset.
But still, the truth is that making any business successful is never easy.
However, there are certainly things you can do to make it far easier.
So, I'm going to show you the best way to make blogging easy, in my experience.
And notice, I have a lot of experience, having run a successful blog for many years, now.
Not to mention all the private coaching I've done with bloggers.
Take Stock of your Blogging Process
It's always good to take stock of your blogging progress from time to time.
And it's good to do it at regular intervals, like monthly, or every 6 months, and of course… at the end each year.
Here's a great checklist you can use to monitor your progress at regular intervals:

Source: 17 Statistics to Monitor on Your Blog, at Problogger (dot com), by Darren Rowse
But without doing a full statistical assessment of your blogging, you can get a pretty good idea of whether or not you're heading in the right direction by answering a quick question for me:
Do you work more on things that you're really good at, or things you're weak in?
You see, the way you answer this question will tell you a lot about the blogging process you are already using.
Then you can compare it to what I'm calling "the best way to make blogging easy."
Now, this might help you answer my question.
Struggling to Overcome Your Weakness
Many times, I coach people who are working on something that they see as a weakness in their
business.
For instance, they may be great at writing.
They study the habits of prolific bloggers.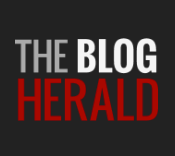 Source: Habits of Prolific Bloggers, at The Blog Herald
And maybe they're putting out lots of articles every week.
That seems to be working out okay.
But somebody told them that to build an engaged audience, they had to start creating videos.
So, now they think video is essential to building engagement with their audience.
As a result, they shift the focus on their business AWAY from writing and TOWARD creating video.
But the problem is this.
They may not be good at doing video.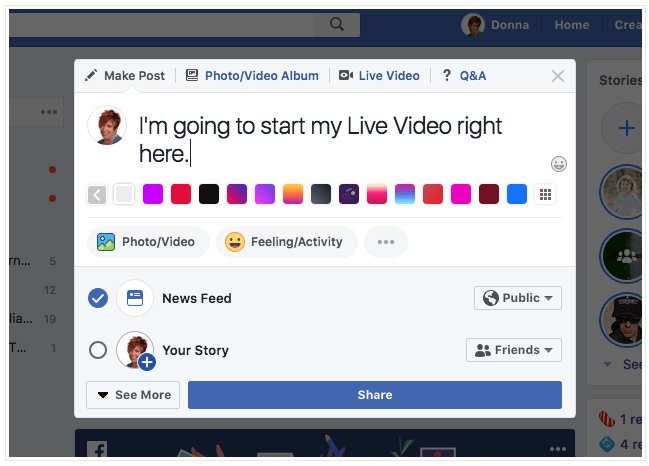 Source: How To Go Live on Facebook, at Donna Merrill Tribe
They're not comfortable in front of the camera.
They don't know the technology.
They don't even like doing it.
But they decide they must overcome their weakness in order to move their business in the right direction.
So they struggle.
They might even begin to think that blogging sucks when they first start to struggle.
Still, they commit to the struggle.
They struggle to overcome their perceived weakness.
In the above case, the weakness is… not knowing how to do video.
And because of what they've heard or read somewhere, they believe they'll never be able to reach their audience until they overcome this weakness.
There is a big problem with this strategy.
Develop Your Strength
Here's the problem.
In order to start focusing on things you are not good at, you must turn your focus away from doing
things you are really good at.
So in trying to overcome your weakness, you abandon your strength.
Meanwhile, you struggle because, hey…
it's hard work trying to overcome your weakness.
Now I know you don't want to make things hard on yourself.
That's why you ask yourself "What is the best way to make blogging easy?" right?
Okay.
So here's how.
What is the best way to make blogging easy?
Stop struggling to learn new things, new strategies, better techniques all the time.
Instead, spend most of your time doing what you're already really good at.
A good rule of thumb here is that 80% of your time is what I consider "most" of your time.
So, that means you will only take on new challenges and develop weaknesses 20% of your time.
Side Note: For more on the 80/20 rule, check out David Risley's Applying the 80/20 Rule To Get More Done With Less article at Blog Marketing Academy.
But if you're pretty new to blogging and everything seems like a challenge and a weakness, then flip the script.
Spend at least 20% of your time on something you're good at, even though 80% will have to be struggling to learn new things.
At least you'll be spending some of your time developing your strength.
So what is your strength?
You can always find something.
Then, over time, work to increase that to 40, then 60 and finally 80 percent.
Work From Your Place of Strength
Now, typically, I'd like to see you work from your place of strength 80% of the time.
So, for instance, if you work from Monday through Friday on your business, maybe every Friday is your time to tackle something you know little or nothing about.
That's one day out of five.
That's 20% of your work week.
Spend every Friday trying to improve on that.
But don't give up your whole week on it.
Still do the stuff you're really good at Monday through Thursday.
Those 4 days add up to 80% of your work week.
That way, you're moving your business forward most of the time.
But on Friday you take time to work on a new or weaker aspect of it.
Put The Plan Into Practice
Do you try to work "to your strength" or "to your weakness?"
Whichever way you go, how about including just ONE thing in your routine that will flip the script?
If you focus on trying to overcome your weaknesses, try pursuing at least ONE little goal that gets you working on
something you're strong in.
If you are already working with your strength, put something into your schedule that will challenge you to work on an area you are really weak in.
Here's What I Do To Make Blogging Easy
I usually work on things I'm already good at.
It just stands to reason, doesn't it?
If blogging feels like hard work, it's because you're always struggling with hard stuff.
Hard stuff means all those things that you're not good at, or that you have to learn for the first time, or that you just really don't like doing.
I don't like blogging to be hard.
When it's fun, it's easy.
I suggest you take a peek at Ryan Biddulph On Blogging For Fun and Finding Success.
So, I repeat.
When blogging is fun, it's easy.
That's why I like to run my business through my strengths.
It's always more fun doing things you're good at and familiar with, than things you're not good at or don't know anything about.
For me, working through my strength means that I create a lot of content… courses, blog posts,
video trainings and the like.
Flipping The Script
But to grow and develop, you can't always blog the easy way… doing what you like, and what you're already good at.
You also have to face your weaknesses.
I don't like analytics at all.
So I rarely track links in my articles, newsletters or social media posts.
And I know I should.
But I don't because I don't like doing it.
And it's not something that I'm just naturally good at.
So I purposely take a small amount of time in my regular schedule to lighten up a bit on content production.
I suck up and start putting some analytics into place.
For instance, I would spend some time investigating different analytic tools I can use.
Then I learn how to apply them to my business.
The Best Way to Make Blogging Easy
Notice, though, I keep the improvement of my weaknesses to a minimum.
Most of my work schedule is centered on doing things that I'm already good at.
These are things that I really like.
And they involve activities that I feel really confident about.
This is the way to make blogging easy instead of hard.
Now, this might sound like an obvious thing to do.
But I've worked with a good many bloggers who think of blogging as an endless series of struggles.
They're always "challenging" themselves to learn new things, and test out new strategies.
So much so, that they don't move forward.
They just keep learning stuff.
Overcoming their weakness, rather than blogging.. has actually become their business.
So think about your own blogging business.
Do you think that you work primarily through your strengths most of the time?
Or do you mostly struggle with your weaknesses, constantly trying to learn new things and keep up with the latest trends?
What is the best way to make blogging easy in your opinion?
Let me know in the comment section below.
And please, remember to share this article on your favorite social sites.
Thanks 🙂
-Donna