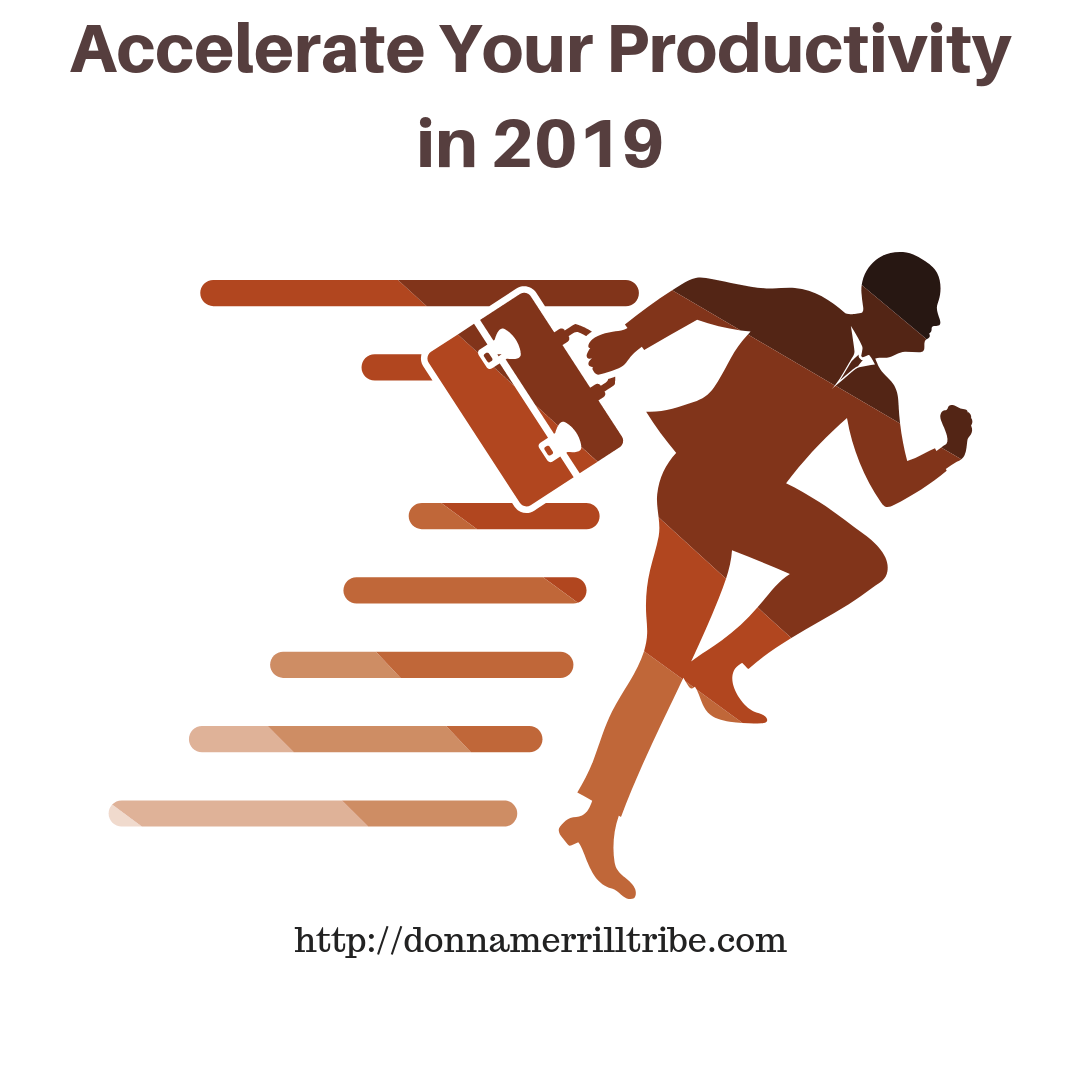 I will show you how to accelerate your productivity in 2019 to be a top blogger.
This will require a few simple things on your part.
But it won't be difficult to massively accelerate your productivity once you get these things together.
And then, of course… you'll need to put them into action.
Because really, does this sound like you?
A Typical Day of Blogging
It's Friday morning and you decide that you will write your blog post for Monday to get a good head start.
You sit down and open the blank page and look at it for a moment.
Then you realize you don't really have any ideas for what to write about.
That seems hard, so first, better check your email.
After all, that's a lot more interesting, right?
One of the emails you find in your inbox promises a great new technique for putting images on your Facebook posts.
Better check that out.
2 hours later you have half an idea of how to put images on your Facebook posts.
But you haven't written a word on your blog post yet.
Oh yeah, you don't know what you're going to do yet, do you?
Well the day's half over, so maybe you should just do it tomorrow.
This sort of thing goes on for a couple of days.
Then finally, on Monday morning you realize that you're out of time.
So you quickly come up with an idea and just put something together real fast.
It's not as good as it could be but there's no time to do anything better at this point.
Just hit the "Publish" button and move on.
Accelerate Your Productivity to Be a Top Blogger
Now seriously, how many blog posts do you think you can write using a system like this?
How productive do you think your business will be when you approach it in this way?
You start by procrastinating.
Then you jump onto something totally different.
You realize that it's not as simple as you thought it would be.
So you try to get back on track with what you were doing to begin with.
Maybe you do this "back and forth" thing for a week.
After using your "start and stop" technique for the week, you probably come up with one or two pieces of content.
And they're probably not as good as you hoped they would be.
Plus, you're left with very little time for promoting it in the way you should.
Just think of what it would be like if you could be much more productive.
Imagine you could get done in one day, what you've been taking a week to do.
Plus at a much higher quality.
Now that's what you need to do if you intend to go beyond being just another face in the crowd.
So let me show you how to accelerate your productivity in 2019 to be a top blogger
Productivity Tools
Let me deal with this issue right off the bat.
Every time people try to become more productive the first thing they look for is "tools" and "resources."
That means software or programs or some kind of specialized training that will help them become more productive.
Well the truth is that tools are not what make you more productive.
In fact, they often make you less productive.
That's because you end up spending so much time playing with the tools, that you don't get your work done.
That's not to say that there are not great tools, or that they are not helpful.
In fact, one of the things that I'll be talking about in this article is the need to keep lists and notes.
There are many ways to do that.
You can just use a notebook and a pen, of course.
But there are certainly some really cool tools to help you out with note keeping.
Personally, I use Evernote.
But I don't want to get into the whole "tools and resources" discussion here, because it's not really what this article is about.
Also, I use very few tools in my business, and you really don't need any of them to be highly productive.
But if you're a tool and resources kind of a person, and you just really feel like you need something to help you stay focused… then I highly recommend you check out Adam Connell's article reviewing 19 Top Productivity Tools For Bloggers: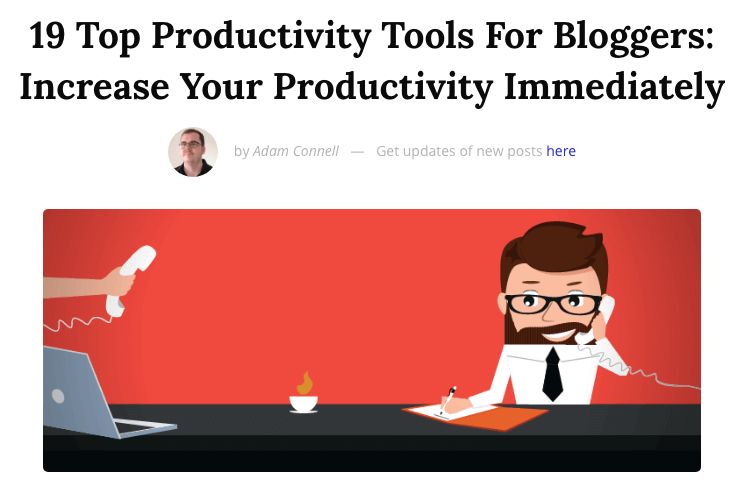 Read more on Blogging Wizard: 19 Top Productivity Tools For Bloggers
Okay.
I've got the productivity tools discussion out of the way, because I know many people think that's what productivity is all about.
But now, let me get down to my recommended methods for accelerating your productivity in 2019 to be a top blogger.
Your Magic List
The first thing I want you to start doing in 2019 is commit to focusing on being productive.
Don't tell yourself you'd like to get more done.
Sit and write down the goals you want to reach.
And determine that you will work every day to achieve them.
The next thing you need to do is start keeping what I call your "Magic List."
So what is that?
Well, it's NOT your list of goals.
And it's NOT a to-do list of things you need to do each day.
Your Magic List is actually a list of things you will NOT do today.
You see, it's a lot easier to spin into something new or different, than to stay on target with what you're working on at the moment.
It's like the example I gave you above, about stopping your blogging to check out your email.
You're off target when you do that.
And you'll be unproductive for as long as you are off target.
So every time a thought creeps into your mind of something that you need to do… just jot it down on your Magic List.
I know you get sudden thoughts and ideas, like maybe for writing a new blog post, creating a video or anything else.
If it takes you away from what you're working on at the moment, though, then just jot it down on your Magic List and keep on working.
You see, the magic of your Magic List is that it allows you to stay on target and keep on point.
It helps you avoid stopping what you're doing to explore something else.
By jotting it down, you can put it out of your mind.
And that allows your mind to quickly get back to work and stay on task.
The reason I call it a Magic List is that it creates magic.
The magic is this.
You maintain the focus to keep working on what's most important.
As things pop up in your mind that would ordinarily take you away from the task at hand, you simply write them on your Magic List instead.
This puts them out of your mind.
The Magic List helps you avoid having to stop in the midst of a productive activity.
Getting distracted with off-task thoughts and ideas is one of the most unproductive things you could do.
If you do it habitually, you probably get very little accomplished, right?
So just keeping this little Magic List will accelerate your productivity… big time.
Spinoff Magic
Another important thing to do is to keep a Spinoff list.
Now I actually will do this right within my main Magic List.
Every time I get an idea that I think will spin off of what I'm working on, I'll simply write the word "Spin" and then the idea.
Say I'm writing a blog post about email marketing, and I suddenly think of doing another article about the best autoresponder for bloggers to use.
I'll simply note on my Magic List "SPIN: best autoresponders."
Whenever I'm looking for content ideas, I simply search through my SPIN list.
Now, let me tell you… this is a fantastic method for keeping you focused on your task at hand.
But even more, it also helps you expand your core topic with new and relevant content.
So if I'm writing a blog post about email marketing, and then I get four other spinoff ideas as I'm doing it, that's pretty cool.
You see, I've already gone a long way toward creating new content for my niche audience.
Here's how Spinoffs Work
Say my email marketing article has these four spinoffs.
Autoresponders.
Writing a great email.
Email signatures.
Scheduling email broadcast.
Now you can see that not only am I able to stay focused on completing my email marketing article, but I've already got four ideas for new articles that can follow up on it.
And I wasn't even trying 🙂
Or if I don't want to write articles on those topics, I can create infographics, videos or images for them.
But remember this.
One of the hardest parts of creating new content is coming up with the idea.
Well, now, I've done it without even thinking of it.
It just occurred to me naturally as I was working on my article.
And for that reason, my new content pieces will be totally relevant to my niche and to my core message.
Because after all, they were simply spinoff thoughts from my initial blog post.
Nice, huh?
How to Accelerate Your Productivity in 2019 to be a top blogger
I have given you some great ideas for how to accelerate your productivity in 2019.
But simply improving productivity doesn't necessarily make you a top blogger.
Being a top blogger is not just about creating lots of content.
It's all about creating content that is helpful to your audience.
It's about having a clear and defining core message that will resonate with them.
And it's about creating interesting content that is highly relevant to that core message.
That's why the Spinoff List is so important.
And of course, to be a top blogger, you have to do more than simply read this article about how to be more productive.
You have to actually do it.
You must put some of these things to use in your daily blogging practice.
If you do, I guarantee that you will have a far more productive blogging business in 2019.
And when you do it right, you will be on solid footing for becoming a top blogger in your niche.
How to Accelerate Your Productivity in 2019 to be a top blogger
I have given you some great ideas for how to accelerate your productivity in 2019.
So what do you think?
Have you been perfectly happy with your productivity level up to this point?
Which of these ideas has resonated with you today?
Which ones are you just itching to put to use?
Do you think you now have a pretty good idea of "How to Accelerate Your Productivity in 2019 to be a top blogger?"
Leave me a comment below.
Then share this article on your fav social sites 🙂
Thanks,
-Donna