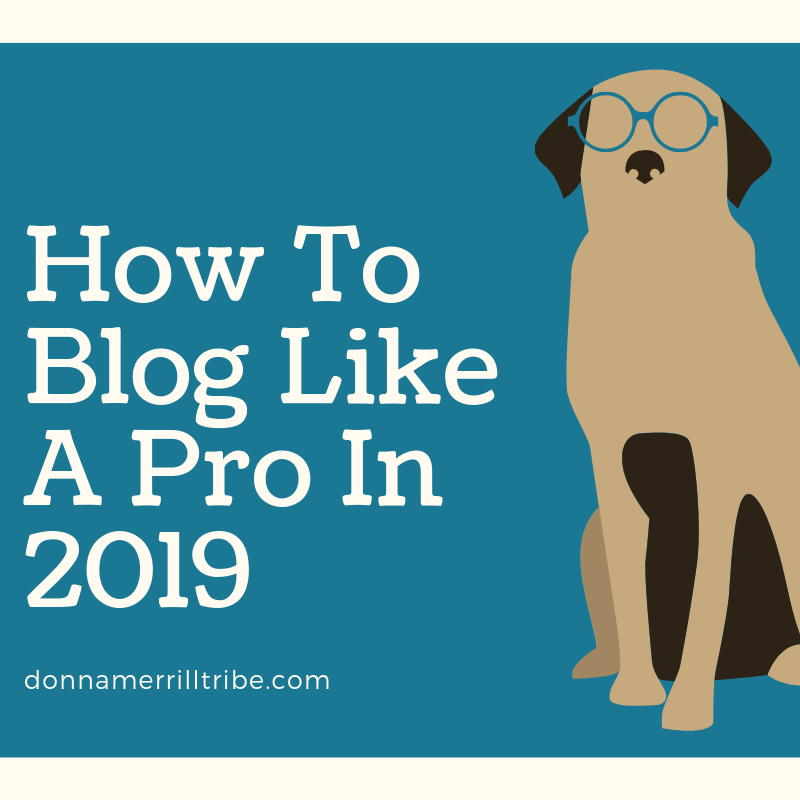 If you want to know how to Blog like a pro in 2019, listen up.
In this article I'm going to show you quick steps to
blog in the right niche
build your blogging audience
give yourself the best shot at making a profit
And as a bonus, I'll even show you my
So let's get down to turning your blog into the cornerstone of a highly successful and profitable business in 2019.
Blog Like a Pro: The right niche
The first way to blog like a pro in 2019, is to make sure that you're blogging in the right niche.
But how do you know what the right niche is?
People blog for long periods of time about things they are there interested in.
They can never seem make their blog profitable.
That's because many of those topics just are not good money makers.
So many interesting niches don't have an audience that is willing to spend money on the things that your blog will be promoting.
That's why I say that the first thing you want to do is make sure you are blogging in the right niche.
That means, be reasonably sure it's a profitable niche to begin with.
Find a profitable niche
There are many ways to figure out if a niche might be profitable.
One of my favorites is to just look at what other bloggers in a particular niche are doing.
If they have a well monetized sales funnel, and have had good success with it, then you could pretty much figure that the niche can be profitable.
The more people who are monetizing a niche, the better it looks like a good one to get into.
Now, that's not a really scientific way of doing it.
But really, I don't think there are any cut and dry ways to know how well a niche might perform.
But seeing if others are doing well with it will give you a good starting point.
Develop a micro-niche
The best niches to try to monetize are in the areas of Health, Wealth and Relationships.
But, of course, you can't just blog about a broad niche like that and expect to build a following.
Those niches are just way too broad, and ridiculously competitive.
Instead, look for a micro-niche that spins off of one of those.
So, for instance, if you want to blog in the Relationships niche, maybe you would choose Dating.
Getting things even more narrow, maybe you could try Dating for Seniors.
To narrow it more still, maybe The Best Senior Dating Sites.
You see, the more narrow your micro niche, the more likely you are to attract a nice following and not get swamped by heavy competition.
Blog Like a Pro: Build your blogging audience
Let's say you have found a niche that you think you can profit from.
The next thing to do is to start building an audience for it.
You create a blog in your micro-niche.
Then you put good content on it.
And finally, you try to get people interested in it.
You see, here's how this works.
Once you get people coming to your blog, you need to find ways to convert them into customers and clients.
But first… you have to get them there.
So let's say you have a micro-niche site on senior dating.
Here's some good ways build an audience for it.
Guest posting
The first thing I would do with a new site or even an existing one, is to start guest posting.
Guest posting means that you write articles for other people's blogs rather than your own.
It's easy enough to do.
Simply find blogs that already have an audience like the one you wish you could attract to your own.
Ask the blog owner or manager if you could write a guest post for them.
The wonderful thing about guest posting is that you're only going to ask to write articles for sites that already have an existing following.
And the people that read that blog are the people that you would like to draw over to yours.
So you don't have to create an audience.
You just have to put your talents in front of the audience already thriving on the blog you will guest post for.
Want to get started with guest posting?
Well, maybe you'd like to submit a guest post to Donna Merrill Tribe!
Blog commenting
Blog commenting is still probably the most solid way to connect with other bloggers and their loyal audiences.
So get a list of influential and successful blogs in your niche.
In the case I've been using as an example here… you would find a bunch of blogs that ranked high in the "senior dating" niche.
Then you start connecting with those bloggers.
Of course, you could ask them if you could write a guest post for them.
That would be great.
But not everyone is open to that right off the bat.
Especially if you're not well established already.
No problem.
If you can't write a guest post for them, then just simply start leaving comments on their blogs.
Write comments on other blogs
Read their articles.
Then leave good and thoughtful comments.
These bloggers will start recognizing you as someone worth associating with.
That of course, will open the door to guest posting opportunities in the future.
But more instantly, it will also give you exposure to their blogging audience.
Build your Know-Like-Trust bond
Many of people who see your comment will find their way over to your blog.
When they get there, they will already be familiar with you because of the comments you've been leaving on other blogs.
That means they already know you.
And they probably like you since they took the initiative to visit your blog.
Now, you just have to give them a reason to trust you.
Read more… 3 Simple Ways to Get Way More Prospects with Far Less Work
Connect on social media
Now you can take the blog commenting strategy a step further.
Not only can you leave comments on people's blogs.
But you can also share their articles on social media sites.
So, if you read a great blog post about senior dating, you can tweet it or share it on Facebook, Pinterest and elsewhere.
Do this consistently and frequently.
And again, people will start recognizing you as an important player in your micro-niche.
You will be growing an audience due to your continual exposure via people's Twitter followings, Facebook friends and so forth.
At the same time, by offering good value to people on your social sites, you will start growing your own social media following.
And the people who follow you will be the people who are interested in your micro-niche topic.
In this case, for instance, it would be "senior dating."
Blog Like a Pro: Give yourself the best shot at making a profit
To blog like a pro in 2019, you need to blog on profitable topics.
Then you have to share your content with the right audience.
I just discussed ways that you can start doing that.
But the whole goal is to get people to come to your blog, right?
Well, that's not going to help you much unless your blog is capable of converting your readers into buyers and clients.
That means you need to monetize your blog.
In other words… you must have clear "calls to action" on your blog.
When people get to your blog, you have to tell them exactly what to do.
Build an email list
The first thing you should tell them to do is… join your email list.
That way you can connect with them as often as you like.
When you email people, you can give them deeper value in your niche.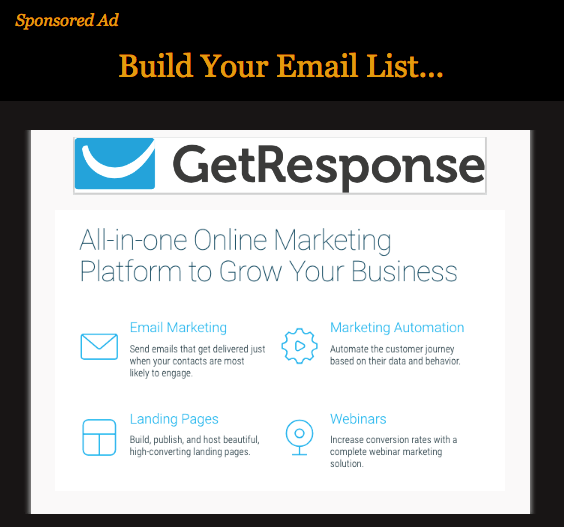 But you can also offer them valuable products and services that are relevant to your message.
Blogging is usually a two-step sale.
That means people may enjoy visiting your blog, but they quite often won't actually buy anything from your sales links.
If they see that you have valuable content though, they may be very happy to join your email list.
Once they become regular readers of your emails, they form the core of your "following" or "audience."
These loyal followers are prime prospects for buying things that you link to inside your emails.
Product and Service Reviews
Another great way to monetize your blog is to write product and service reviews.
So if you have a product or service that will help your readers, then write a review about it.
Tell people how it works for you.
This works best if you can spin it into some kind of a personal story of your experience with the product.
People love personal stories about products and services.
If they trust you…
and if they like you, since they've been reading your blog for a while…
they're very likely to consider buying the product or signing up for the service.
Promote affiliate products
Typically, the pro blogger will promote affiliate products and services in this way.
It's certainly not a new technique.
But it's one that can still have amazing results.
Promote your own products and services
This is also a great way to promote your own products and services.
I think this is really the bigger trend in the use of review posts.
That's because your own products and services attract a unique audience to yourself.
They can buy affiliate products from anyone.
But they can only buy your products and services from you.
That makes you stand out as unique.
It cements your image as an expert and authority in your niche.
Content Upgrades
An especially effective way to monetize your blog is to build content upgrades into your blog posts.
A "content upgrade" to an article you write will add value to whatever it is you're talking about.
It will take your readers one step further along the way.
How a content upgrade works
Examples of this are additional resources or information that you might offer them.
So if I'm writing a blog post about senior dating and I want to refer people to a relevant service… I might offer them a free ebook on the topic.
When they join my email list to get the free ebook, I can also immediately send them to a landing page offering a paid service related to… of course… senior dating.
Then I can promote that paid service inside my email list.
Content upgrades must be relevant
Content upgrades are great for getting people onto your email list and into your buyers bucket.
Remember, though…
the success of a content upgrade is dependent entirely on its being highly relevant to the blog post it is embedded in.
So if I'm writing a blog post about the newest trend in senior dating, I could offer a content upgrade about something like "top senior dating sites" or services.
Not about walk-in bathtubs, exercise equipment or travel.
Blog Like a Pro: The shortcut to success
Now some of the ideas I've given you about how to blog like a pro may sound like a lot of work.
And some of them are.
In order to find success, you have to expect to take some time.
And of course, it requires effort, too.
There's nothing simple or "push-button" about any of this.
But on the other hand, you also don't have to try to figure it all out yourself.
People have already done what you're trying to do.
So there's no need to reinvent the wheel.
Here's some of the shortcuts you can take in order to become a better blogger… and to blog like a pro in 2019.
Imitate success
I'm sure you've heard the saying that "you can tell who somebody is by the company they keep."
Well, if you want to be a pro blogger in 2019, then hang out with other pro bloggers.
But then take it a step further.
Don't just hang out with them.
But also, learn from them.
Go to their blogs to see what's working for them.
Figure out a way to imitate their strategies in your own business.
Sometimes they even have a course or special training to actually show you what they do, and how they do it.
The point is this.
A winning shortcut to being successful as a pro blogger is to imitate the success strategies of other pro bloggers in your niche.
Be a student
Another good way to get things started fast is to find courses that have been created to help you achieve exactly what you want.
Now I'm not talking about a course necessarily on "how to blog like a pro."
But maybe in your blogging strategy, you have a need to create videos for instance.
Or you've decided to build a sizable mailing list.
But you don't know how to create videos or do email marketing.
There are many courses that you can find that will teach those skills and tactics.
Rather than trying to figure it out from scratch, get the courses that you need, and make it your business to be a student first.
Then apply what you learn to your business.
Get coaching
By far, the easiest and fastest way to gain success is to hire a coach.
A good blogging coach can show you the ropes in a very short time.
They can consider what you want to do and map out a precise blueprint for you to follow.
Then each step of the way as you hit obstacles and roadblocks, you have your own private coach to help you get around them quickly and easily.
That's because your blogging coach has already done it all.
They've already learn how to overcome the obstacles and roadblocks that are so difficult for you to navigate.
I can't imagine why anybody would try to figure out how to do everything themselves.
Especially when they can simply look over the shoulder of someone who's already done it, and knows how.
So, my number one "shortcut to success" tip is always to hire a good blogging coach.
Learn about one-on-one coaching with Donna…

How to Blog like a pro in 2019
I've shown you some critically important strategies to achieving blogging success.
Now, I'd like to hear from you in the comments section below.
Have I given you a better handle on how to blog like a pro in 2019?
What's the biggest thing you've learned here, that you just can't wait to apply to your business?
-Donna
PS: Don't forget to share this article on your social sites 🙂