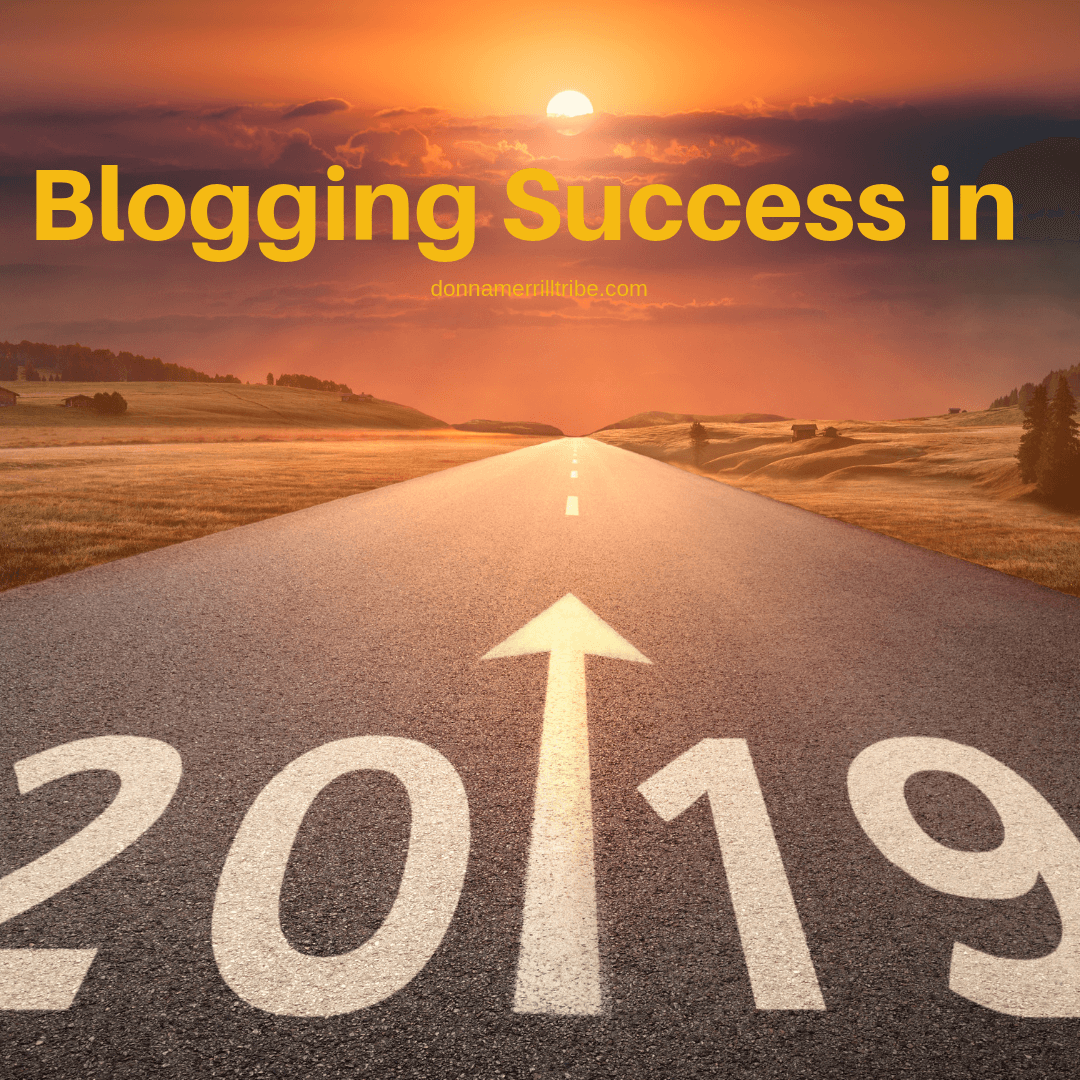 Just imagine if you could figure out how to make 2019 your best year for guaranteed Big Blogging Success.
This article has been updated from last year, because I had such a great response to that one.
And, of course, you should always be updating your Blogging Success.
So I want you to see how you can take your Blogging Business from where it is right now, to Bigger and Better Results over the next 12 months.
And I'll show you how to make the first 30 days your launchpad to Blogging Success!
So yes, this article is updated from last year.
But the critical essence is still the same.
I am simply going to show you how to how to make 2019 your best year for guaranteed Big Blogging Success.
Okay, that sounds pretty amazing, doesn't it?
I mean, how would your life change if you started having exactly the kind of success you always hoped for with your blog?
Would this mean you could …
start living a more independent lifestyle?
work when you want?
take time to travel on a whim?
create more security for your family, partner or other loved ones?
finally get past the day-to-day drudgery of the "9 to 5" life?
What could it mean to you?
What is Big Blogging Success?
First, let's think about what big blogging success means to you.
I mean, blogging success depends on what your personal, private goals and dreams are, right?
For one person… blogging success might be about making a life-changing income from blogging.
For someone else, it might mean being able to tuck your laptop under your arm and work from the local coffee shop, anytime you feel like it.
Somebody else might see blogging success as a way to get a lot more people to join their business or their team.
Whatever blogging success means to you, just think of achieving it exactly as you envision it… in a big, big way.
That's what I'm talking about.
2019 could be that year for you.
How Can Your Blogging Success Be Guaranteed?
There's one fool-proof way to guarantee your success in blogging… or whatever other online business you're developing.
That one fool-proof way is this.
Step 1: Find out what works, and then do more of it.
Lots more of it.
Step 2: At the same time, figure out what has not been working… and stop doing it.
Don't just change the way you've been doing it, or the amount that you've been doing it.
Just stop doing it all together.
If you commit to doing those two things in 2019… you will be able to enjoy exactly the Guaranteed Big Blogging Success you've been looking for.
Guaranteed.
So What "Works?"
Well okay, so obviously you have to figure out what works.
You have to know who your target audience is, and how you can help them solve their biggest problems.
It follows that you have to know what kind of offers to point them to.
These are the offers for products and services that, again, help them solve those same big problems.
In others words, you have to know what to promote to them.
All of this requires, of course, that you first learn what their problems are, and then, how to solve them.
These are the kinds of things that work.
What Doesn't "Work?"
Now, here's what won't work.
Anything you've been doing for a while that is not bringing you exactly the results that you want.
And, naturally, that fail to bring you the quantity and consistency of successful results you need.
You would be right if you now ask…
"If you're not getting the results you want from what you're doing… then why would you keep doing it?"
Well, there is actually an answer to that.
You would probably do it because that's what you've gotten accustomed to doing.
Maybe it's even what you've gotten good at doing.
But if it's not getting you the results that you need… then you have to learn how to cut all that out of your daily regimen.
Remove it from your business or blogging blueprint altogether.
And do it now.
Remember, you want 2019 to be your best year ever, and I want to help you achieve that goal.
The Magic Formula
So now that you know what works vs. what doesn't work… you have the magic formula.
I've worked with a lot of people and helped them to do exactly these two things.
Double up on what's working and eliminate what's not working.
But how exactly, do you do that?
That's the big question, of course.
Answer that and you're on your way… fast.
That's how you can make 2019 your best year for big blogging success.
Where Do You Begin?
Well, you have to start by knowing what you should be doing in order to start getting the results that you want.
You can, of course, do it the hard way (and expensive)… by trial and error.
Meanwhile, maybe you'll get some helpful guidelines or hints by watching what others have been successful with.
To accelerate this process, though, and get a really fast start, right out of the gates in 2019… you would be very smart to start working with a blogging coach.
A good coach or mentor can give you immediate and individual guidance.
This will make things work better and faster.
And, a coach can usually see what you're doing right or wrong, even when you can't see it for yourself.
His/her input can cut right to the chase, putting you on the right track without costly and time-draining trial and error ramblings.
Reboot Your Business
So, if you haven't been getting the kind of success that you want, then I'm going to suggest that you do these things to reboot your business.
Now what do I mean by reboot your business ?
Well, you see, it's like when you're working on your computer, and suddenly it starts getting really slow.
You know what I mean.
It's moving along nicely and all of a sudden every time you click on something, you have to wait for the little spinning ball or something else before you can continue on.
In other words, you're stuck.
For no clear reason, your computer just is not working at normal speed.
You're not doing anything wrong.
But for some reason, you're struggling to get your computer to respond to your keystrokes and clicks.
So what's the best solution for overcoming this sluggishness?
Well, the very first thing that you should do is shut it down and reboot it, right?
And that happens because your computer starts getting confused with data or mixed commands that slow it down.
It's not always clear why your computer gets confused, or why rebooting it solves the problem.
But it does.
Like magic 🙂
The fact is, almost every computer technician will tell you that if your computer is suddenly just not working right, then try rebooting it before you do anything else.
Well… this is the same thing I'm telling you about your business.
So you've been blogging right along, thinking that you're doing all the right things, right?
And you probably have been.
But you're just not getting the results that you want.
And you're not getting the kinds of results you see other bloggers getting… and they don't seem to be doing anything different.
In other words, you're stuck.
Frustrating, eh?
OK.
Take a deep breath.
Let's not take this frustration into the new year.
You can fix this.
First, though, before you do anything else… stop everything and reboot your business.
Just shut it down for a moment and then turn it back on.
When you do that, a lot of the stuff that was slowing you down and blocking you from success… can be made to disappear.
Just like magic 🙂
Here's How I Plan To Update My Own Blogging Success in 2019
So here's a real life example of what I call a "Blogging Reboot" looks like.
I'm looking at my Blogging Business right now.
I see that I have a pretty robust level of activity.
Many visitors and a growing email list.
So what should I improve?
What part of my blogging business would benefit from a reboot?
Well, actually, as broad and engaged as my audience is, I don't really do enough to expand on it.
I should be reaching out to people who don't know who I am or what I'm doing here on Dona Merrill Tribe.
And in the process of reaching out to them, I would also be connecting with a lot of new bloggers in my niche.
So I've decided to make 2019 a year that I'm going to reboot my audience outreach efforts.
I this way, I can grow my audience by bringing new people into my tribe.
So, how will I do this?
Well, that's another part of the reboot.
But the first is to commit to my goal.
Next, I will get down to the work of developing the best strategies to achieve it.
Make 2019 Your Best Year For Guaranteed Big Blogging Success
So, how would you like me to help you reboot a key part of your blogging business?
What would your big goal for 2019 be?
I could help you achieve it when you sign up for my "Reboot Your Business Challenge."
We'll discuss your Big Goal, then I'll give you the strategy to make it happen.
And I'll be there to help you stick to it.
Sure, you could also enroll in my private coaching program.
The price for my private coaching normally starts at $697.
You'll find the link to that on this blog site.
Or, you can join me in my "Reboot Your Business Challenge" for only $37.
This is a $37 crash training and coaching program designed to get you past your obstacles, and on your way to Make 2019 Your Best Year For Guaranteed Big Blogging Success.
So don't procrastinate….
Take advantage of this extraordinary opportunity to get training PLUS my private coaching with very special pricing.
Both, the training and coaching are designed specifically to get your blogging business on the right track for 2019.

So I hope you've learned how to make 2019 your best year for guaranteed Big Blogging Success.
Let me know what you think.
If you're really serious about making 2019 "your year"… then jump in now, and join my 30 Day Challenge: Reboot Your Business to kick off your New Year.
Blessings for 2019,
-Donna