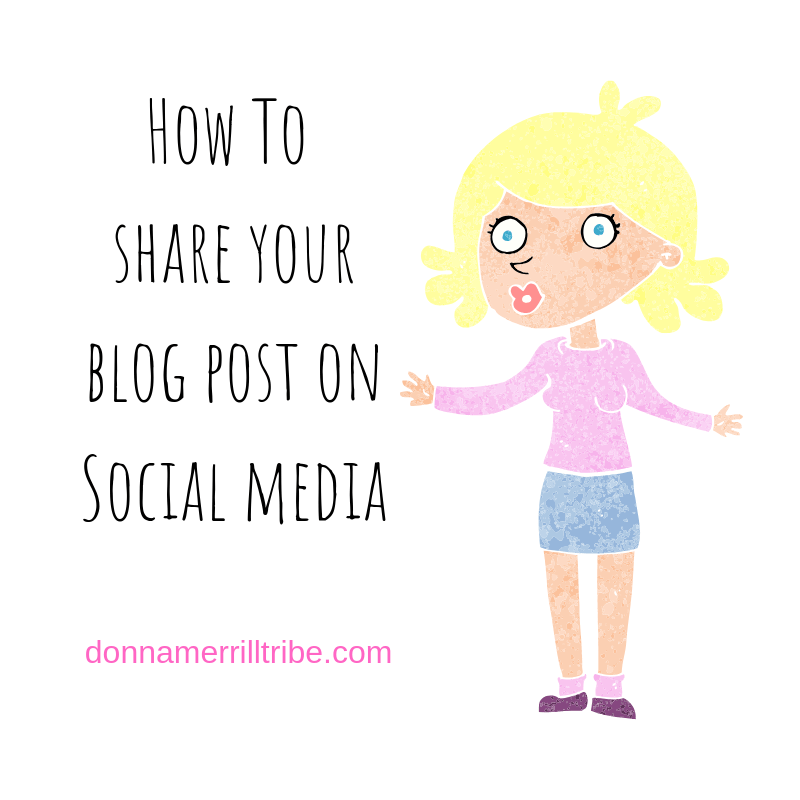 So you want to know "How To Share Your Blog Post On Social Media."
Of course you do.
Because you know how important social media is to the success of your blog.
And you know that all the talk about "content marketing" means that you need to know how to use social media platforms wisely.
You also want to know which are the best social media platforms.
And, if you're like so many bloggers that I work with…
you want a list of every place imaginable where you can share your blog post.
I understand why.
You just want to get as much traffic as possible heading over to read your latest blog post, right?
It's not so important who they are, or where they come from, as long as they land on your blog.
But by the end of this article, you will understand
why you're better off attracting fewer people to your blog
which social media site is the best one to share your blog post on
which social media platforms you should share your blog post on
how often you should share your blog post on social media
how many social media platforms you should share your blog post on
Why you're better off attracting fewer people to your blog
You have to understand something about blog traffic.
It's not all the same.
If you get 1 visitor from a link on your Facebook newsfeed, it does not have equal value to 1 visitor from a Facebook page or group.
Why not?
Because people on your newsfeed tend to be looking for social interaction.
If they see a link to your blog post, they may click it just because they're curious to learn more about you.
Or they might just want to see what your blog is about, or what it looks like.
But if someone in a Facebook group saw the same link and clicked over to your blog, they would be a more valuable visitor.
That's because they are looking for content that they are interested in.
So they are far more likely to read it, engage with you, and even take some kind of action that you might suggest.
How to use Calls To Action on your Blog for Profitable Conversions
Actions like "sign up here" "subscribe to my list" "click here" "buy now" "learn more here" etc
So you want to attract a narrow audience to your blog… just those people likely to be interested in your content.
That might mean you get less traffic, but those people will be much more valuable to you.
Which social media site is the best one to share your blog post on
Well, now, that really depends on your niche.
Some niches, like fashion and art, are better suited to a visual platform like Instagram or Pinterest.
More business-oriented ones might be more akin to LinkedIn.
So you see, there's one thing for sure.
The best social media site to share your blog posts, videos and graphics is the one where your prospects hang out the most.
And the one where they get engaged in conversations about your topic.
Since engagement really depends on your presence and visibility, it is really more important than going crazy trying to choose THE BEST social media site to share your blog post on.
It's far more important to become a familiar face and voice on social media.
And that pertains to any site you choose to participate in.
Which social media platforms should you share your blog post on
Okay, so here's pretty much the most popular social media platforms that bloggers consider sharing on.
Facebook
Twitter
Pinterest
Instagram
YouTube
LinkedIn
Reddit
You should be sharing your blog posts on as many of those that you can.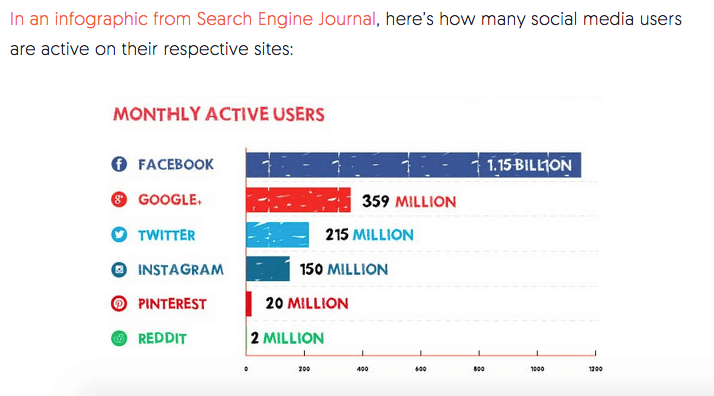 Read the full article on Neil Patel .com…
Which Social Media Accounts Really Matter and Why
But don't get overwhelmed.
I don't suggest you try using all of these at once.
Pick one that you think is suitable to your goals, and to the kind of audience you're looking for.
Do a good job of becoming a familiar face there.
Once you have a nice following and have achieved some traffic flow from your efforts, add another platform.
How often should you share your blog post on social media
Generally speaking, you should share your blog post when you publish it.
Then again, a week later.
And then put it into a rotation schedule.
So maybe you'll share it every 3 months, for instance.
The numbers are not as important as getting the right idea behind sharing.
Give careful consideration to these things.
Don't share ONLY your blog post
First of all, don't share ONLY your blog post.
In between the times that you post a link back to your blog post, be sure to link out to plenty of other people's blog posts, videos or podcasts, too.
You can't just use social media to pump out your content all over the internet.
Show people that you are adding value to your topic or niche.
If you are really trying to give value to your audience, you won't be just sharing your own blog post on a topic.
You'll find other good ones, too.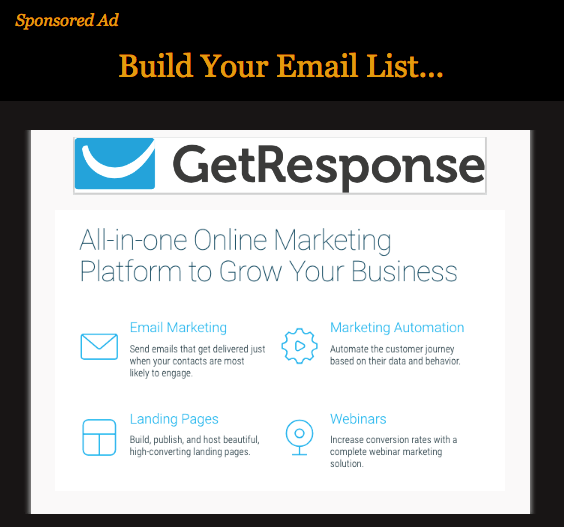 Especially ones that add an extra dimension to the discussion.
Or sometimes, you can share links to services, demonstrations, videos or even products that are relevant to your topic.
Don't share ONLY other people's content
Now, the flip side of what I just said is to go overboard with sharing everybody else's content.
But you pretty much neglect pointing them back to your blog.
Why would people do that?
Well, there are 3 reasons.
1. You don't want to be pushy
Some bloggers tell me they don't like to "sell."
They don't want people to think they're pushy or "salesy."
So they simply don't promote their own content.
This is like magical thinking, really.
Bloggers in this camp believe that if they're just out and about on social media, people will discover them.
Or they think that if they keep adding value to their niche by promoting other people's valuable content, they will get noticed and appreciated.
That's all fine and well, but at the end of the day, if you are NOT promoting your content, people will assume you're just a cheerleader.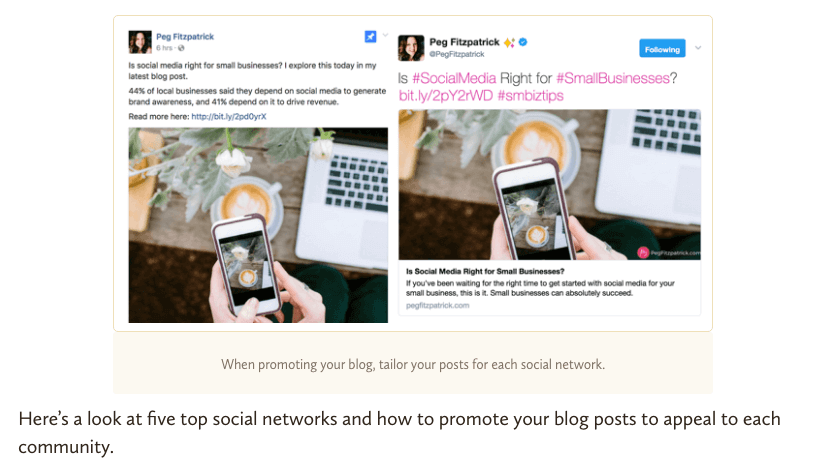 Read the full article on Social Media Examiner…
How to Promote Your Blog Posts Using Social Media
They won't consider you a serious content creator or blogger yourself.
They make like you and say nice things to you.
And for lots of people, that's actually enough!
But when it comes time to buy, join, subscribe or hire… they're heading to those people who are gutsy enough to be out there selling their products and services.
If you are trying to build a business with your blog, then you need a business model.
Not a bunch of people who like you.
A big part of that business model is to promote your own content every day, everywhere, and on all the social media sites where you are active.
2. You don't have enough content of your own to promote
Many bloggers just don't have enough content to promote.
So they spend all their time promoting other people's content.
Now, I understand that.
If you are relatively new to blogging, you just haven't put together much content yet.
Or you might have been blogging for a while, but are struggling to come up with good ideas for content.
It could even be that you just don't have time to keep putting together good content.
Many bloggers are not at a "pro" level, but just do this part time.
In between jobs, family and other interests.
Then, there's those bloggers who did, at one time, put out lots of good content.
But they were not satisfied with the results of their efforts, or they simply burned out trying to do too much.
All of these are valid reasons for not having enough content to promote on social media.
But if you want to build an audience…
if you want to drive a steady flow of traffic to your blog…
and certainly your blog to be profitable…
You need to stop putting so much effort into build your social media followings, and get down to the business of creating new content.
Not just re-published content that you try to pass off as new.
But truly new, fresh, current and even trending content.
3. Your content is not properly monetized
Finally, people don't share their content widely enough because they are not getting good results when they do.
When I say "results" I mean actually getting profit from the blog post that you're writing.
If people aren't starting to profit from their blog post, they get discouraged and stop working so hard to promote it.
That's pretty understandable, isn't it?
So the key is to make sure your content is properly monetized.
That way, when you get traffic to your blog post, it has a chance of converting into a new email subscriber, customer or client.
You need to set those conversion paths up meticulously.
Ideally, you'll have some kind of a sales funnel woven into your blog and into each of your blog posts.
But even if it's something as simple as just building your email list with a free opt-in offer, then you need to do that.
That way, when you work hard to get traffic, there will be some kind of a conversion "payoff" at the end of the road.
How many social media platforms should you share your blog post on
So I mentioned already that you should share your blog post on as many social media platforms as you can reasonably handle.
But here's the thing.
It's not a competition for big numbers of followers.
You want to use social media to build an audience.
But not necessarily a big audience.
In fact, what is a big audience?
For some people that would be 100 people.
But for others, 10,000 could be considered too small.
What do you want to accomplish with your blog post shares?
What's your goal?
By that, I mean… what are you trying to achieve when you share your blog post to a social media site?
For me, I typically want people to go to my blog.

Read more on Quicksprout…
The Complete Guide To Social Media Marketing For Bloggers
But only people who have already come to know me a bit first.
That's because those are the people who will be interested in what I do on my blog.
And they will be interested in my paid coaching programs.
They will also be more likely to click on my advertising and affiliate links, because they are pertinent to my niche… blogging and digital marketing.
So for instance, I use Twitter and Facebook a lot.
But that's not because they are the "best" to use.
Maybe they are.
Maybe not.
It doesn't matter.
Share where you've built trust
What does matter is that I've built a pretty good profile on those platforms.
So people are familiar with me BEFORE they go to my blog.
They have a good idea what I'm about, who I am, what I look and sound like (I do a lot of video).
Because of that… by the time they click a link to read my latest blog post, they already trust me.
Look for conversions, not just traffic
So they will convert into subscribers, buyers and clients much more readily than if they had no idea who I was.
And once on my blog, they find multiple conversion points.
They can hire me as a blogging/marketing coach.
Or join my email list.
They can even buy one of my sponsored affiliate products or services.
And I give them ALL of these calls to action in every single article I write.
Less traffic really can be better
So, you see, I don't really need a ton of traffic.
Just a steady, highly targeted flow of traffic is fine for me.
But somebody else might need a lot more traffic.
The point is, you should only be sharing on as many social platforms as you have taken the time to build visibility and trust.
If you can do that on 6, 8 or 10 platforms, then that's fine.
Usually, that's only going to pertain to bloggers who have a team or spend a lot of money for advertising and virtual assistants.
If you're a solo blogger, like me, you have to concentrate your time on just those platforms that you can maintain a real presence on.
Those are the ones people will come to know and trust you.
So those are the ones to spend most of your effort sharing your blog posts.
How To Share Your Blog Post On Social Media
So how about you?
Do you think you're better off attracting fewer people to your blog than you've been shooting for?
Which social media site is your favorite one to share your blog post on?
Which social media site has proven to get you the most traffic and conversions?
How often do you share your blog post on social media?
I'd love to read you comments below.
Then, please take a moment to share this article on your favorite social sites.
I hope you have a pretty good idea, now, how to share your blog post on social media.
–Donna