This post was most recently updated on February 4th, 2019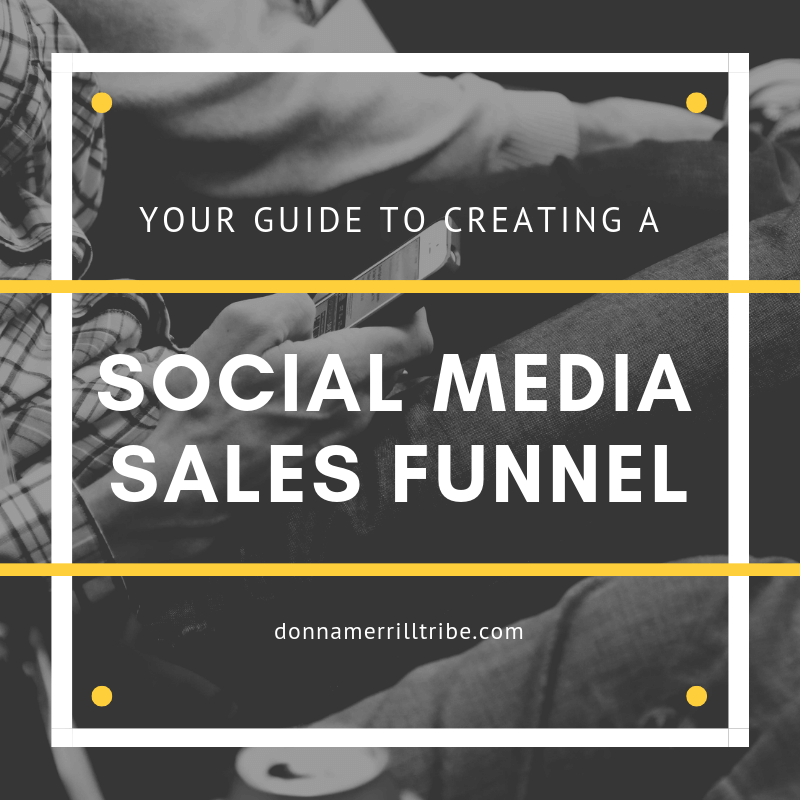 Bloggers often overlook the value of creating a social media sales funnel.
They consider their blogs to be the opening of the funnel.
You write a blog post about a topic and then try to find people who would be interested in it.
The idea is, if they're interested in your topic, they have now entered your sales funnel.
And social media is used to get the right people (your target audience) to click links to your blog posts.
That's how they enter your blogging sales funnel.
But today, you're going to learn how you could shortcut the whole process by creating a social media sales funnel.
I've asked an expert on this topic, Andrea Jones, to share the process she uses for creating a social media sales funnel.
So, let me turn the rest of this article over to her so you can benefit from her very useful knowledge.
Your Guide to Creating a Social Media Sales Funnel



by Andrea Jones
Even if you're a social media newbie, you've probably heard about sales funnels at some point.
It's that seemingly mysterious journey consumers go on as they progress from total strangers to (hopefully) repeat customers and brand advocates.
More simply, the sales funnel is about figuring out how to get strangers to buy from you.
And have a fabulous time doing it.
Why do they call it a funnel? …And can we not?
Full disclosure, though: I've always hated the phrase "sales funnel."
Has anything ever sounded less appealing than being shoved down a funnel?
And even worse, I don't think it even represents a successful sales transaction at all.
Have you ever seen an ad for something around the internet and jumped directly to making a purchase?
I can think of only one or two times in my entire life where that's happened.
More often than not, the journey to a purchase is a winding pathway that guides a consumer from their first encounter with your brand to the moment they hit "purchase."
It's less of an inevitable slide down a narrow plastic tube than it is a journey that takes a while.
To get anecdotal, let's look at my secret love affair with Old Navy.
I never set out to fall in love with the brand.
I didn't even choose to like them in particular.
But they got me.
They got me hard.
One day I happened across a social media post for Old Navy, and I ended up on their website.
I noticed they had good prices on basics.
Although I didn't buy anything at the time, I did sign up for their email list for a ten percent discount coupon.
After that, they emailed me a few times a week.
Through the power of Old Navy's effective sales pathway, I regularly buy from Old Navy.
Especially when they have a great deal going on for something I need.
So, why did this work?
I would chalk up Old Navy's success primarily to the brand's interest in providing something useful to me.
There wasn't an annoying cold call or a spammy email.
I saw their ad and saw that it added value to my life.
Once I had established that link, it was easy to sign up for the email list.
This kept Old Navy at the top of my consideration list.
Consistent email touch points kept them in my mind.
I developed a relationship with the brand that led me to actually buy from them on a regular basis.
And now, even better for the folks at Old Navy, I'm telling all of you about it.
They have the only jeans that I really actually like, and their sweaters are super cute.
See the power of relationship marketing in action?
I'm advocating for their brand in public.
And all because a well-timed social media post got me to give the brand a shot and click through to their website.
That's a highly effective sales pathway, if you ask me.
And you can do the same thing for your client base through a careful application of savvy relationship marketing.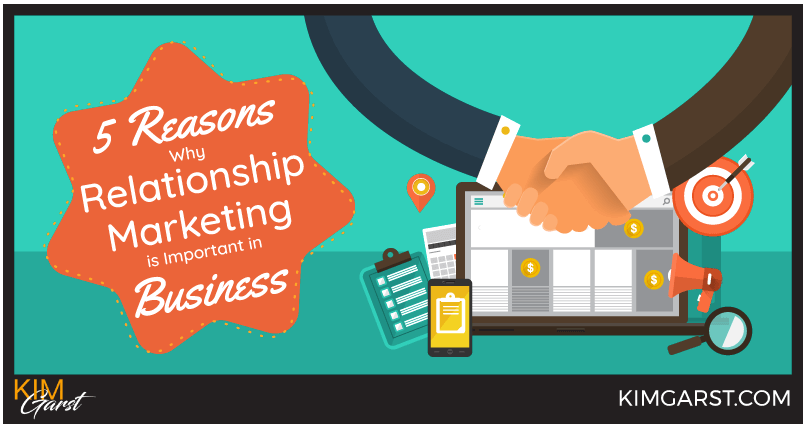 Above image is from KimGarst .com
Read her article… 5 Reasons Why Relationship Marketing is Important in Business

Here's how it works
The sales funnel can be loosely broken down into four steps.
But it's important to be reasonable about your expectations.
Only a small percentage of your audience will go all the way through to the end.
But that's okay!
Your job is to do the work and focus on being the best you can be for your customers.
Let gravity sort out the rest.
(…did I mention I don't like comparing it to a funnel?)
Step 1: Sparking initial attraction.
Think about the last time you saw an ad and jumped straight to the point of purchasing it.
I'll give you a minute.
For me, that's happened maybe twice in my entire life.
And that's because I personally need a huge amount of motivation to make the jump from learning about a product's existence straight to putting down my money for it.
More often than not, the job of the first step of a sales pathway is simply this.
Generate a spark of interest and plant a seed for the development of an ongoing relationship.
This first point of contact can be anything.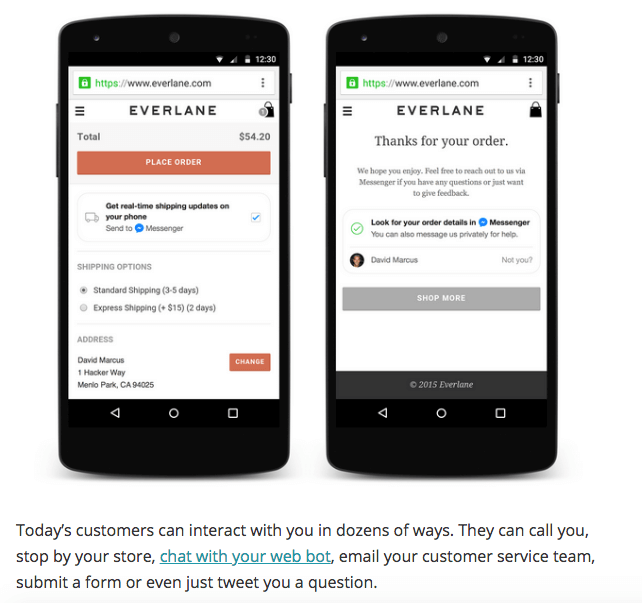 Read more… What is Relationship Marketing? Everything You Need to Know
by Tara Johnson on CPC Strategy .com
But it's often a "top of the funnel" piece of content that catches a viewer's attention, such as a social ad or a blog post.
This is your prospect's first interaction with the brand.
So take some time on it.
I really recommend social media posts as a first touch point.
Using a tool like Social Report is a handy way to get your posts scheduled and optimized.
For me, it was seeing that Old Navy ad online.
It got me curious enough to visit the website.
But, while my initial attraction was enough to get me to click the ad and browse around a bit, it took a lot more work before I ended up buying.
Step 2: Building trust
This second step is the one people forget about the most often, especially for small brands and creators.
It's important to remember that people are strangers to your brand.
A fairly universal rule we were all raised with is the classic "stranger danger" maxim.
As with strange men in trench coats, so with relationship marketing.
Trust is critical to establish.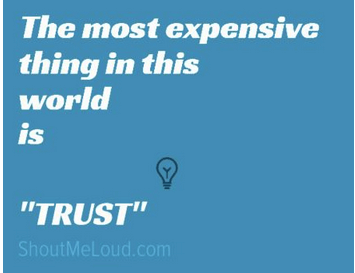 Read… How to Build a Trustworthy Blog for the Long-Run
by Harsh Agrawal on Shout Me Loud
And your job is to convince prospects that you're worthy of their time and money.
Plus, everyone has a story of buying from someone online and getting burned in the process.
So people are rightly skeptical.
Client reviews and testimonials work great for building trust.
Look at Amazon reviews, as an example.
I rarely buy online without checking the reviews, and I'm not alone in that skepticism.
Another way is to push an email sequence to give your buyers a behind the scenes look at your business.
I like using tools like Mailchimp or Convertkit to stay in touch with email subscribers.
Keep in mind that a person's attention is valuable.
Even if all you're asking for is time, that's a big ask!
We're busy people, and getting someone's attention is a privilege.
Podcasters know that better than most people, since the average podcast is upwards of ten minutes long.
And in our modern era, ten to thirty minutes is a long time.
But the good news is this.
If you're making content that's useful and building the relationship, you can pay your audience back for their attention with something useful and interesting.
Step 3: Becoming a buyer (or whatever the end goal is)
After you've piqued their interest and developed trust, the third step is the exciting one: your prospect converts!
Whether they hire you for a job, listen to your podcast, or buy a product from you, this is the thing you've been hoping for.
But I really encourage you to remember that, like any relationship, it takes ongoing work to turn a one-time purchase into a long-term relationship.
Old Navy didn't stop emailing me once I bought my first sweater.
They continued the relationship by sending me coupons and emails.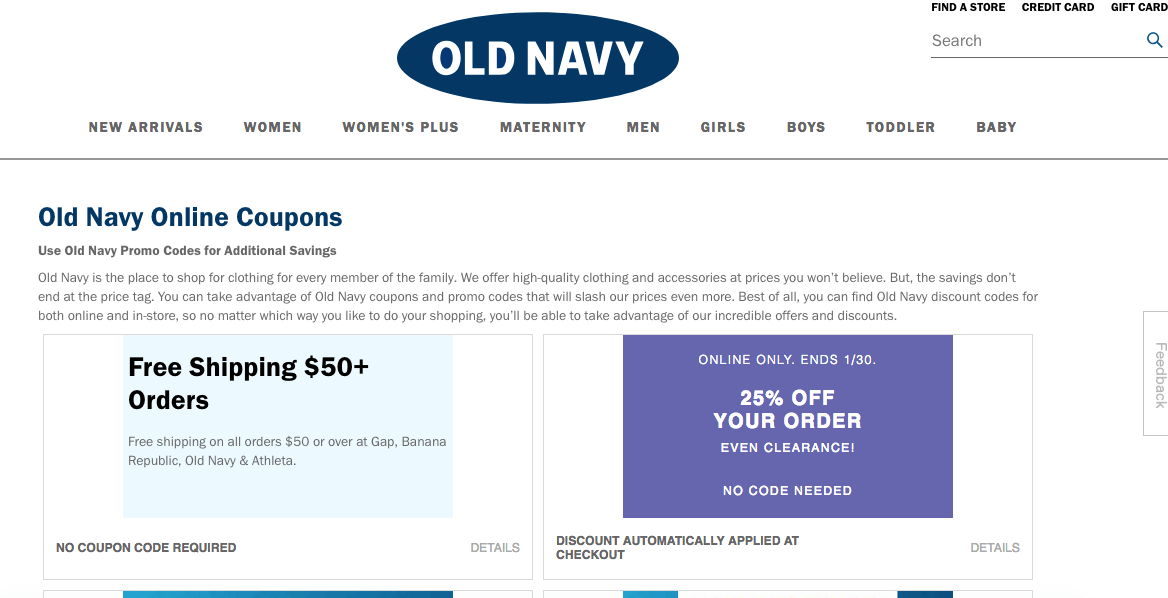 See… Old Navy Online Coupons
And as a result, I have bought from them multiple times.
As a content producer, your long-game goal should be to continue to get your audience to tune in.
Keep adding value and following up with customers after they convert so that they maintain a relationship with you.
Clients who have bought from you are your gold-star relationships.
So be sure you hold up your end of the deal and continue to add value.
Step 4: Become an advocate
I am currently an Old Navy brand advocate.
I didn't sign up to be one.
But the clothes are affordable and the jeans fit, so if you asked me my opinion, I'd encourage you to buy from them.
I would leave a positive review of their products, which makes me (not to sound full of myself) a dream customer for a brand.
Brand advocacy is the ultimate end goal of a sales funnel.
Product advocates are the dream, because they use their own platforms to shout about your merits to their friends and families.
Not only did they buy from you, they're encouraging others to buy from you.
They promote you on social media and they write you glowing reviews.
Word of mouth recommendations from a friend are one of the best marketing tools you can have.
And they're not something you can ever buy the way you could take out a social media ad or a billboard.
Blogging, video content, podcasts, postcards, emails, social media, and other outreach efforts provide value to your prospects before and after the sale.
Of course, not everyone who starts off at step one makes it to step four.
If they did, there would be no need for this blog post in the first place.
But your end goal should be to be as useful and delightful as possible.
Do this in order to turn stone-cold strangers into brand advocates.
This is the end goal of relationship marketing.

Read more… Why You Should Invest in Your Brand Advocates (And How To Do It)
by Aaron Agius, on Jeff Bullas .com
Relationship marketing is like dating
Ultimately, an effective, non-annoying advertising strategy is about relationships, and there's a pretty handy metaphor I like to use: relationship marketing is like dating.
Not every person who you ask out on a date is going to agree to go out.
And even if they do, they definitely won't all come home with you right away.
A few might go straight back to your place (wink wink nudge nudge).
But most people want to be wooed before they commit to dating long term, and that's a really reasonable ask, all things considered.
After all, prospects are actual human beings, not just vague digital personas living in the dark web.
People want to get to know you before they give you their time and money.
Relationship marketing moves people down the sales funnel in a way that gets them comfortable and (if you're lucky) enthusiastic about your brand and product.
That trust factor is what makes for a mutually beneficial long-term relationship.
And that should be your focus when you're developing your marketing strategy.
In summary, I love relationship marketing because it moves people down the sales pathway organically.
And it does it with a minimum of ick and a maximum of usefulness.
…and I also love Old Navy.
Check out Donna's Top Tier blog mentoring program


So now, I'd like to hear what you think.
This article, Your Guide to Creating a Social Media Sales Funnel, is all about helping you to understand how to properly use Social Media in your business.
What have you found most helpful?
Do you think you've been using the Social Media sales funnel model effectively?
Or, do you think you're now able to do a better job with it?
Please leave me a comment below, and also… share this article on your Social Media sites.
–Andrea
About The AuthorConnect with Andrea on her blog, OnlineDrea.