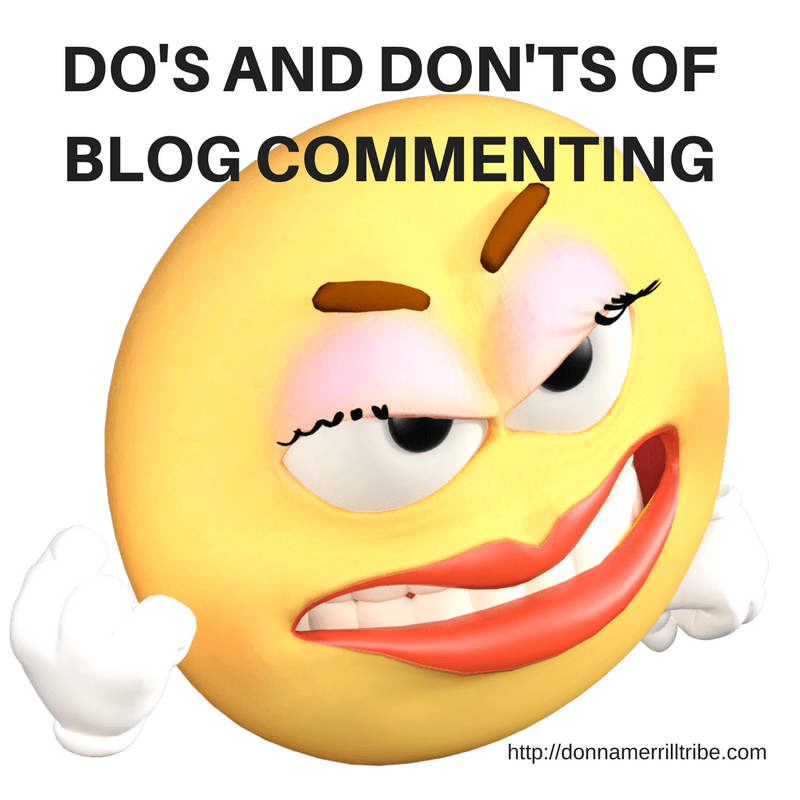 You need to know how to do successful blog commenting if you are going to build a great blogging business.
In this article, I'm going to give you my favorite blog commenting tips that are guaranteed to make you a top blogger.
But first, understand that the reason blog commenting is so important is that it's one of the best ways to get your blog noticed.
And after all, isn't that the first step in building your blogging business?
Okay.
Now, let's talk about how to do successful blog commenting.
First of all, commenting on a blog post is part of being a blogger.
You need to understand that your comment is a reflection of YOU.
It also defines your brand, and reflects your company (even if you're a company of one)!
Keep in mind that many people read the comment section.
So, when you're commenting on blog posts, make sure to be clear to others that you have read the article and have a good comprehension of it.
If not, be honest.
There are many times when I go to a highly technical blog post, myself, and have to read it twice before something sticks in my head.
I'll leave an honest comment and tell the author that I thank them for explaining this, and yes, it took me two times to read it through because of my non-techie brain.
But what I got out of it is ______(fill in the blank).
Now, you'll hear me say, over and over again… that comments are the backbone of your blog.
If you want to have a healthy comment section, you must first go over to other blogs specifically in your niche, and leave a good comment.
That will lay the foundation for having people who read your comment, to visit your own blog.
Successful Blog Commenting Do's and Don'ts.
Now I'll give you some key blog commenting do's and don'ts.
But first, before you even start your commenting campaign, you need to get a Gravatar.
I have to impress upon you how important a Gravatar is.
22 Gravatar for blog commenting
You don't want to have a "blank" or non-descipt Gravatar.
If you do, you will likely end up either in the spam box, or simply look non-professional and evasive if you do make it to the comment section.
So be professional.
Look like a successful blogger instead of a newbie or spammer.
Sign up for your own Gravatar before you start commenting on blogs.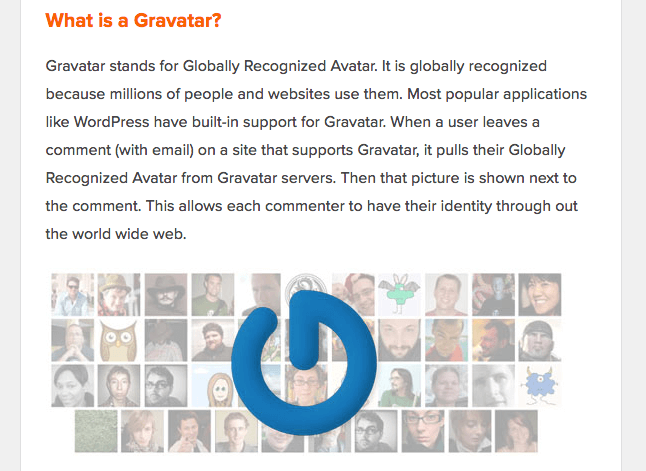 Read more… What is Gravatar and Why You Should Start Using it Right Away (WPBeginner)
Use your own photo so people can see who the heck you are.
Another alternative is to use your unique business logo.
Either way, you want to be distinctive and be memorable.
When people see your picture they will know, in a jiffy, not only who you are, but also what you are all about.
Now you're ready to start commenting like a pro.
Successful Blog Commenting – DO'S
On my previous blog post, Am I Too Old To Start A Business, I received many comments.
In fact, I usually get lots of great comments from my readers.
I've been blessed to have some great bloggers engage regularly on my blog.
So, I wanted to post some of their comments here to demonstrate how top bloggers do successful blog commenting.
Unfortunately, I didn't have space to include everyone, so this is just a sampling.
Visit the article to see all my other great blog commenters, too.

Vishwajeet blogs at Webmartnet


Ryan blogs at Blogging From Paradise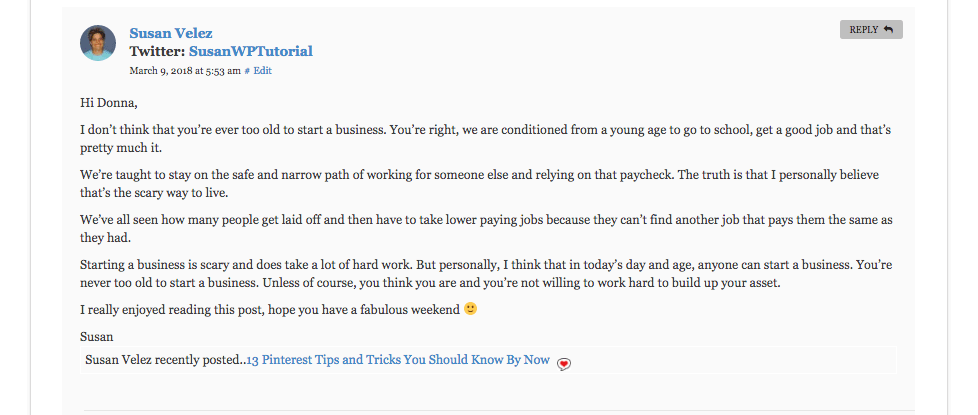 Susan blogs at Susan Velez

Rachel blogs at Rachel and Co

Prosper blogs at Tips On Blogging

Marquita blogs at Emotionally Resilient Living

Lisa blogs at Inspire To Thrive
Janice blogs at Mostly Blogging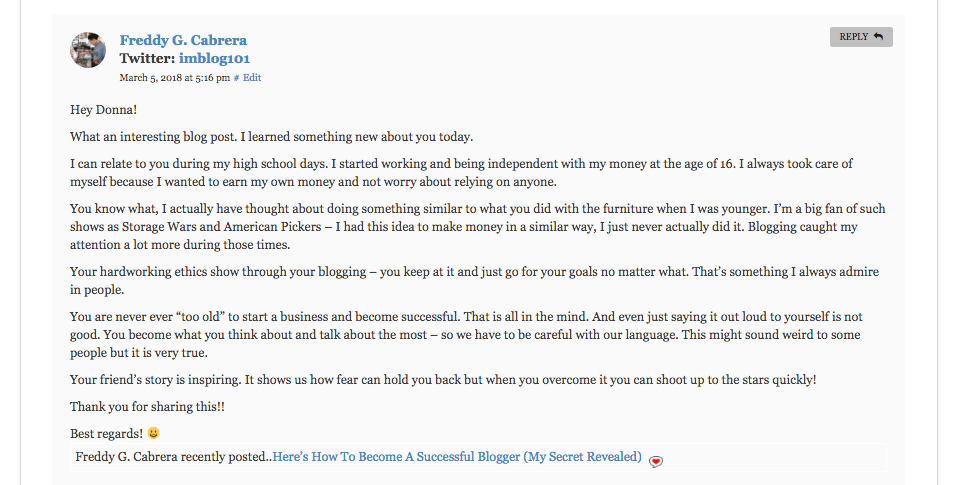 Freddy blogs at Internet Marketing Blog


Emenike blogs at Entrepreneur Business Blog


Bren blogs at Virtual Bren
Read the blog post.
If you are skimming, you may miss out on something that you can relate to in that particular article.
Give recognition to the author.
Dear so'n'so, by first name.
This may sound old school, but it is simple courtesy, and people always like to be addressed by name.
In many countries, it is necessary to do this so please thing globally.
Add value to the conversation.
Think about how you may add some value to the blog post itself.
It is such a pleasure for the author to see good input about the subject at hand.
Tell the author how or why you enjoyed this blog post because either you learned something from it, or you just loved his or her writing style.
This can lead to a real conversation, rather than just a simple hit and run "comment."
I'll show you what I mean.
This was Kevin Duncan's reply to my follow-up comment… to his first reply… to my original comment on his blog post… Got that? haha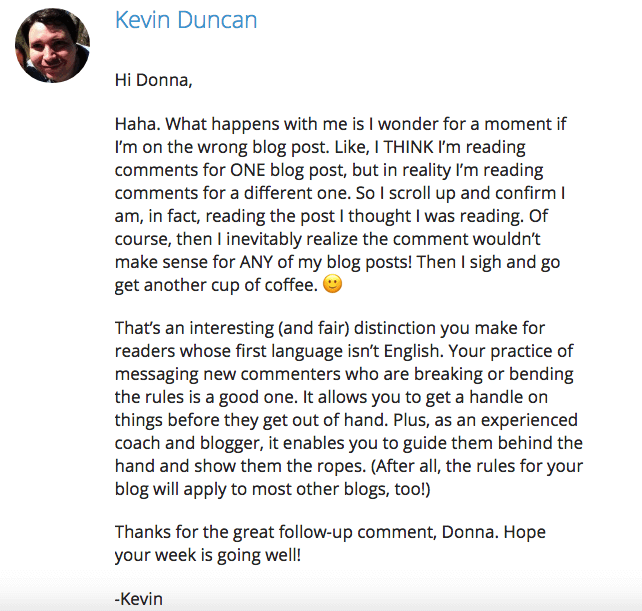 If you want to follow the full conversation that went on between us, find it on my Blog Comment Thread with Kevin Duncan (opens in a new tab).
If you'd like to read the blog post that I was commenting on, it's a great resource when developing your blog commenting strategy:
The Ultimate Guide to Writing Comments That Open Doors with Popular Bloggers
(by Kevin J. Duncan on SmartBlogger)
Be appreciative.
You need to show appreciation.
Thank the author for the hard work he or she put into it.
You will be creating a good connection, not only with the author of the blog post, but also with those who read through the comment section.
Remember, many people do.

 Read the full article here…
How To Comment On Other Blogs and Become A Better Blogger
(by Harsh Agrawal on Shout Me Loud)
Successful Blog Commenting – DONT'S
Just as important as what you DO when you comment on blogs, is what you avoid doing.
So pay just as careful attention to the "don'ts."
Don't comment without a Gravatar.
Remember that gravatar?
If you don't have one, you can end up in someone's spam folder.
No one-liners, please!
Don't embarrass yourself with leaving a one line comment.
Even if it gets through the spam blockers, you are insulting the author's hard work.
And other readers will see you as lazy, or even worse… as a person only in it for yourself and your own backlinks.
Don't jump around and leave a trail of one-liners on multiple blogs. Immediately people will see your comment as either a spammer or someone who really doesn't give a you know what!
Don't Skip Reading the blog post!
There is no way in hell that you can leave a comment unless you read it through.
If this sounds too complicated, then successful blog commenting may be beyond your reach at this time.
Sorry to be harsh, but I'm here to teach you.
Don't be a link-dropper.
Never ever dump links in your comments.
You will probably end up in the spam folder.
Worse than that, though, people reading your comment will be turned off.
It is not only an improper place to drop links, it's a self-centered behavior that is easily seen for what it is.
Don't "rush to publish" your comment.
Would you write a blog post without doing a proofread, spelling or grammar check, and edit?
Of course not.
Build Your Email List …
Yet, even after you publish it, you can go back and edit it, then update the publication.
Comments can't be edited.
Once you hit the "send" button, you will never be able to edit or change anything.
Think of your comment as published content.
In fact, that's exactly what it is.
It's great to leave a high-value comment, but make sure you read it through before you hit the submit button.
You may want to edit it.
So do it while you can.
Proofread and edit your comment before publishing it.
Don't just talk… engage.
Don't just start babbling.
Remember, you have to address the author of the blog post.
Start with "Hi" and call them by name.
Don't forget: There will usually be a CTA (Call to Action) at the end of the post.
Make sure you are on point and stick to the question the author wants you to answer.
That's sincere engagement, not just spouting off on whatever you feel like talking about.
Never bash!
If you disagree, that is fine.
But do it in a way where you are showing respect to the author.
"I understand what you are saying, and here's another thing I'd like to add."
-or even-
"Sorry, I disagree with your point. I understand what you are saying, but I have a different opinion."
Don't "chase backlinks."
If you are thinking that blog commenting is all about building "backlinks" to your blog, then think carefully.
Blog commenting is the very best way to get high quality backlinks, for sure.
People will read your lovely comment, be impressed by it and therefore will probably come and visit you.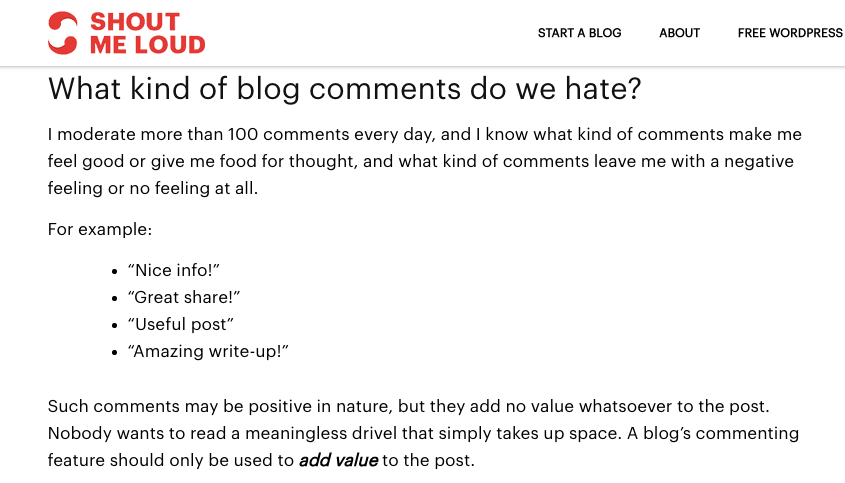 Read the full article here…
How To Comment On Other Blogs and Become A Better Blogger
(by Harsh Agrawal on Shout Me Loud)
How to do Successful Blog Commenting
If you keep in mind the do's and don'ts I've outlined, then you will be able to use blog commenting to become a top blogger.
Blog commenting is the "backbone" of blogging."
For one thing, because comments are valuable.
They are like bloggers' currency.
The more you have, the more successful you will be.
But there's another reason.
In this day and age, people don't just visit blogs for information.
There's already too much information for people to handle.
And there's practically no new information you can add to the conversation.
But engagement is a different story.
People visit blogs for engagement far more than information.
And the search engines rank your content, not because it's great information.
But because other people visit your blog and engage with you.
That engagement level is largely marked by the amount of commenting activity you attract.
Don't you want to benefit from this kind of social activity?
You can if you stick to the simple guidelines I've given you here.
So, tell me.
Do you struggle to get your blog noticed?
Have you been able to build deep engagement with your blog?
What has been your experience with using blog commenting to build your business?
Leave me a comment below and give me your thoughts.
Then, please, share this article on social sites, so others can also learn how to do successful blog commenting 🙂
-Donna