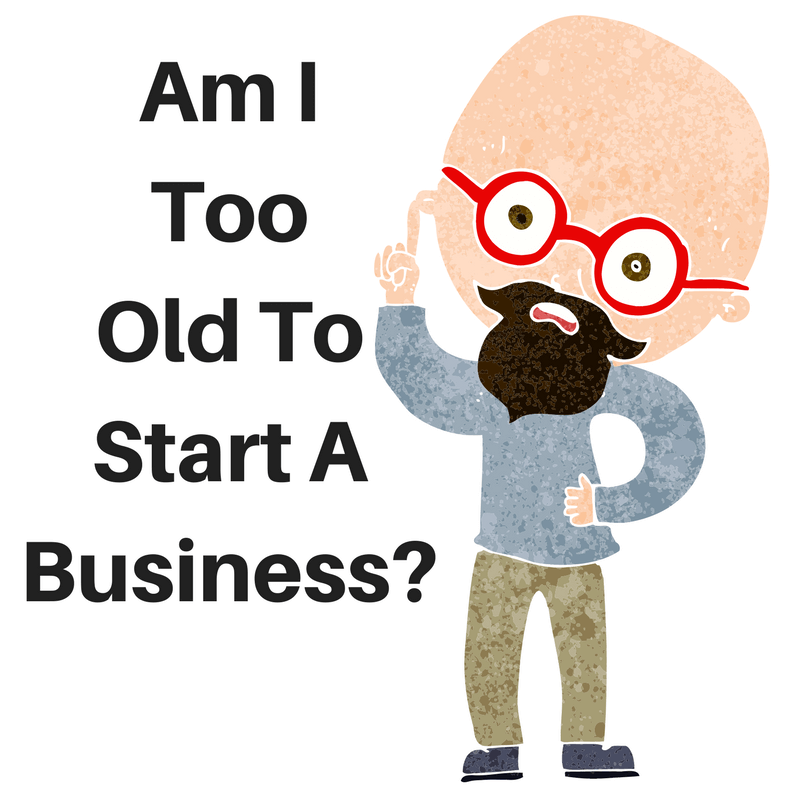 Am I too old to start a business?
Like, maybe a blogging business?
And actually run that blogging business successfully?
How about some other online business?
I had a conversation with a college student who recently graduated from college. 
She started hunting for a job in her field, but was surprised to find out that she couldn't find one.
And if there was anything at all, it didn't pay enough to cover costs of her student loan and living expenses. 
Or it wasn't really what she was trained for.
She asked me a funny question.
"Am I too old to start a business?"
No matter what age you are, society expects you to go to school, college and then get a career – haha.
Just like that.
The reality is that we can keep learning so many things and apply them to our own business.
We might learn them in school, but we can also learn them on our own.
Anyway, I ended up having a long conversation with this young woman. 
Being many years her senior, I've had the experience of running an offline consulting practice, as well as a successful blogging business.
I told her about how I worked a job for a very short time because that's what everyone expected me to do.
But eventually, I got around to working within my own power zone… running my own business.
That was then and this in now.
"Am I Too Old To Start A Business?"
I can't believe now, in the 21st century people are still expected to do the same. 
You see, there just aren't many job opportunities in her field of interest.
But if she struck out on her own, she could make a great business for herself. 
She is young and can always go back to the working world if she has to. 
(But you and I both know that once we get a taste of running our own business, it is difficult to go back to the "work world.")
So let's analyze this a bit.
I had asked her to write down all her expenses. 
Right now she lives in the suburbs with her parents.
But I know darn well she wants to live in the city.
We talked about how that expense would be way over her head, though, even with a job.
She was determined to get out on her own and spread her wings, though.
So she told me that she had managed to get a car loan, insurance, plus a little spending money to get by on a daily basis.
Because starting your own business doesn't get you a paycheck at the end of the week, I explained that she should anticipate having to settle for a silly job to start off with.
Something simple, well beneath what she would like.
A job with no thinking involved so she could spend her money on her basic expenses and slowly venture into a new online business she had in mind.
At the time we had this conversation, her parents reluctantly agreed to give her a year to try striking out on her own. 
They were sticklers for that false sense of security that you get from a "job." 
You know, insurance and all. 
But she already planned on getting her own insurance, and not be held hostage to a job.
In addition to that expense, we wrote down how much it would cost her to start an online business. 
You see, she is a graphic designer and there are endless possibilities for a niche specific business using her skills and talents. 
After a few weeks of researching she came up with the idea of doing graphics on T-shirts.
She had a good edge because she was in touch with many companies that were interested in this for their Summer get-togethers. 
This gave her hope. 
She even knew a person that had a T-shirt company, so she connected with him.
Now came the advertising. 
She set up a beautiful website. 
What surprised her was that one of her friends wanted to order T-shirts for a bridal shower. 
She did it in a snap.
Her business cards were flying that night and she was able to get another gig the very next day for a family reunion. 
There would be over 30 people attending. 
She did the math and came up with a nice chunk of change.
Indeed, running a business for yourself is challenging, but this gal's passion overrode her fears.
For each challenge that came up, she rose to the occasion.
She did, in fact build a very successful online business, in very little time.
And to think… this young lady thought she was too old to start a business.
Even though she only just graduated from college!
What About Those People Who Are Retired?
So here's a funny thing.
The title of this blog makes you think I'm going to talk about old folks trying to run an online business, right?
Yet, I've just been talking about a recent college grad.
What's that about?
Well, simple…
She thought she was too old to learn a new trick, namely, start an online business.
That's because she went to school for something else.
And because it took her years to get a degree.
So now she's wondering if it's too late to switch gears and spend years more to learn something new.
Many people of ALL ages think they're too old… or that it's too late for them… to start a blog or online business.
Are they right?
Of course not. 
I just showed you why in the case of the recent college grad.
But the same is true for retired adults or senior citizens.
In fact, it's especially true for retired people trying to live on a fixed income.
Retirement pensions, social security (in the U.S.), or the equivalent…  don't pay out much.
That's what forces many retirees get a little job to compensate.
But part-time incomes are pretty meager, too.
Stop Making Excuses
"Oh I'm too old to learn something new! " people complain.
Well that's a common excuse. 
They will have to learn something new if they got a little job so what the heck!
I coached a few retirees that had this question and they are now living very vibrant lifestyles, loving the business they have started up. 
Some are network marketers, others are writing books and selling them on Amazon, yet others are doing freelance work through their blogging connections.
So the point here is… there is a large age difference between a young college student and a retiree.
But they're both in the same boat.
They both ask me "Am I too old to start a business?"
By now, you know my answer.
It is never too late. 
None of us are ever too old to start a business.
All we need is the willingness to learn something new.
I always recommend that you get a good coach or mentor to help you along the way.
You'll have to get some things done, like putting some good marketing in place for your product or service. 
Unless you already know how to do these things, you'll be spinning your wheels for a long time unless you hire a coach.
Oh yea..we also want to have fun doing it 🙂
I Was Always a Solopreneur
Now let me share with you how I was always a solopreneur.
I went to work right out of High School.
Family & friends thought I was crazy (long story why I wanted to be on my own). 
But working on Wall Street NYC was quite the drag. 
I was allowed one hour per day for my lunch. 
I had only two weeks for vacation and worked a 40 hour work week. 
There was no time for me. 
I thought this was crazy.
But at that time, I spent my weekends driving "upstate" and buying antique furniture. 
My boyfriend and I would re-finish the furniture and sell it at a great profit.
Why the heck was I working a job? 
So I quit and did this full time.
I opened up my first shop when I was 30 years old.
It developed into my private intuitive consulting practice. 
To make a very long story short, I didn't really think I would make the first month's rent.
But I did.
I kept building on that business.
I even had a live talk-radio show based on it.
Actually, it still exists as a brick and mortar, with a friend of mine working there.
The shop had retail items and specialty hand-made soaps, baths and oils.
In came the internet. 
I was consumed with knowing all I could about it because I thought it would be a great way to expand my existing business. 
And it was at first.
Until…I learned a new way of marketing and a new way of helping others.
I sit here decades later and look back to see if I ever felt too old to start a business. 
No Way.
Guess I'm young at heart.
How about you?
Do you sometimes wonder "Am I too old to start a business?"
I'd love to hear your thoughts and stories in the comments section below.
-Donna